You never know where to go for dinner if you don't know the city you're in that well. You're hungry, time's running and you'd like to make the most out of your stay. We had the same problem in Bucharest. We'd had a tiring Monday full of meetings followed by an eight kilometre late-afternoon run down the streets of Romania's capital late November.  We knew we could definitely use some Romanian wine and enjoy a nice place. 
Mildly disoriented and decidedly hungry, we marched down Bulevardul Nicolae Bălcescu, where we had our AirBnB apartment, on our mission to find a nice food spot. We found a fish place but did not really feel like having any seafood.  Another restaurant we entered was full of cigarette smoke so we unanimously agreed it wasn't a place for us. Then one of us spotted an enormous wooden, medieval-looking and intriguing door. The sign said Crama Dunărea.
We entered and were immediately welcome by a blonde and tall hostess, who wouldn't be out of place in a Vogue spread, and followed her long legs down to the restaurant.
We asked for a table in the middle so we could enjoy the fantastic decorations which seemed to have been inspired by peasant traditions, including utensils, tapestries with traditional motifs and patterns, large loaves of bread and an open kitchen with an enormous grill. We were overjoyed and taken aback to have found this traditional Romanian restaurant — a place we really craved — accidentally.
Soon the waiter arrived and brought us some appetisers: bread and some sort of paste. "Could you tell us what we're about to eat? — was my first question. The waiter could not explain that in English but through sign language and the odd English word he announced he would bring someone who could explain it to us. Little did we know we were in for a cultural treat, apart from a culinary one.
He came back with the owner of the restaurant, Iulia Dragut, Ph.D. in Philosophy, the President of the Cultural Association Euro East Alternative, a culinary judge and a food event organiser in one.
After explaining what the paste, or pasta de jumari, was made of —grated pieces of port fat with spices— she started telling us the history of the place. It turned out that it had been opened only a few days earlier, after a few months of refurbishments.
We had just had a culture starter and were eager for the other courses. Thus, minutes later, with the kind of unspoken understanding likeminded people have, we asked Iulia to join our table.
Iulia started recommending us some must-try dishes and picked a full-bodied wine that matched the food perfectly. She would leave a few times for a couple of minutes to entertain her other guests, her friends, who were sitting at a large table celebrating the opening of the restaurant.
As a culinary specialist, even before we ordered the main course, she told us all about the natural ingredients, the origins of Romanian cuisine and the heritage the Dacians have left, especially as far as wine production is concerned.
According to the International Organisation of Vine and Wine, in 2014, Romania had 192 million hectares of land under vines (11th globally) and produced over 4 million hectolitres of wine (12th globally). France might still be the world's largest wine producer but the cultivation of the vine in this region started earlier than in most of Western Europe. In the region which is now Romania, the Kingdom of Dacia was already well known for the quality and abundance of its wines and Iulia prided herself in the Romanian wines she had on offer in her restaurant.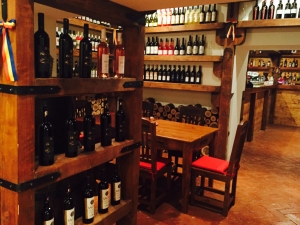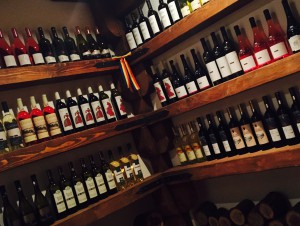 "Noroc!" we all uttered when we drank a shot of delicious plum Pálinka, a traditional fruit brandy served in Romania which would prepare our stomachs for the food feast we were about to have. In order to try as much as possible, each of us ordered a different dish. Then, Iulia remembered there was a piglet that the cook was making for their friends and we needed to try that too. We all have a sweet tooth so skipping deserts was out of the question.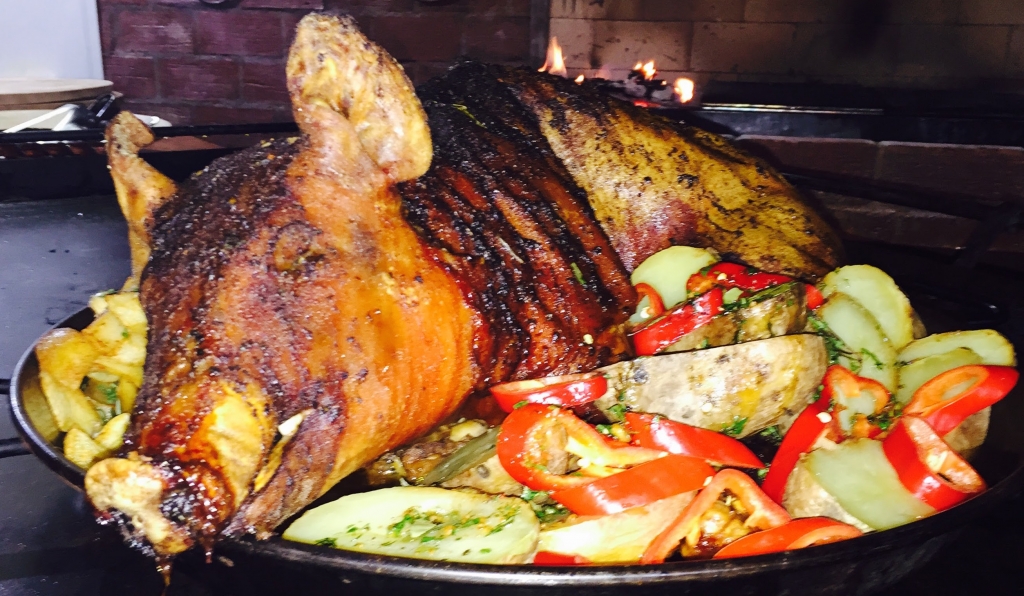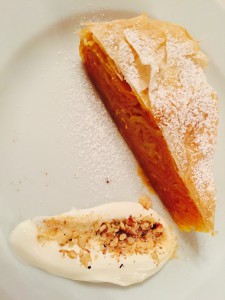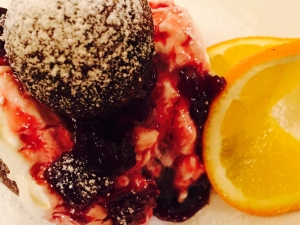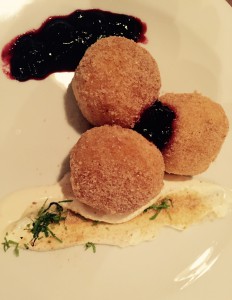 What struck and captivated us from the first moment was Iulia's hospitality. She was proud of her specialties, her culture and her country. We ended up enjoying the food, the wine, the restaurant and Iulia's company till long after midnight and managed to visit the restaurant once more on Thursday. The next day, we flew back to London, while Iulia headed the other way to spread Romanian culinary joy in the Middle East. Even though pork plays a big part in her national cuisine, we are confident she had plenty of other delights on her sleeve to keep muslim food lovers happy.