When traveling or emigrating, its always a good idea to embrace the culture, food and drinks of the place you are visiting or living in. You never know, these experiences could have an impact on your future endeavours.
A perfect example of this is William Borrell, owner and founder of Vestal Vodka, as well as Ladies & Gentlemen in London.
"Our family moved to Poland 28 years ago when my father married a Polish lady who had a summer house in Kaszubia. We built a family-run lodge where guests could stay and escape the hustle and bustle of the city and enjoy a more tranquil way of life with home cooked food and good wine. We imported the wines ourselves, from around the world. It was this love of terroir which led us to look at the way Polish vodka was produced," Mr Borrell tells Emerging Europe.
Summer in Poland meant drinking potent vodka.
"I tried regional vodkas unlike anything I'd tasted. They were unfiltered, 80 per cent, totally illegal but just exciting," Mr Borrell told the Evening Standard.
The love of terroir and the experiences had while growing up "ultimately led us to begin producing our own terroir inspired unfiltered vodkas using different potato varieties grown in different fields" he explains.
In the beginning Vestal partnered with Chopin Vodka: "Our first partnership was with the Chopin distillery. We supplied them with early harvest potatoes from our farm and asked them to make us as authentic a vodka as possible, a vodka with character and flavour by not filtering the impurities, for these impurities are ultimately the flavour."
Moving forward, Mr Borrell has found an independent distillery closer to his lodge: "We now work with an independent distillery a short 35 minute drive from our lodge in northern Poland, here we use a mixture of column and also are the only company to use an authentic copper pot still to produce our vintage vodkas."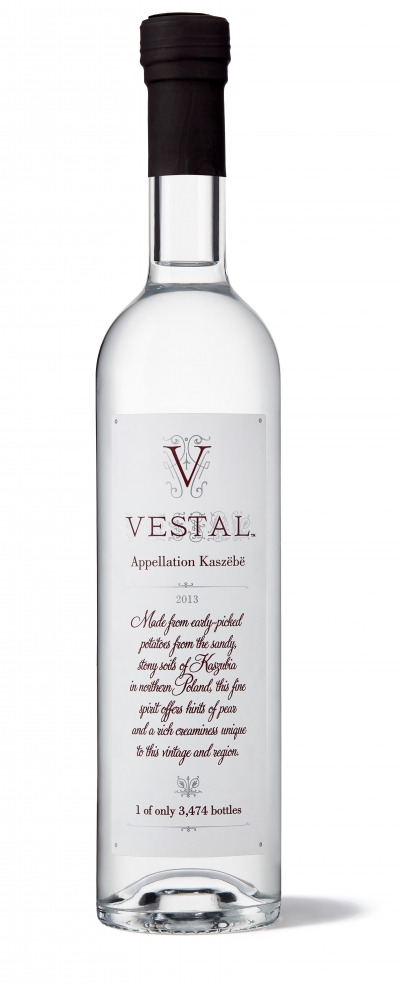 It's not all about budgets. The success Vestal has attained has more to do with its approach.
"There is no secret to our process, other than using hand-picked ingredients to order, that are then processed 48 hours later," Mr Borrell explains, adding that "our vodkas, despite not having the large budgets, have captured the idea that vodka can have flavour, not an added flavour but a depth to the spirit much like a fine single malt or rare cognac.
"Developing any spirit brand is never easy and this is certainly true when your competitors have untold resources and budgets, our goal has always been to be nice and honest and simply market the product by visiting our customers and hand-selling the product."
And by taking a simple, low-cost approach to entering new markets.
"We book an economy class ticket and fly to meet with potential partners in person, we let them sample and try to get product to them within a month," Mr Borrell explains.
In addition to their current products, Vestal are now working on new varieties of vodka to add to their line-up and have some exciting new bottles that will be launching soon.
There may even be a possibility of tours at the distillery.
"Distillery tours are being considered, the issues are that you would be on a working farm with lots of machinery and moving parts, the work on the distillery is beautiful so I imagine it's only a matter of time," adds Mr Borrell
At present Vestal's biggest markets are in Europe: the UK, France, Germany and Poland, with growing interest coming from Australia as well as Asia.
"Vestal continues to produce terroir-inspired vodkas and show the world that Polish vodka is really the only vodka worth sipping. This is very true in our home market of Poland where bars often stock foreign vodkas over the beautifully produced Polish vodkas.
"We are creating something more valuable than luxury – we are offering true craftsmanship," concludes Mr Borrell.