Interros Holding, which manages 34.54 per cent of shares in Russian mining giant Norilsk Nickel has said that one of its fellow shareholders, Russian aluminum giant Rusal, is attempting to exploit a recent fuel spill in order to place pressure on Norilsk Nickel to push through a new shareholder agreement that would guarantee Rusal the highest dividend payout.
"Rusal is accusing the Norilsk Nickel team of being unprofessional while failing to create its own sustainable and competitive business model in the world market," Interros Holding said in an official statement.
"During the past 12 years, since the purchase of the stake in Norilsk Nickel, Rusal has not advanced a single significant initiative aimed at modernising Norilsk Nickel or expanding its ore and production capacities."
Interros claims that without Norilsk Nickel's dividends, Rusal's cash flow does not cover its expenses, and the bulk of dividends goes to payments to banks on loans.
"Being a major shareholder of Norilsk Nickel since 2008, Rusal has turned all its efforts on extracting maximum dividends, having failed to get off the 'dividend needle'. Rusal keeps a low profile on its own financial indicators which remain bleak while presenting claims to the Norilsk Nickel team. According to IFRS statements, over the past five years, Rusal's operating costs have grown by more than 30 per cent, and EBITDA fell from two billion US dollars to less than one billion US dollars in 2019 over the same period, despite constant statements about expense trimming," the statement continued.
According to Interros, the cash flow generated by Rusal does not cover its costs without Norilsk Nickel's dividends. Contrary to the statements, Rusal does not invest dividends received from Norilsk Nickel in the Russian economy, since a significant part is spent on debt servicing, according to a press release.
"The dependence on Norilsk Nickel's dividends is the main reason why Rusal once again rejected Interros's proposal to cut dividend payments. Interros considers Rusal's recent public announcements as an attempt to exploit the fuel spill situation and pressure Norilsk Nickel to enter into a new shareholder agreement that would guarantee Rusal the maximum dividend payout," reads the statement.
Rusal, which owns 27.82 per cent of shares in Norilsk Nickel, reportedly remains closely linked to the billionaire Oleg Deripaska.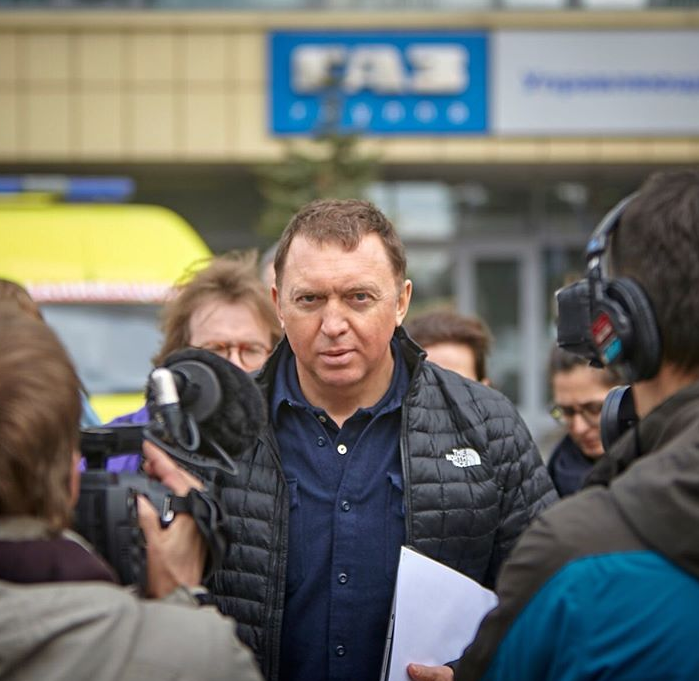 According to the news agency Reuters, Rusal and its parent company En+ were hit with US sanctions in April 2018 when Washington blacklisted billionaire Deripaska along with several other influential Russians because of their ties to the Russian President Vladimir Putin.
After months of negotiations, Deripaska agreed in late 2018 to reduce his stake in En+ to 44.95 per cent from 70 per cent in a deal with the US Treasury Department that allowed the punitive measures against Rusal and En+ to be lifted. There remain concerns in Washington however that the Russian oligarch may still be able to pull the strings of his business empire from behind the scenes.
Mr Deripaska has long been a controversial figure. Last year a Belarusian model who claimed to have information on Moscow's attempts to interfere in US elections told CNN that she had been ordered by Russian security agents to keep silent about her dealings with the Russian billionaire.
Anastasia Vashukevich, a self-styled "sex coach," made international headlines after she was arrested in Thailand and claimed to have obtained secret recordings during an affair with Mr Deripaska which allegedly shed light on US President Donald Trump's links to Russia.
Mr Deripaska is is reportedly close to Mr Putin and also had a working relationship with Paul Manafort, President Trump's former campaign manager. Manafort was investigated by special counsel Robert Mueller as part of the probe into the 2016 election and was convicted last year of tax and bank fraud.
—
Unlike many news and information platforms, Emerging Europe is free to read, and always will be. There is no paywall here. We are independent, not affiliated with nor representing any political party or business organisation. We want the very best for emerging Europe, nothing more, nothing less. Your support will help us continue to spread the word about this amazing region.
You can contribute here. Thank you.