A decade after its establishment, the Belarusian Universal Commodity Exchange (BUCE) is the largest commodity exchange in Central and Eastern Europe with an average daily transaction value of €6 million in 2014 and more than 14,500 participants including over 3,000 foreign companies. Now, Emerging Europe speaks to Uladzimir Torchyk, Director for Strategic Development and Member of the Board of BUCE about how the commodity exchange can help EU companies to trade with CIS countries.
So why should a company based in the European Union that wants to sell to or buy from Belarus trade at the BUCE? What are the benefits?
There are quite a lot of them really. First and foremost, we have accumulated a huge database of buyers and sellers from 57 countries. This opens up a wide window of opportunity for EU companies seeking to grow their sales and gain a firm foothold in the vast market of the Eurasian Economic Union that currently includes Armenia, Belarus, Kazakhstan, and Russia (with Kyrgyzstan ready to join). It means a company doesn't have to spend loads of time and money on market research for prospective business partners.
Also, entering a new market is a big challenge because the company is never sure that the other party will honour their contractual obligations. To minimise the risk of non-payment or non-delivery, the companies trading at the BUCE are able to use sub-accounts for clearing mutual payments. Thus, the seller will get their payment only after the buyer confirms the receipt of the goods.
Like in other exchanges, the pricing mechanism based on one of the fundamental concepts of economics – the relation between demand and supply. It makes both sellers and buyers compete with one another resulting in an equilibrium price – satisfactory for all parties involved.
More than half of all foreign participants are from Russia. Can trading at the BUCE help companies sell products to that market?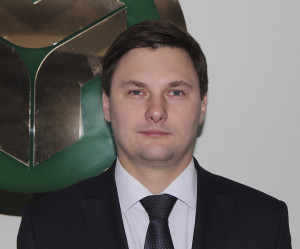 Well, Russia is one of Belarus' largest sales market. Now Belarus and Russia have no customs borders, no trade restrictions and a unified customs policy towards third countries. This is again a great chance for EU companies to increase their sales in Russia. There are about 1,700 Russian companies in our database, which means that an EU firm registered at the BUCE will have direct access to bids and offers of all these companies.
In this case BUCE only provides a platform where Russian and EU companies can meet and do business. I want to make this clear that we are not an intermediary but rather a marketplace. Thus, like any other marketplace, we introduce rules and monitor how these rules are observed. So, for example, if a Russian company fails to observe its contractual obligations to an EU company, the BUCE can help resolve this matter without bringing the matter to court. This is very important for all stakeholders because syphoning funds on gruesome litigations is hardly the best solution.   
When the commodity exchange was established, it started trading timber. Now there are four major groups of products: timber, metal, agriculture and most recently industrial and consumer goods. Which products are most popular?
In terms of the volume, our metal products section is an undisputed leader, which is natural bearing in mind that Belarus imports massive amounts of metal to satisfy its gargantuan industrial needs.
You see, among all republics of the former Soviet Union we are the only one that has managed to preserve its industrial sector and make it the main driver of economic growth. About 20 per cent of the country's annual metal imports come through the BUCE, which makes ferrous and nonferrous metals the most popular products traded on our trading platforms. As far as exports are concerned, timber is still the most sought after commodity. We annually sell about $300 million worth of raw and sawn timber, primarily to the EU countries, and the demand is steadily growing. There is one more group of commodities that we usually export in huge amounts these are dairy products. However, due to an economic slump in the Russian Federation our last year's sales figures turned our not so impressive. Hopefully, Russia's economy will rebound by the end of the year and we'll see a spike in our dairy sales again. 
The industrial and consumer goods section (ICG) is relatively new but it seems to be developing rapidly, doesn't it?
Indeed, launched in late 2009, our industrial and consumer goods platform shows nothing but promise. Last year, it helped Belarusian manufacturers export some $60 million worth of products. It may seem a rather modest figure compared to the performance delivered by "elder" sections (metal, timber, agriculture) but you should understand that like all new things it needs some time to gather momentum. According to our projections, 2015 will be a breakthrough year for the ICG platform and right now we are doing our best to spread the word about its many benefits. 
Based on cutting-edge software, the ICG platform is a powerful tool for exporters that allows selling literally any commodity to any of the BUCE's registered companies. This makes it an effective and future-proof solution focused on foreign markets. The platform has a bilingual (English and Russian) user interface and is available online 24/7. All transactions are concluded electronically by means of a two-way auction that ensures that both sellers and buyers compete. The entire trading procedure is completely transparent, which makes it impossible for the participants to commit a violation or reach a secret agreement. The same applies to mutual settlements where the BUCE acts as a guarantor of complete fulfilment of contractual obligations by both parties.
The exchange is doing its best to help foreign traders, for example, by introducing a trading system with a user-friendly interface in Russian and English. How can the 27 warehouses which are registered with the BUCE help traders?
Over the recent years we have created what we call "the system of exchange logistics". It is composed of three key components: warehouses, carriers and experts. The BUCE has registered 27 warehouses in Belarus, Belgium, Bulgaria, Estonia, Germany, Kazakhstan, Latvia, Lithuania, Poland, Russia, and Ukraine. Now, any product purchased via the BUCE can be collected by the buyer either in his home country or as closely to the desired location as possible. The delivery services are provided by BUCE-authorised transportation companies ("exchange carriers") while the inspection of delivered goods for quality and quantity compliance is entrusted to professional inspection companies ("exchange experts").
The mechanism of selling goods through exchange warehouses offers a number of obvious advantages for participants of exchange auctions. For the buyer this is a possibility to collect exchange commodities at a convenient location as some of the warehouses are based in seaports, which makes them even more valuable; additional guarantees of receiving goods of agreed quantity and quality; no need to arrange the delivery of purchased goods from the seller's warehouse. The seller gets a chance to expand his sales markets and can include the cost of delivery into the price of goods thus raising his profit margins.