The Belarusian start-up scene is only being created, now with experts estimating that there are about 100 new start-ups created in Belarus each year. Accelerators, incubators, business clubs, start-up hubs; all have started to appear in the last few years and there are already about two dozen hackathons taking place in the country per year.
Yuri Gurski is a Belarusian entrepreneur, business angel, strategist and adviser. He is also the founder and owner of Ideanomix and Ideanomix Digital, as well as a best-selling author of over 30 books and, currently, he is vice-president of New Product Development at Mail.ru Group. He spoke to Andrew Wrobel about how he sees the prospects for the Belarusian IT sector and the start-up scene.
You have been in the business for a while now, what do you see as the strengths of Eastern European IT specialists?
So far the main competitive advantage of IT specialists from our region is their relatively low cost given their high qualifications. This quality/price combination makes the region very attractive for the development of outsourcing in the middle to upper price range as well as for the setting-up of development centres for large and small companies.
Another important factor is the country's relative proximity to many major business hubs, for example, London. Having said that, there are not many companies that have a global impact originating from this region, which is a generalised characteristic for Europe which lags, noticeably, behind the US and Israel in terms of start-ups.
There is a set of identifiable reasons for this: the lack of people with experience in creating their own products who are able to run their own companies; the convenience of running a simple and predictable outsourcing business; the very high level of wages for IT-specialists in comparison to other industries (this creates a comfort zone, which you do not want to leave); the generalised mind-set of low risk and appetite for entrepreneurship, as compared to the United States and Israel; difficult access to venture capital, etc.
Where do you see Belarus in the picture?
Well, when we create projects, we use the high human capacity of our country. Thanks to the powerful outsourcing sector, we do have, a lot of technical IT professionals: about 50,000 actually, with most of them located in Minsk.
This means that it is quite possible to form a development team, in any location, for a reasonable price and terms. However, we are experiencing a considerable deficit in business development, strategy, product vision and marketing specialists. We often have to do the work in this field ourselves because it takes such a long time to find an expert. Added to this great efforts are being spent on training brand new employees up to fill positions in these areas.
The domestic market in Belarus is so small that it practically has no influence on the development of the IT industry. We have a number of companies that are creating software for local banks and state organisations, but they are not many. Historically, the IT industry in Belarus is oriented towards the West, making it the most stable part of the Belarusian economy, however, when the financial crisis started in Russia started this caused a domino effect in Belarus.
In Belarus, there is a moderate number of companies and outsourcing and development centres dominate. However, as wages rise and the outsourcing margin falls — at the moment it does not exceed 20-30 per cent compared with hundreds of per cent 10-15 years ago – the idea of having your own product becomes more popular. Successful exits of Belarusian start-ups, such as MSQRD sale to Facebook in particular, have also strongly influenced these ideas.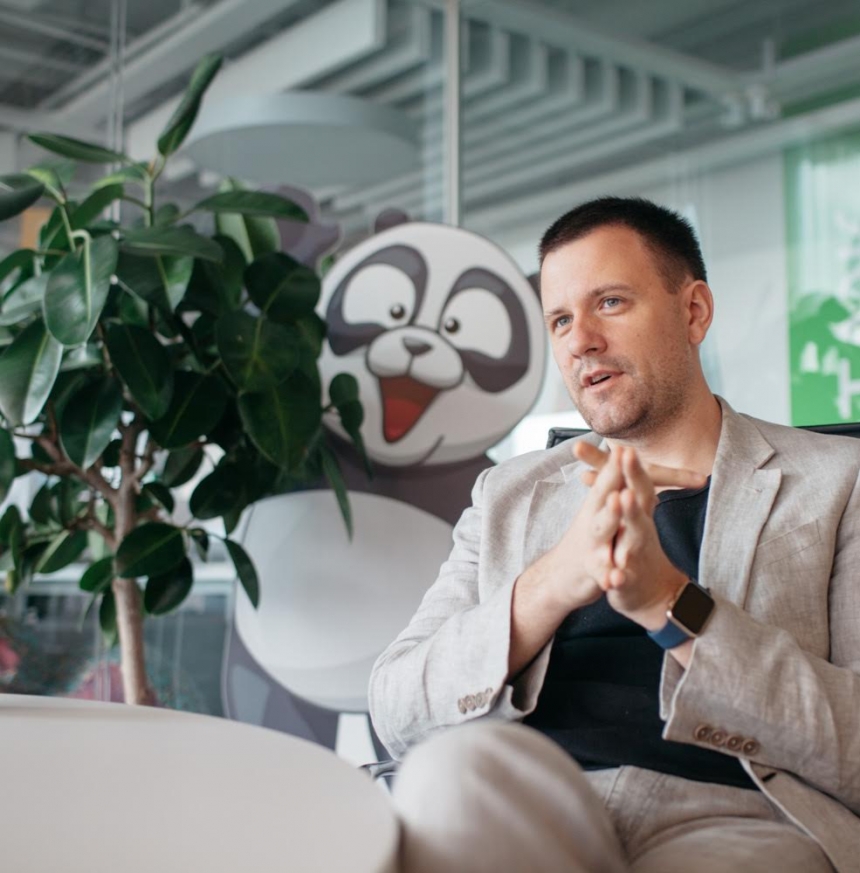 You are a start-up mentor and supporter. How do you see the start-up scene in the country?
When we talk about start-ups in Belarus, it pays to note that there are not that many of them so far. Within our fund, "Haxus", we can see almost all of the recent projects. Basically, there are very few of them that have produced a workable product, at all, certainly not more than a few dozen a year. For this reason, there are also few investments or exit cases per year. Although there are about 50,000 IT-specialists in Belarus, the idea of creating their own company is not so popular with them, which is why new companies appear far less than one would expect from such a large number of people in the industry.
What sort of help is needed by young entrepreneurs?
The main problem for Belarusian start-ups is the extremely low level of training available, across the spectrum of business issues. They almost never analyse the market appropriately; they do not build a reasonable strategy for the development and promotion of a product. Intellectual property is almost never documented, and so on and so forth.
In fact, only one task is well-executed — the direct creation of the product. It is hard to blame start-ups alone for this problem. We only have a few companies and we simply have no opportunity to learn. The start-up infrastructure is actually only embodied in two or three centres. As a consequence, the main task of a mentor, investor or business angel is to help to solve the problems with business development.
Belarus has recently been named a top outsourcing destination of 2016 by the Global Sourcing Association. It was also included in the Top 30 Locations for Offshore Services by Gartner. How does that help in the global recognition of the sector?
Belarus' recognition abroad is still moderate, although it is growing. Our country is often identified with Russia, but the IT sectors of the two countries are very dissimilar.
How do you see the growth of the sector in the next decade?
Let me first consider at the last ten years. The IT sector in Belarus has grown significantly during last decade, reaching about two and a half per cent of the GDP, in 2016, and the growth will continue, will probably be smoother.
Even now there is a clear trend of companies boost, and many outsourcing companies are trying to become suppliers of more complex and complete solutions as the level of salaries of IT specialists no longer pays off just by cheap orders.