Survio is an easy tool for any type of online survey that already has one million users who created over 1.5 million surveys. The online forms included more than 10 million questions and received some 20 million responses in its first four years of operation. 
Ondřej Coufalík, CEO at Survio, spoke to Justyna Wróbel, about the company's up and downs, their recent achievements and their ambitious plans for future expansion.
What have the Survio team been doing since the beginning of this year?
Well, we've been focusing on our three digits year-on-year growth – scaling the infrastructure, user on boarding, performing A/B tests or split testing, if you like, business development, searching for new talents, etc. 
Besides all of that we have been optimising our customer care for one million people – it was a challenge! The team's size doubled and we had to find an office where we could all fit. We did and now could already be looking for a bigger one again.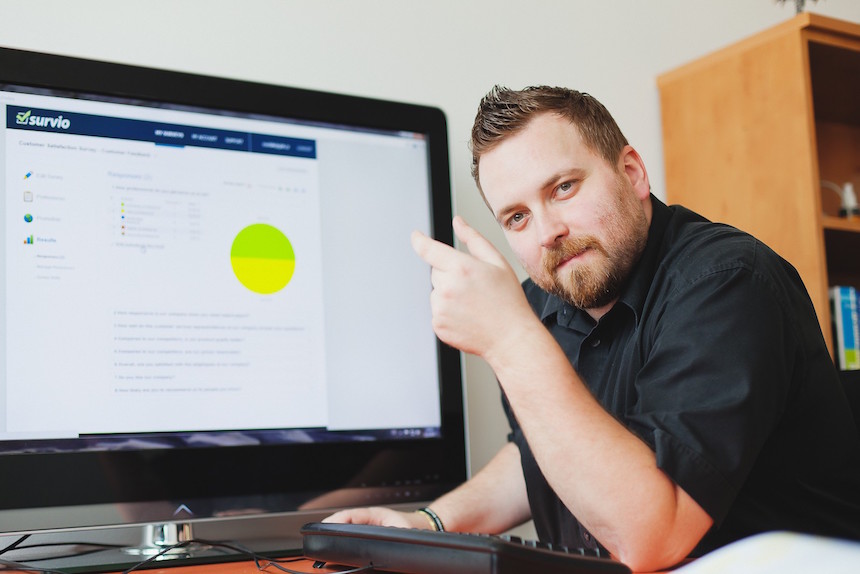 So is it right that over one million people are using your service now?
Yes, this year we are hitting the one million users' mark.
That is impressive, so what are your developmental plans right now?
We are actually building a brand new Survio. Not only will we ride on a new wave of design and technology trends but we'll also add a lot of features that our customers have asked for. In Survio 2.0, creating surveys, tests and quizzes will be a piece of cake. Honestly, I can't wait to get it finished. It'll be the best surveying platform in the world.
What countries are you now looking at?
It is not a secret that we are rolling out to Sweden and Hungary soon. There are other big markets we haven't tried yet.
Let's now take a step back and go return to the very beginning. How did you come up with the idea for the service? I have heard the story is quite exceptional.
Survio's co-founder, Martin Pavlíček, got seriously ill eight years ago. While he was in the hospital he noticed paper forms everywhere – on beds, tables, even on the floor. He had a lot of free time, as one does, in hospital and he came up with an idea of how to get rid of all those papers that no one even noticed. He believed converting the old fashioned feedback process to an online service could change things. 
The benefits of online surveys are obvious – inexperienced personnel can get answers quickly and easily that provide automatically created reports showing aggregate results. Shaking off this paper madness was also a nice side effect. 
When Martin recovered a little and got back to school, we met and started to develop the whole idea. After a year we had the first version but no one wanted to use it. It was very complicated with no user experience (UX) at all.  That was the first time we failed and we learned a lot.
After that we established a company and had a second shot taking it all more seriously. We rebranded the service, hired developers and rebuilt the whole app all over again. Ordinary people and students from Loyola University in Chicago were our first users and testers and they liked it. So we thought it would sell better. It did, but that was not enough. After another two years we failed again.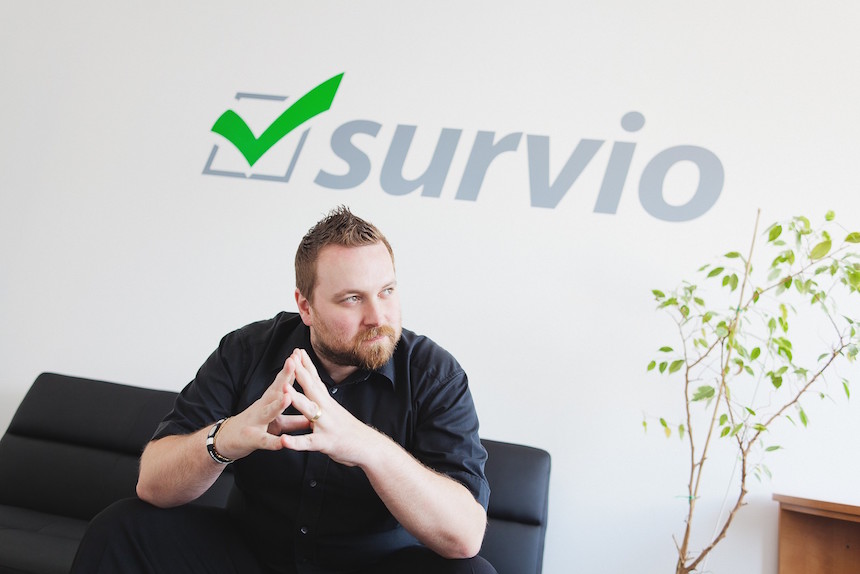 In 2011, I met Vít Vrba from Webnode who became our partner and investor. At this point our journey started to turn in the right direction.
If you believe in a product or a service and you are persistent you will eventually succeed – your story proves that, doesn't it?
I am sure of that. It took us four years to fail, learn, get back on track and fail again, all to find the right way. 
So how has the sale of some of your shares to Webnode helped the company grow?
First of all, we received $200,000 to finish the basic product (MVP), to test the business model and to start the marketing. It is also worth keeping in mind that relying on someone who has already succeeded worldwide and who can advise you, is priceless.
Why is Survio so special now? What makes it so popular?
Is it that we are operating in more than 30 markets? Or is it that we have 70 survey designs, that we have 1,300 questionnaire templates for a quick and simple start or that it generates automatic reports and complex data analysis? Is it our great customer care with a 94 per cent customer happiness rate? 
You know, our customers love us for all the reasons mentioned above, but, I am convinced that Survio is so popular because we really help everyone transform their doubts and problems into opportunities and solutions.
How many languages do you operate in now? How many users are there?
As I said before, this year we will have reached one million users! Considering that we've attracted them with only $200,000 of investment makes me proud. Everyone in the team has contributed to this amazing number. 
But coming back to your original question, at the moment Survio supports 13 languages and two new ones are being added as we speak. 
Which are the largest companies that use your service? Which industries do they represent? 
Name any brand from the Fortune 500 and you will hit one: Tesco, Bosch, Ford, BMW, Oriflame, Microsoft, C&A and many more.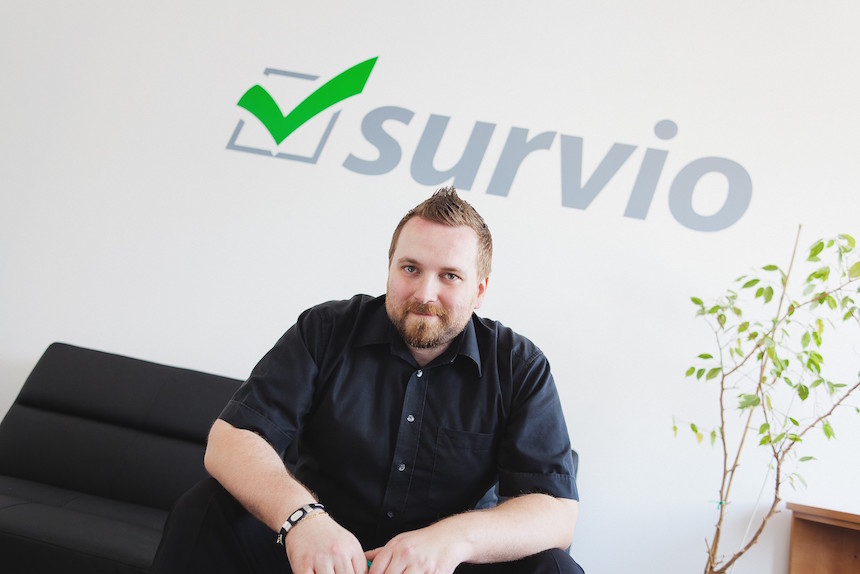 Typically, they are companies that provide services, such as banking, finance, consulting, internet / phone providers or producers who care about quality such as automotive, pharmaceuticals, computers and fashion. Even the heavy industry segment measures satisfaction, loyalty and efficiency and collects valuable data via surveys.
What is your competition like and how do you show your users that you are better than them?
Our biggest competitor on the global scale is SurveyMonkey. In addition there are about 30 competitors we compete with on the local market. Some are focused on professionals and research specialists, enterprises and universities and some are focused on general data collection such as Google Forms. We are growing in very competitive field.
Survio is what our competitors aren't – put simply, it's a user friendly, nimble and international product, with huge content and pre-built templates for free plus great user support all combined into one online platform.
How big is the team now?
The Survio team consists of 11 people located in Brno, the Czech Republic and four people in our Brazil office who take care of the LATAM. So that's 15 people in total.
What advice would you give to companies from the region who would like to expand to other markets?
Build a product that helps to solves a problem and that provides perfect customer support. Test it all the time, promote it, be patient and believe in it. Don't forget to fail, learn and get back on track again.
Now, how do you see the company developing over the next few years and where will the company be in ten years?
If Survio is helping more than 20 million people to collect valuable data in ten years' time, I will be happy. That is our goal and our mission.
Click here to read more about the company and the service Survio offers.