Emerging Europe crunched the numbers to find out which of the 23 capitals of the region offers its citizens the highest quality of living. Prague came out on top, closely followed by Tallinn. We visited both to speak to residents and discover for ourselves just what makes them so special. We also visited Kyiv – which performed worst – and quickly realised that even there, life is better than ever. 
Early one crisp November morning, long before the hordes of visitors that can make the centre of Prague feel like a central European Disneyland have even begun tucking into their buffet breakfasts, I strolled the length of Na Příkopě, one of the Czech capital's most eclectic, busiest, streets.
A commercial hub for centuries, Na Příkopě connects Wenceslas Square – the site of the mass protests of 1989 which became known as the Velvet Revolution and brought down the Czechoslovak communist regime – with Náměstí Republiky, home to the iconic Obecní dům, whose lavish exterior complete with Homage to Prague mural by Karel Špillar is topped only by the splendid atrium of the Smetana concert hall inside.
My walk in November was something of a rather indulgent trip along memory lane. For a number of years in the late 1990s I was lucky enough to call Na Příkopě home. Almost. I worked in one of its many elegant office buildings, but home – during the week at least, I returned to Bucharest at weekends – was actually an apartment around the corner at Dlážděná.
A city for the ages
I had returned to Prague – for the first time in more than a decade – to find out (or perhaps, remind myself) what makes this city the most pleasant of all emerging European capitals.
At the time I lived there, Prague was the perfect city in which to be based. Regularly needing to fly throughout the emerging Europe region, even before the arrival of the low-cost airlines it offered direct connections to just about everywhere, was relatively cheap and packed a cultural punch well above its weight. There was never a shortage of world class events to attend, be it an opera or an exhibition. It also offered the best beer in region. I am glad to report – after much research – that it still does. The best beer, and much more besides.
For according to a major new study carried out by Emerging Europe, the Czech capital offers its citizens the highest quality of living of all the 23 capital cities of the emerging Europe region.
Our survey looked at a wide range of indicators from leading European and global organisations, from life expectancy and healthcare to the quality of public transport and education, the cost of living, pollution levels and road safety.
Prague came out on top in a number of different categories, offering its residents the best public healthcare, the safest roads and the highest number of universities in Europe's top 1,000. The city also boasts even better transport connections to neighbouring countries than ever, high-speed internet, low unemployment and a high level of personal freedom.
What's more, while the cost of living in Prague is relatively high for the region, purchasing power is also the highest of any capital city in emerging Europe. I certainly noticed that the price of most everyday goods had increased considerably, but when compared with much of western Europe, it remains an extraordinarily cheap place to live.
"I don't think that Prague topping this study will come as too much of a surprise to anyone," says Andrew Wrobel, founder and director of content and research at Emerging Europe. "It is a city which has retained its medieval charm while ensuring that it still moves with the times. It's a great hub for new businesses in a variety of fields, an easy place to get to and is in many ways the beating heart of Europe. That so many foreigners have relocated to the city speaks volumes for its international appeal and ability to attract new talent. It's an old, historic city but it feels young. There are few places in the world that can pull that off."
One of those foreigners who now calls Prague home is Juan Huitz, an American banker who has lived in the Czech capital for more than two decades and recently became a Czech citizen.
"What makes living in Prague appealing is first and foremost the basics," he tells Emerging Europe. "The public transportation system is good and following the Vltava north or south by bike takes you easily into the beautiful countryside. It's also incredibly safe."
The big village
In our survey, Tallinn comes just behind Prague in second place, the city boasting the lowest levels of corruption in the region, good public healthcare, a high ease of doing business score and the wonderfully clean air offered by its proximity to the Baltic Sea. A hub of entrepreneurial activity – especially in the technology field – it has been central to Estonia's emergence as a digital heavyweight.
While the cost of living in the Estonian capital is the second most expensive anywhere in emerging Europe, rising salaries, driven by the tech boom, mean that residents have more purchasing power than those of any other city in the region except – perhaps surprisingly – the Georgian capital Tbilisi.
"Tallinn's a great place to live because it's just the right size: it's not too big, and it's not too small," says Kyllike Johansson, a Tallinn local, who runs a small publishing company in the Estonian capital.
"There are lots of cultural events and world-class art centres, museums, a wonderful culinary scene and all of it is within reach, helped by free public transportation as well as small distances. There are a lot of green spaces as well as the seaside, and lots of beautiful nature even within the city itself. There's good flexibility for work, with choosing your own hours and working from home encouraged. Innovative digital solutions make everyday life easier. We also have a great healthcare system that is covered by our taxes," she adds.
"Another nice aspect is that as Tallinn is a big village, it's easy to communicate with the municipality, there's very little hierarchy and bureaucracy."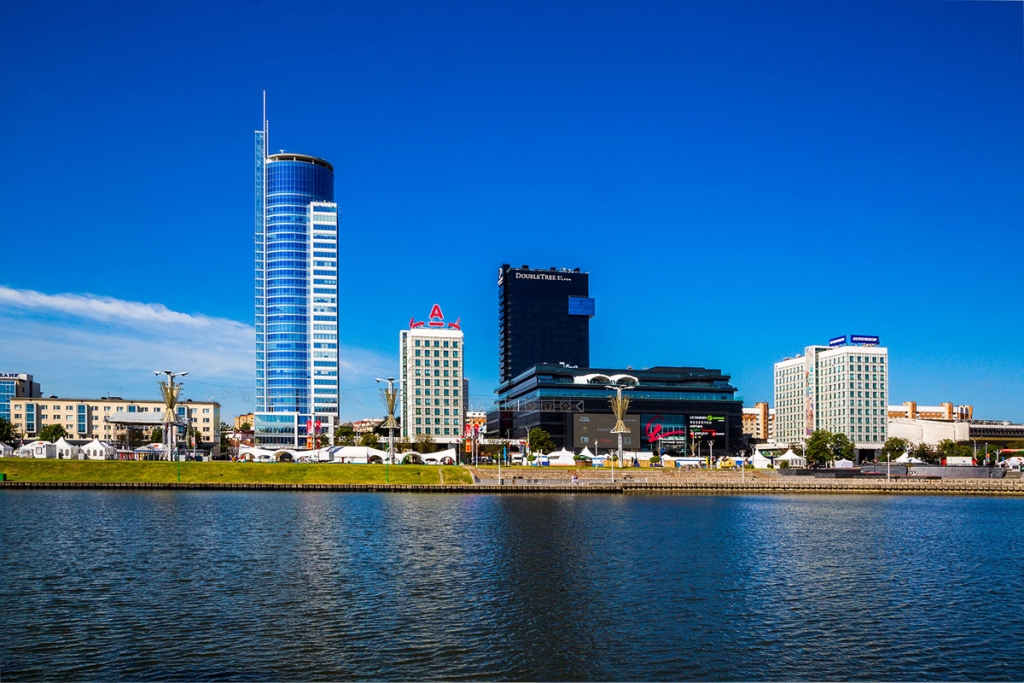 Some surprises
The top 10 of our study is completed by – in order – Ljubljana in Slovenia, Vilnius in Lithuania, Warsaw in Poland, Riga in Latvia, Bratislava in Slovakia, Budapest in Hungary, Zagreb in Croatia and – perhaps surprisingly – Minsk in Belarus.
Minsk is the only non-European Union city to make the top 10, and although the city scores poorly for transparency and personal freedom, it offers its residents (again, perhaps surprisingly) the cleanest air in the region and almost zero unemployment, as well two of Europe's leading 1,000 universities.
Doing business in the city is also considerably easier than in a number of EU capitals, including Bucharest, Sofia and Zagreb.
The shortest average commute is in the Montenegrin capital Podgorica (a result, no doubt, of its small size) while Vilnius has the fastest internet. Bucharest, so long the European champion of fast internet speeds, has fallen behind, barely scraping into the top 10. Minsk has the lowest average internet speed, at just 14 Mbps.
Yerevan in Armenia has the most dangerous roads, at least in terms of the number of people killed each year in road-traffic accidents as a percentage of the population, while Prishtina can boast the cheapest cost of living.
Not a great time for Ukrainian architecture
It is the score we have allocated for that low cost of living which manages to keep the Kosovan capital from taking last place in our study, the dubious honour of which goes to Ukraine's capital, Kyiv. The city has the longest average commute in the region at 42 minutes, the joint-lowest life-expectancy (at 72 years) and relatively slow internet.
However, it's not all bad news for residents of the Ukrainian capital.
The city can boast clean air, two leading universities in Europe's top 1,000 and a relatively low cost of living.
The first thing that strikes the visitor to Kyiv (never Kiev) is the sheer scale of the place. Everything, from the width of the roads to the size of the buildings screams of a city that was designed for giants, not for people.
It's not surprising: all but destroyed in World War II Kyiv was rebuilt during the late 1940s and early 1950s – not a great time for Ukrainian architecture.
Serhiy Cherniavskiy owns a printing shop in the city. He is proud to call it home, and – unlike many of his compatriots – doesn't dream of living elsewhere.
"The beauty of Kyiv is knowing what the city and its people have been through and then realising just how much we have achieved," he tells Emerging Europe. "Many of the problems that the city faces are what I think some people refer to as first world problems. There are too many cars, too many people, too much noise. But those, to me, are signs of a city that is developing fast. My grandparents moved here many decades ago and had nothing. They had to rebuild a city that had been destroyed, in which everything, including people, was in short supply. When I think of their experience and compare it with my own, I consider myself lucky to live in a city that is growing, a city that offers something. I know that we do not have the most picturesque buildings in Europe – we don't even have the most picturesque buildings in Ukraine – but this is a still beautiful city to anyone who knows its history, and few people know their history as much as we do."
Cherniavskiy's comments will resonate with the vast majority of people across the emerging Europe region.
Complaints about traffic make older generations remember the times when few had cars, or when petrol was rationed. Queues at supermarket checkouts remind the same generation of a time when shops would run out of basic foodstuffs. Serhiy Cherniavskiy has recently bought a new house close to one of Kyiv's airports, Zhuliany. Even the noise of the planes is, for him, a wonderful thing.
"When I was a kid we couldn't even dream of flying in an aeroplane. You had to be somebody very important. Now, anyone can afford a ticket. Seeing and hearing the planes flying over my home is joyful," he says.
All of the 23 capital cities of emerging Europe – including Prague and Tallinn, which are suffering from overtourism – face challenges. But these, as Mr Cherniavskiy points out, are increasingly first world challenges, the same as any major city anywhere in the world: providing adequate housing for all, offering decent public transport, good health care, good schools and safe roads. Fighting climate change, pollution and inequality.
Cherniavskiy's optimism however is infectious, and he is right about the need to remember the past. For regardless of whichever of the 23 capital cities of emerging Europe in which we live, the chances are that life has never been better, and life will continue to improve.
Next year, when we once again carry out our study, we shall find out which cities have improved the most.
—
The full Emerging Europe Capital Living 2020 report will be available for download soon.