As tensions between the US and its trading partners start to hit economic activity worldwide, the International Monetary Fund (IMF) has said the global economy is now expected to grow at 3.7 per cent this year and next year — down 0.2 percentage points from an earlier forecast.
In its latest World Economic Outlook – a report published each year in April and October – the IMF has also revised downwards its 2018 and 2019 growth projections for the vast majority of the 23 countries of emerging Europe. Only Bosnia and Herzegovina, Kosovo, Macedonia, Serbia, Slovakia and Azerbaijan are now expected to see higher growth in 2019 than they experienced in 2017.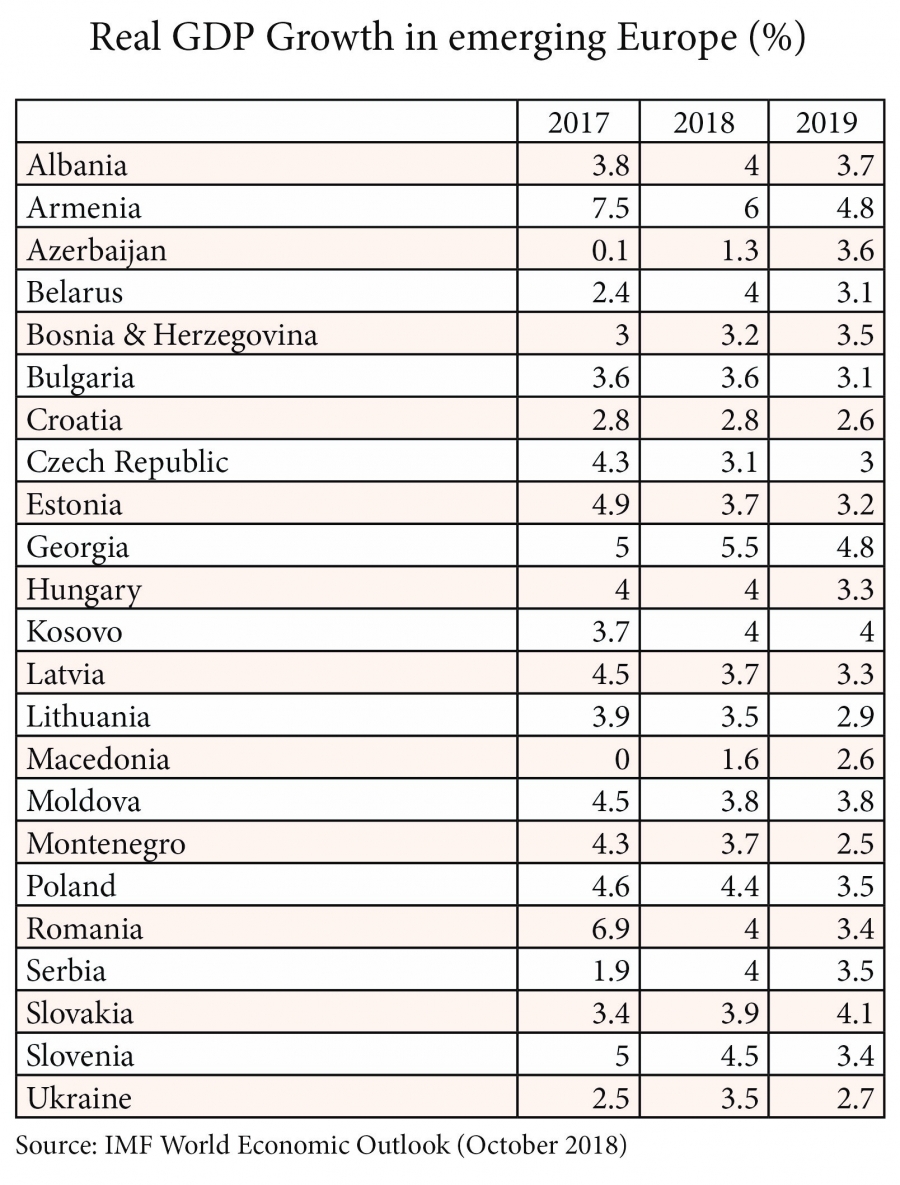 Romania, which recorded the emerging European region's (and indeed EU's) highest rate of growth in 2017, 6.9 per cent is now predicted to be overtaken by Poland in 2018. The IMF has revised Romania's growth prediction down to four per cent for 2018, and 3.4 per cent in 2019. Poland's economy is forecast to grow by a slightly slower 4.4 per cent in 2018 (down from 4.6 per cent in 2017), before slowing even further to 3.5 per cent in 2019. The report identifies demographic issues – and the subsequent shortage of labour – as a problem for further Polish growth.
"Romania's economy grew at a robust 6.9 per cent in 2017 on fiscal stimulus and strong external demand," reads the report. "Growth is expected to decline to 4 per cent in 2018 and further to 3.4 per cent in 2019 (1.1 and 0.1 percentage points lower than in the April 2018 WEO) as the stimulus moderates. Poland is in a strong cyclical upswing, with growth projected at 4.4 per cent in 2018 (revised up by 0.3 percentage point since the April 2018 WEO, reflecting stronger-than-expected investment growth), though it is expected to moderate to 3.5 per cent in 2019 and 2.8 per cent in the medium term, held back by adverse demographics and structural bottlenecks."