Cities should not only be smart, as the popular urban development trend assumes, but they should also be permanently learning. The first person to write about learning regions and cities was Richard Florida. He believed that a city operates as an assemblage of science and ideas, thus creating a friendly environment and infrastructure which enable the smooth transfer of knowledge as the engine of economic growth. By attracting creative and enterprising people, growth may develop that is based, not on coal and steel, but on knowledge and information.
According to Florida, a learning region consists of a number of elements: a production infrastructure which is a network of interrelated firms; human capital which is the labour force that is available in a specific area and a basic and information infrastructure which enables companies to deliver manufactured goods and services and to contact each other. The way the industry is managed, in other words the management culture, is highly important as well.
We have run an analysis of 66 Polish cities with a county status based on five aspects of the learning city: production, basic and information infrastructure, human and social capital, and the simplicity of setting up and doing business. The research showed that Warsaw is the most learning city in Poland with 54.9 points out of 100, so there is still some work for Polish cities to do to in order to reach learning perfection. Rzeszów (in the picture), a town in the south-east of Poland, came second, followed by Poznań.
Warsaw's first place comes as no surprise, but Rzeszów's ranking is more than interesting as it is a city located in a part of Poland that is perceived as less-developed. Nevertheless, this city ranks high in various classifications. It is one of the technological leaders, not only in Poland, but also across Europe, attracting the largest group of IT specialists in the Old Continent. Every year its population grows by about 1,000 inhabitants.
Warsaw makes up one seventh of Poland's economy. Moreover, it has a leading position in innovative infrastructure for businesses, as well as in basic and information infrastructure. Additionally, just like Rzeszów, the city's population is constantly growing. No other city in Poland, apart from these two, can boast that. Surprisingly enough, Poland's capital is the worst city (out of 66) to do business in. The reason for this is quite simple – there is a great number of companies and corporations situated in Warsaw what make the contact with public institutions more difficult.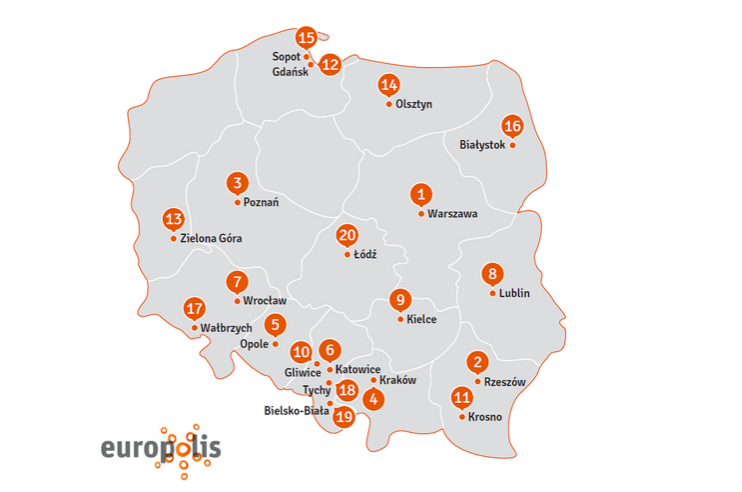 Out of six least learning cities: Jastrzębie-Zdrój, Ruda Śląska, Grudziądz, Żory, Jaworzno and Piekary Śląskie, only Grudziądz is not located in the region of Upper Silesia, a highly industrialised part of Poland where heavy industries play an important role in the region's development. Those cities are decreasing, both demographically and economically. For example in Jastrzębie-Zdrój there is a low unemployment rate, 62% of employed citizens work in industry and construction, but there is only one big employer – a coal producing company. Out of all the cities with county status, Jastrzębie-Zdrój has the lowest percentage of companies in relation to the number of residents.
Placing Katowice as number six on the list may be the reason for its neighbouring cities' low ranking. The city has one of the lowest unemployment rates in Poland and one of the highest average salaries – 142 per cent of the national average, mainly because of the salaries in industry and mining. However, it is trying to transform itself from a town whose industry is based on coal and steel to a centre of technology and culture.
The analysis was made in 2015 for the Polish Robert Schuman Foundation and published in a report within Europolis project.
_______________
The views expressed in this opinion editorial are the author's own and do not necessarily reflect Emerging Europe's editorial policy.