"Government's view of the economy could be summed up in a few short phrases: If it moves, tax it. If it keeps moving, regulate it. And if it stops moving, subsidise it." The words of US President Ronald Reagan are still a useful shorthand to understanding government's approach to the economy, even after the economic changes of the last thirty years.
In Poland, as an aside, they also serve as a useful template for ministerial drivers, if recent events are anything to go by (fortunately no-one suffered life-threatening injuries): if it moves, accelerate; if it still moves, crash; and if it stops moving, blame somebody or something else. But, I digress. On 14 February, the government adopted a fiscal plan – known as the Morawiecki Plan, named after Mateusz Morawiecki, the deputy PM and finance and development minister – which will set out a roadmap for Poland's economy until 2020, including an outlook for the next ten years.
The plan assumes that per capita income in Poland will reach 80 per cent of the EU average, compared with 69 per cent in 2015. The plan states that labour market reform and demographic improvement is needed and envisages the employment rate for 20 to 64 year-olds rising from 67.8 per cent to 71 per cent by 2020. The plan also envisages an increase in investment, a greater role in international trade and more investment by Polish companies abroad. How realistic is this?
Current economic performance is still good with GDP growing at 2.7 per cent in the final quarter of 2016. While this is better than the 2.5 per cent that was predicted, it appears to be slowing. At the end of January 2017, the central statistics' office made a preliminary estimate, putting GDP growth for 2016 at 2.8 per cent compared to 3.9 per cent in 2015.
Some analysts expect faster growth lies ahead as a result of increased investment, although the European Commission revised its projections downwards, on 13 February, predicting 3.2 per cent growth in 2017, down on November's prediction of 3.4 per cent. The Commission had previously forecast growth for 2016 at 3.1 percent and said the lower than expected growth was caused by an estimated 5.5 per cent contraction in investment in 2016. It attributed this "to the slow progress of projects financed by EU structural funds under the new programming period and increased policy and regulatory uncertainty."
The Commission added that public investment is expected to rebound strongly in 2017 and 2018 as EU funds are put to use. "Private investment is projected to recover gradually, helped by a solid domestic demand and an outlook for further export growth."
The Polish Finance Ministry pointed out that according to Commission forecasts, Poland will be among the six fastest growing EU member states. Earlier this month Mr Morawiecki said that the economy would grow 3 per cent this year, which is just as well, as the 2017 budget is based on growth at 3.6 per cent.
Additionally, while Poland's budget deficit fell to 2.3 per cent of GDP in 2016 (the lowest since 2007) the European Commission forecasts it will rise to 2.9 per cent in 2017 and 3 per cent in 2018. This improvement on earlier estimates for 2016, was "mainly driven by a drop in public investment and one-off revenue, while tax collection was in line with budget plans"; while the forecast increase for 2017 was caused by the "increasing costs of the lowering of the statutory retirement age," the Commission wrote.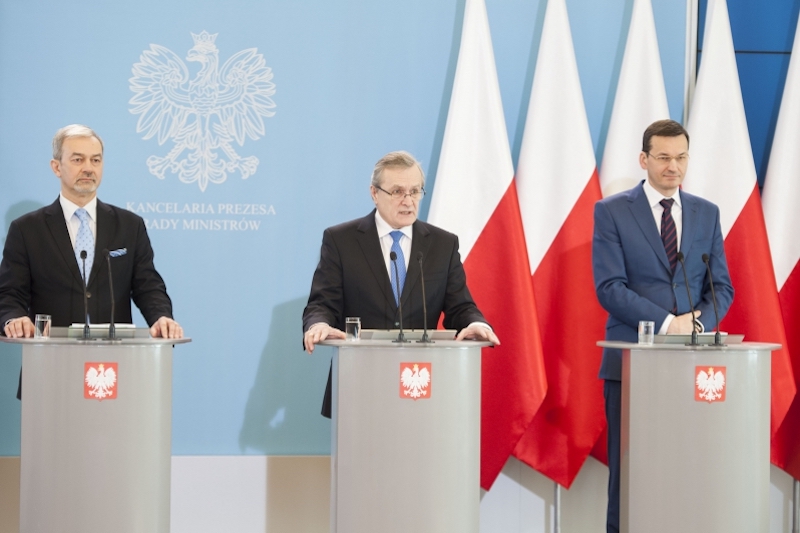 All of which means that the finance ministry will need every zloty it can find, especially when programmes such as the 500+ — recently hailed by the president as a great success – need to be financed. For this reason, the finance minister's announced, on Friday, that the ministry will start investigating "the transfer abroad of profits on which tax was not paid in this country". This is part of a general effort to improve the efficiency of tax collection, which is to be commended, although it is not clear how the supposed outflow of funds is to be taxed.
The EU parent subsidiary directive and the treaties on the avoidance of double taxation would seem to tie the ministry's hands, so expect a greater focus on tax inspection for international companies in order to focus on payments to foreign parents for their share of head office costs and other support. Woe betide those who do not have clear transfer pricing documentation and robust service agreements in place.
Ultimately, the undue harassment of international companies, along with the dear leader's suggestion about the correct role of business vis á vis the state, is likely to prove counter-productive, but one should not discount the need for statements to assuage the domestic audience, while saner counsel prevails behind the scenes.
_______________
The views expressed in this opinion editorial are the author's own and do not necessarily reflect Emerging Europe's editorial policy.