Over the past few years, Budapest has become one the most visited culinary destinations around the world, with the Hungarian capital now recognised across the globe as an exciting dining spot.
Part of the reason for this is the proliferation of restaurants which feature the cuisine of neighbouring countries: one of these is Ukrán Udvar, currently the only Ukrainian restaurant in Budapest.
Opened in 2018, this place offers a gastronomic journey for all those interested in Ukrainian cuisine.
Ideally located on Ráday Street, one of Budapest's tourist hotspots, Ukrán Udvar was founded by Marina Bilyk, a Ukrainian entrepreneur who moved to Budapest a few years ago.
"Since my childhood, I always dreamed that someday I would open my own restaurant and introduce Ukrainian cuisine to the world so that everyone could get a taste," Ms Bilyk tells Emerging Europe, adding that, for her, the point was never really about in which country her restaurant should be, but to prepare the most delicious dishes with the highest quality.
She recalls that there was no Ukrainian restaurant at the time when she moved to the Hungarian capital, which is why she saw opening Ukrán Udvar as a perfect opportunity to adequately present her country's cuisine to all those interested with the help of a friendly team of Ukrainians and Hungarians, including cooks who have not learnt recipes, but who have grown up with them since childhood.
Unsurprisingly, besides attracting a vast number of locals and tourists, Ukrán Udvar has become a focal point for people with Eastern European or Central Asian origins who reside in Budapest.
"In the two years since our restaurant opened, we noticed that our visitors are mainly Budapest residents, and that there is also a high number of Poles, Ukrainians, Russians and Kazakhs," Ms Bilyk says, adding that Korean, Chinese, French and Italian visitors are also frequent guests.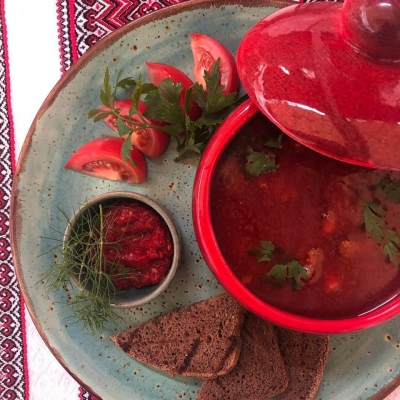 The restaurant is also a central element of Ukrainian culture in Hungary.
The Embassy of Ukraine to Hungary often holds Ukraine-related cultural events at the restaurant, where the Budapest-based embassies of many other countries are introduced to Ukrainian culture, cuisine and tradition.
"In addition, Ukrán Udvar also serves as a venue for thematic programmes centered around Ukrainian holidays, where children and adults can get to know Ukrainian folklore, for instance, learning how to make our special dumplings or make a doll from wheat," the restaurant's founder adds.
"Basically, our customers always come back, often celebrate holidays here or just come for a delicious lunch," she says.
Entering Ukrán Udvar, you can already feel the authenticity of the atmosphere: the pleasant noise of people speaking in a variety of languages about which of the dishes they want to taste the most, accompanied by relaxing background music while waiting for their lunch or dinner.
In my experience, it is a perfect venue not just for dining out and trying out something new, but for a pleasant family gathering or a romantic dinner.
"Of course, Ukrainian borscht with sour cream, lard, black bread and garlic is considered the favourite since it is known all over the world and people who have not tried it before want to taste it," Ms Bilyk explains.
Among some more of the most popular dishes is vareniki, a special type of Ukraine-style dumpling filled with cabbage and potatoes based on Ukrán Udvar's own secret recipe, potato pancakes with forest mushroom sauce, and pirozhki with meat, cabbage or potato.
My personal favourite, the Kyiv cutlets – or as you might know it, chicken Kyiv – is served with homemade butter and herbs. For dessert, syrniki with jam and pancakes with cottage cheese are the most popular choices.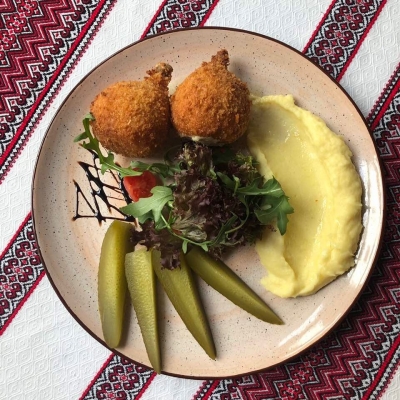 "I am very proud of our menu," says Bilyk, which also includes traditional Hungarian dishes: goulash, stuffed cabbage with pork, beef stew or goose liver grilled with celery-apple ratatouille.
Ukrán Udvar is not fast food: the opposite, in fact.
"Our food is not prepared in advance and then heated: everything comes direct from the kitchen, and is made with love, compassion and fresh products" says Bilyk.
Besides, while waiting for your meal you can enjoy a cup of homemade tea or a glass of the many Hungarian wines offered.
"This restaurant is a dream. A dream that has come true," Bilyk concludes.
I couldn't agree more.
–
Located at Ráday Street 17 in the IX District of Budapest, Ukrán Udvar is open from 11am to 11pm from Sunday to Thursday and from 11am to midnight on Fridays and Saturdays. The restaurant also delivers: order here. 
Photos: Ukrán Udvar