This city of 1.8 million has seen and survived it all: the last century alone saw Nazis roll in one way, and the Soviets from the other. Both left a legacy that lasts to this day. Though shaped by a horrific history, Warsaw has risen from the ashes to become a forward-thinking city of confident swagger.
Why Visit Now?
Because tomorrow, it won't be the same. Changing with each day, the strange organism that is Warsaw has reached a thrilling stage of its rapid evolution: to visit is to witness living history.
DAY 1
Beginnings
Chopin Airport sits approximately seven kilometres from the city centre, a trip that should rarely cost more than PLN 35 by taxi. Befitting of its growing status as Central Eastern Europe's economic engine, the city centre bristles with towering financial fortresses – the EU's tallest skyscraper is slated for unveiling in the coming few years. Represented inside many of these glass compounds are the ubiquitous titans of five-star hospitality; for something more personal book into H15 (ul. Poznanska 15, h15boutiqueapartments.com): occupying the seat of the former Soviet Embassy, it's a design-minded masterpiece that's not short on Italian influences and trimmings. On a more moderate scale, Autor Rooms (ul. Lwowska 17, autorrooms.pl) is centred around a neo-hipster communal living space – vinyl library included – with four offshoot bedrooms bragging custom-made furnishings and signature pieces from upcoming local designers.
The Old Town
All twittens and tenements, the Old Town charms all with its gurning gargoyles and tight cobbled streets. Looking at it, it's hard to believe that this UNESCO-listed area suffered near total destruction during WWII – largely overlooked, the modestly-sized Heritage Interpretation Centre (ul. Brzozowa 11/13, ciz.muzeumwarszawy.pl) examines the city's methodical annihilation and subsequent reconstruction. Close by, the relaunched Museum of Warsaw (Rynek Starego Miasta 42, muzeumwarszawy.pl) tells the town's story in an awkward but compelling non-linear style that places an emphasis on recovered objects and quirky trivia (random factoid: Warsaw's first official strip club opened in 1957).
Local Villain
Gifted to Poland by Stalin, the country's tallest building – the Palace of Culture & Science (Pl. Defilad 1, pkin.pl) – continues to divide public opinion. Seen by some as one of the planet's greatest examples of Socialist Realist architecture, others bitterly interpret it as a giant phallus born from ideological insanity. Not for the first time, debate is raging whether to demolish it or protect it. For all that, a visit feels almost mandatory – not just for the blustery 40th floor viewing platform, but also for a tour of the labyrinthine basements that coil underground.
Local Heroes
Visitors understand the spirit of Warsaw a little more having visited the Rising Museum (ul. Grzybowska 79, 1944.pl). Dedicated to the anti-Nazi 1944 rebellion that cost the city the lives of more than a quarter of a million of its residents, this museum traces the story of the insurgency in minute detail – right the way from the German invasion and occupation to the smouldering consequences that followed. Elsewhere, Polin, a.k.a. The Museum of the History of Polish Jews (ul. Anielewicza 6, polin.pl), resists the temptation to put the Holocaust at its core and forms its narrative around the epic 900-year-history of Polish Jews. Awarded the title of European Museum of the Year in 2016, it's a venue that commands attention – to pick a highlight, then that's the glorious reconstruction of the synagogue in Gwoździec.
Part(y)ing Shot
Where once local habitants were regarded as cautious, selfish and suspicious, the modern Varsovian has dropped his guard and embraced the scary idea of 'doing things with strangers'. Food halls are trending, none more so than Hala Gwardii (Pl. Mirowski 1, halagwardii.pl), a red brick Tsarist relic brimming with globally-inspired food outlets that frame a lively communal eating area. Hala Koszyki (ul. Koszykowa 63, koszyki.com) is similar, if slightly more upmarket, and flourishes the added trump card of being walking distance from ul. Poznanska: heavily sprinkled with wine bars and neo-bistros, few streets have caught the zeitgeist in quite the same way. Not that far further beyond, Nowogrodzka street has become the de facto capital of Poland's craft beer revolution. Kufle I Kapsle (ul. Nowogrodzka 25, kufleikapsle.pl), with its pre-war style and enthusiastic representation of domestic rebel breweries, is particularly recommended.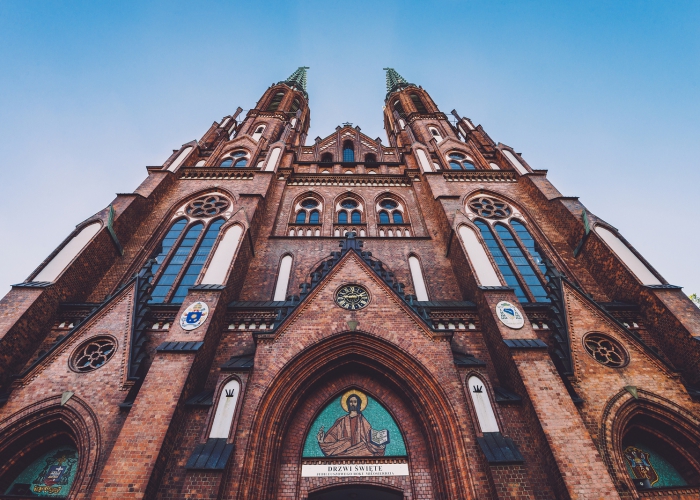 DAY 2
The Other Side
Raw, gritty, upcoming: all words used to describe Warsaw's right bank. Giant murals have sprung up on the walls of Old Praga's buildings, adding pops of arty colour to this blue collar district. The looming spectre of gentrification has left a scattering of galleries and museums in its wake and none make a bigger impact than the Neon Museum (ul. Minska 25, neonmuzeum.org): it's a dazzling assembly of rescued communist era signage.
Tour With A Twist
Beginning (or sometimes ending), at the Museum of Life Under Communism (in itself, a remarkable collection of one man's sentimental junk), Adventure Warsaw (ul. Głucha 3A, adventurewarsaw.pl) conduct the best tour of town. Peppered with inside knowledge and personal anecdotes, journeys are conducted in wheezing militia vans and take in more than just the obvious commie landmarks to include stops at scruffy markets, ramshackle milk bars, and local pubs for gherkins, vodka and outrageous tales.
Retail Therapy
Those who doubt the oft-aired local boast that this was once 'the Paris of the East' could do worse than heading to Mokotowska street back on the left side of town. Here, teetering pre-war tenements have found their ground floor units hijacked by the doyens of Polish fashion. Thick with chic boutiques, salons and lifestyle stores, the mere existence of Mokotowska gives the city's style mavens the sensation of being on-edge and en-vogue.
The Last Supper
Wojciech Modest Amaro is the godfather of modern Polish cooking and his Michelin-starred restaurant, Atelier Amaro (ul. Agrykola 1, atelieramaro.pl), excels at pushing boundaries. Though prices are steep, this is not just for the 1 per cent, it's a place to save up for and savour: this is a venue that truly excites via its unconventional interpretations of forgotten ingredients. More affordable, Bez Gwiazdek (ul. Wislana 8) has emerged to become one of the city's most important restaurants. Certified by the country's nascent Slow Food movement, their tasting menu changes each month to focus on a different region of Poland.
Warsaw in One Paragraph
Learn the A-Z of Warsaw's history by visiting the Museum of Warsaw, Polin and the Rising Museum. Enjoy the foodie side of New Warsaw at Hala Koszyki and Gwardii before heading into the night to Poznanska and beyond. Set the alarm for a tour with Adventure Warsaw, before splurging out on the boutiques of Mokotowska. Conclude with a dinner to remember at Atelier Amaro.