They might be in their sixties, seventies or even eighties, but some youngsters would envy their strength and persistence. The Polish Grandmas, as they call themselves, are a group of women who are uninterested in politics and have no experience of running a media campaign. What they do have is plenty of life experience and are deeply disturbed when they see Poles fighting Poles. As such, this grass roots initiative has taken to silently calling for change on the streets of Warsaw every Thursday.
"I was born during WWII. I don't want to see a civil war. It's time to stop dividing Poles," says one of Polish Grandmas.
"Neo-facism feeds on hatred. Cast it out!" adds another.
A small group of nationalists demonstrate on August 15, the day when Poland celebrates its military and the Battle of Warsaw in 1920. They pass by, completely ignoring the women. There is a high chance that those who thought nothing of attacking the many equality marches which took place in Poland this year will not have the guts to lay their hands on the Grandmas.
"Nationalists: You need to talk to your adversaries, not to show them how to murder," says one of the Grandmas' banners. 
"Wake up, don't be afraid, protest! You are fighting for your grandchildren's future," proclaims another.
A couple of weeks ago, nobody had heard about these Grandmas. Damian Maliszewski, a singer, composer and columnist, noticed them on the street while walking in central Warsaw. He started talking to them and recorded a short video that garnered over half a million views within a few days.
"For many years in Poland protesting elderly women were associated with religious demonstrations, religious aggression, shouting and sometimes even violence. When I was walking next to them, I first thought, 'the cross defenders are protesting again,' and I felt embarrassed a moment later when I read one of their slogans calling for an end to fascism. I looked one of them deep in her eyes and I knew I had to do something about it," Mr Maliszewski told Emerging Europe.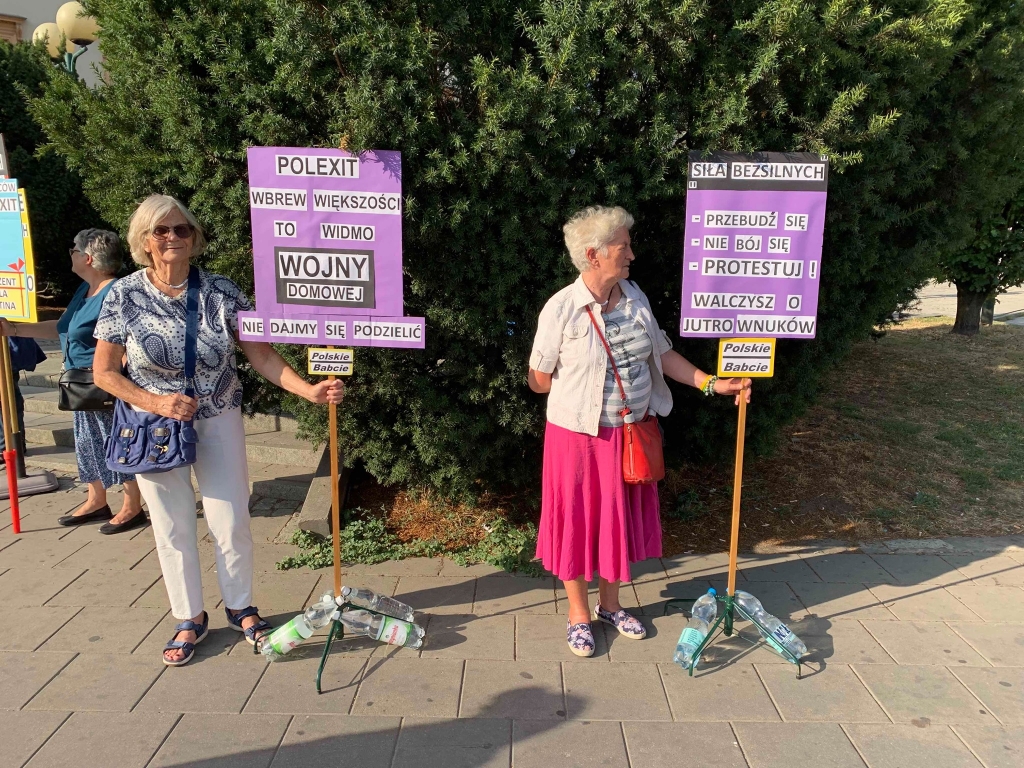 "Do you know why I think the voice of these ladies makes sense and has potential? Because it fills the gap between hatred and hatred, between fist fights, between the two wars. They found a place in the middle. They are against discrimination, beating people up, humiliating them, fascism and evil. Some of them wear rainbow pins and they are out there simply smiling at people passing by," he adds.
And they teach us a couple of lessons. In a time where so much turmoil and anger rips communities apart, these ladies use silent and non-violent protest to make their voices heard. 
They also tell us that they are out there and that their time is not over yet. They are not transparent. They exist and have the right to enjoy life. They use smartphones, do sports, play computer games, take selfies, run a Facebook group. 
It is time for them to demonstrate their strength and persistence, not for their own sake but for the sake of the country, and for the benefit of an entire social group that has been neglected or forgotten too many times.
—
Photos: Polskie Babcie official Facebook page