Catch up quickly with the stories from Central and Eastern Europe that matter.
---
Russia's war on Ukraine
Ukraine said it attacked naval targets and port infrastructure in Crimea on September 13, in one of its biggest strikes on the Russian navy's Black Sea fleet since the war started.
Russia claimed Ukraine had launched 10 missiles and three unmanned boat—known as 'sea drones' with built-in explosives and cameras that feed directly back to the person controlling them—in the attack. Ukraine strongly implied western-supplied cruise missiles were used in the attack.
 The Moscow-installed governor claimed most of the weapons were intercepted but that two ships had been damaged. Russia says the attack caused a large fire at a Sevastopol shipyard which left 24 people injured.
Ukraine also claimed on September 14 to have destroyed a Russian air defence system near the town of Yevpatoriya in occupied Crimea in an overnight drone and missile attack conducted by the security service of Ukraine and the navy.
Foreign ministers of the G7 and European Union condemned "sham elections" in Russian-occupied territories of Ukraine, saying they are meant to legitimise Moscow's rule in areas illegally seized by force.
The elections took place in Crimea and the Ukrainian regions of Donetsk, Luhansk, Zaporizhzhia, and Kherson, where President Vladimir Putin's United Russia party says it won at least 70 per cent of the overall vote.
In the statement issued on September 13, the ministers said the elections are a further violation of Ukraine's independence and sovereignty, stating, "Russia has no legitimate basis for any such actions on the territory of Ukraine." Watchdogs say the vote was rigged and have found evidence of widespread political suppression, including opposition candidates being thrown into jail and having their cars vandalised.
United Russia is expected to use the election success it has claimed for itself to exercise unbridled political control in the contested territories, including quashing potential uprisings. The party has appointed a mix of veteran separatist bosses and young pro-Putin officials to regional posts.
Hungary, Poland, Romania, Slovakia and Bulgaria have agreed to bar Ukrainian grain imports to protect their markets if the European Union does not extend a ban that expires on September 15.
EU Agriculture Commissioner Janusz Wojciechowski, Poland's former agriculture minister, said he was trying to extend the embargo. However, Bulgarian prime minister Nikolay Denkov told the Bulgarian state news agency before the start of a cabinet meeting that waiving the ban on imports from Ukraine would be desirable as it would reduce prices of basic foods.
Although Poland has supported an "express path" for Ukraine's EU membership, its agriculture minister said that Warsaw will not allow Ukraine to join the EU unless measures are put in place to restrict the entry of its agricultural products—questioning the foundation of the EU common market.
Bulgaria is holding talks with NATO allies to see whether to deal with Russia's continued partial blockade of Bulgaria's Black Sea exclusive economic zone independently or with the help of NATO allies.
Russia continues to declare part of the Bulgarian economic zone in the Black Sea closed to shipping until the end of September because of ongoing military exercises in the area.
A week ago, the Bulgarian government allocated nearly 20 million euros to acquire missiles and torpedoes for the navy. The country is also interested in urgently acquiring RBS-15 missile complexes for the Coast Guard from the Swedish company Saab.
---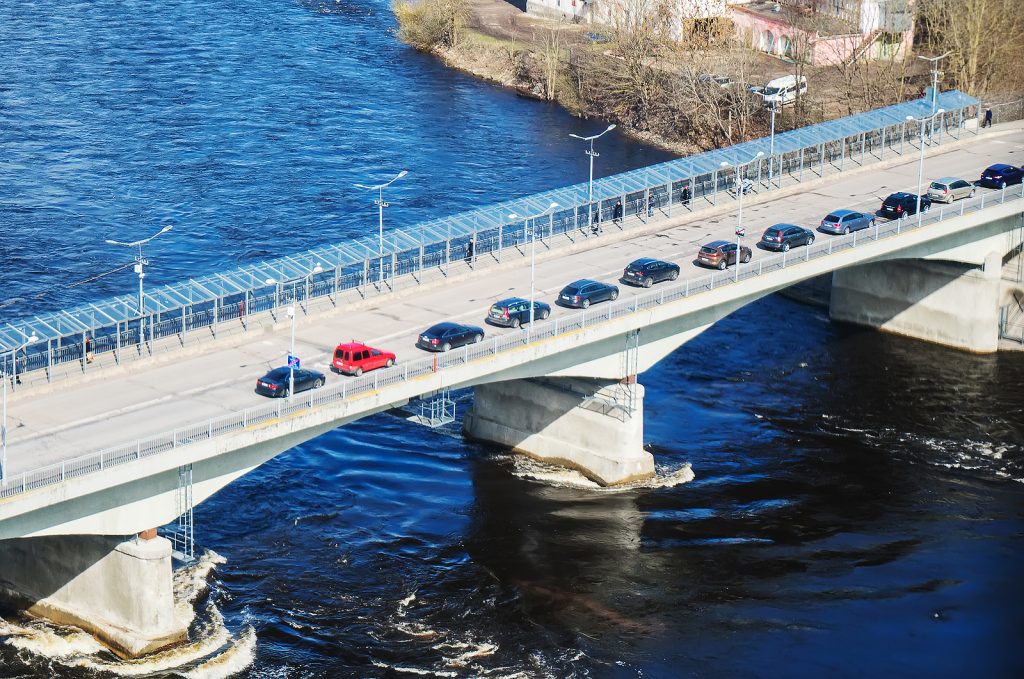 Cars queue on the bridge at Narva, which links Estonia and Russia.
---
Other news from the region
Estonia this week joined Latvia and Lithuania in closing its borders to all vehicles registered in Russia. The ban, which came in response to updated EU guidelines on sanctions, could widen to include other countries. Some exceptions apply, such as transit traffic to the Russian exclave of Kaliningrad, which is separated from the rest of Russia by Poland and Lithuania, and for vehicles used by diplomatic and consular missions.
A Russian Red Cross truck carrying humanitarian aid entered Nagorno-Karabakh from the Azerbaijani city of Aghdam on September 12. It was the first delivery of supplies to the territory in nearly three months, since Azerbaijan shut down all traffic on the Lachin corridor, the only road connecting the Armenian-populated region to the Republic of Armenia, and was also the first use of the road connecting Aghdam with Karabakh's de facto capital Stepanakert in three decades.
US tobacco giant Philip Morris has announced that it will invest over one billion złoty (214 million euros) in the Polish city of Kraków for the production of the tobacco sticks that are used in its IQOS heated tobacco units. "Poland has always played a strategic role for us," said Michał Mierzejewski, vice president of Philip Morris International (PMI) for Northeast Europe, quoted by the Rzeczpospolita daily. He noted that the firm has since 1996 invested over 25 billion złoty in Poland, including in an existing factory in Kraków.
The Romanian soccer team's Euro 2024 qualifier against Kosovo in Bucharest on September 12 was suspended for 50 minutes after provocative chanting from a section of the home side's fans. The match was stopped in the 18th minute after some Romania fans chanted "Serbia Serbia" and held up a banner which said "Kosovo is Serbia". When the match resumed after a 50-minute delay, Romania won 2-0. Kosovo declared its independence from Serbia in 2008 and is recognised by more than 100 countries but not Romania.
Slovakia's Supreme Court upheld a previous ruling that dismissed a lawsuit by former Czech Prime Minister Andrej Babiš against allegations that he collaborated with Czechoslovakia's communist-era secret police. The Slovak-born Babiš was suing Slovakia's Institute of the Nation's Memory, which holds parts of his secret police files following the division of Czechoslovakia into the Czech Republic and Slovakia in 1993.
The European Council adopted a decision to sign an agreement with EU candidate Albania on operational activities carried out by the European Border and Coast Guard Agency (Frontex). The agreement will allow the organisation of joint operations and the deployment of Frontex border management teams in Albania to manage migratory flows, counter illegal immigration, and tackle cross-border crime.
The Prosecutor's Office of Bosnia and Herzegovina (BiH) has begun legal action seeking to prevent Milorad Dodik, the president of Republika Srpska (RS), from performing his presidential duties and holding any public office. The move comes as part of a criminal indictment regarding Dodik's involvement in the controversial adoption of two laws by the RS National Assembly that challenge the authority of the international community's High Representative and the Constitutional Court of BiH.
The European Union is open to Georgia becoming a member, EU foreign policy chief Josep Borrell said during his visit to the country, but warned Tbilisi still needed to implement sweeping reforms to get candidate status. Borrell made it clear that the EU regrets the decision by Georgia to resume direct flights with Russia and allow sanctioned individuals to return to Georgian territory and said Georgia's low alignment rate with EU foreign affairs positions and actions "is not something taken lightly by member states".
An order from Kyrgyzstan's culture ministry to block access to the Kloop news website has come into effect, furthering darkening the clouds over a shrinking landscape for independent journalism. The motivation behind the block imposed on September 13 was an article published at the start of the month in which Kloop reported on allegations that a jailed opposition politician, Ravshan Jeenbekov, is being abused at his pre-detention facility. Culture ministry officials claimed in their decree that the piece contained "unreliable information", although it did not specify how.
The head of Montenegro's Higher Court, Boris Savić, said on Tuesday that unknown persons dug a tunnel into the court's storage rooms in the centre of the capital Podgorica, where trial evidence is stored. "In a well-hidden place, a tunnel opening was found, which had been built for a long period of time," Savić told a press conference. Police have launched an investigation into possible evidence theft, although Savić said no evidence was missing.
---
Unlike many news and information platforms, Emerging Europe is free to read, and always will be. There is no paywall here. We are independent, not affiliated with nor representing any political party or business organisation. We want the very best for emerging Europe, nothing more, nothing less. Your support will help us continue to spread the word about this amazing region.
You can contribute here. Thank you.

---