Emerging Europe's editor, Craig Turp, recently travelled from Paris to Istanbul, via Budapest and Bucharest, aboard the Orient Express. He recounts the experience here.
Dressing for dinner on the Orient Express is not easy. Indeed, dressing at all on the Orient Express is not easy. The standard-sized compartments are a bit of a squeeze for two people, not least when one is applying mascara at the washstand and the other is attempting to get his legs inside trousers that he ought to have admitted before departure were at least one size too small.
Nevertheless, dressing for dinner is an essential part of the Orient Express experience. Not that – contrary to popular belief – doing so is obligatory. The train's sartorial standards are a little more relaxed than is commonly believed. Jeans, shorts and trainers are forbidden on board, but while the rules state that men must wear jackets at lunch, and jackets and ties at dinner, there's nothing about black tie being mandatory. That most men do take the opportunity to give their dinner jackets an airing, and ladies their finest gowns, owes more to a desire to honour the train's history than any modern day regulations.
And what history. Purists insist that today's Venice-Simplon Orient Express, operated by luxury hotel, train and river cruise firm Belmond, is not the original. The truth is that there never was merely one, 'original' Orient Express. The Belgian company Compagnie Internationale des Wagons-Lits operated a series of trains all over Europe from the 1880s, including the best-known routes that ran from London to Venice and Athens, and from Paris to Vienna and Istanbul (via Belgrade or Bucharest), and then onwards to destinations in the Middle East.
The current train makes use of restored wagons-lits and dining cars from the 1920s and 1930s (the train's heyday, when it was made famous by Agatha Christie, who used it frequently to commute between London and Cairo). Each car features a plaque detailing its unique history. Our carriage was built in 1929 and originally ran on a cross-Pyrenees route before being stored at Lourdes during World War II.
Mark Smith, The Man in Seat 61, has unsurprisingly written perhaps the best primer on what was and was not the Orient Express.
---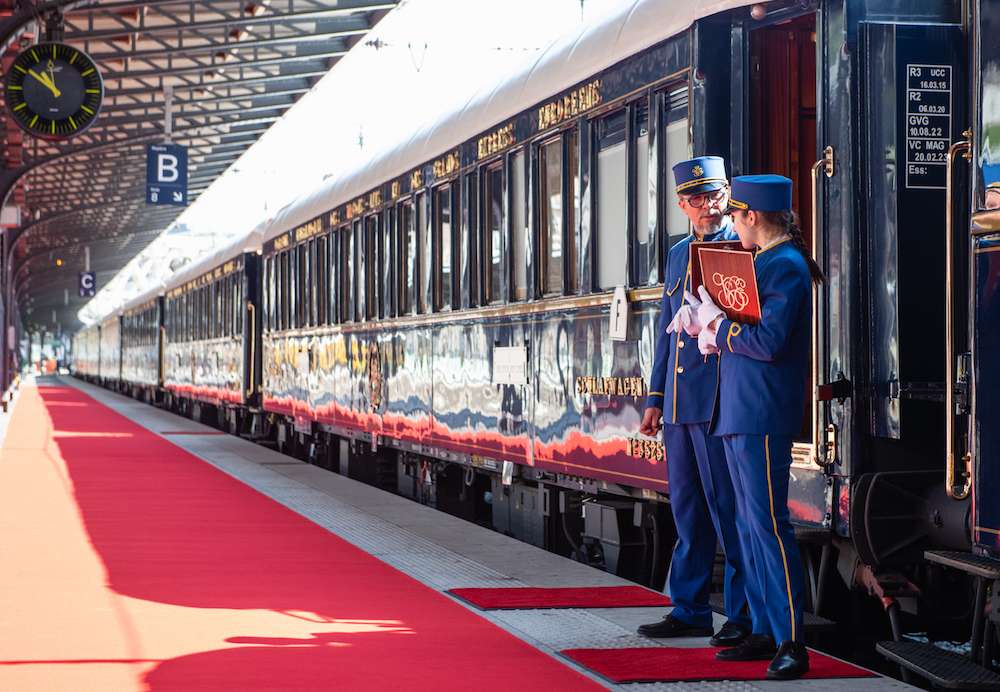 The Orient Express at Gare de l'Est © Maelle Saliou
---
From Paris to Istanbul
Belmond currently operates its version of the Orient Express on several routes, most frequently a one-night trip from Paris to Venice. Once a year, usually in August, it runs the ultimate in luxury train journeys: a five-night service from Paris to Istanbul, which includes three nights on board the train and one each at hotels in Budapest and Bucharest.
It was this flagship journey from Paris to Istanbul that early in June I was fortunate enough to take.
That I was able to do so is thanks to the generosity of a global leadership organisation (which I am not at liberty to name) which chartered the entire train and invited me on board (accompanied by Amelia, my wife) to serve as a 'learning resource' for its members.
My duties involved giving a couple of talks along the way about current affairs in Central and Eastern Europe, hosting a 'fireside chat' with a Hungarian businesswoman during our stop in Budapest, and generally being available to answer any questions my fellow travellers had about Hungary, Romania, Bulgaria and Turkey. I also threw in an impromptu walking tour of central Bucharest. It was the least I could do.
I'm not ashamed to admit (and why should I be?) that Amelia and I would never have been able to make such a trip – keeping with the railway theme – under our own steam. Prices for one-night trips on the Orient Express start at 3,450 euros. The five-night Paris-Istanbul journey costs 21,000 euros. Per person.
Furthermore, given that the entire train was chartered, we were offered an Orient Express on Steroids experience. As most guests had taken double compartments, there were far fewer passengers on board than usual, meaning that just one, long sitting for lunch and dinner was required (there are usually two). We also got to enjoy an open bar while on board (on standard trips alcohol, including wine at dinner, costs extra) as well as a Danube cruise in Budapest and gala dinners in Paris, Budapest, Bucharest and Istanbul.
Our trip also included a night at The Peninsula Paris before boarding the train, and a night at The Peninsula Istanbul at journey's end. As I say, a hastily-arranged, last minute, and off-the-cuff walking tour of Bucharest really was the least I could do.
Luggage
The full extent to which a journey on the Orient Express differs from any regular trip by railway begins long before you board the train. The afternoon before in fact.
After we had checked into The Peninsula Paris (the hotel, on Avenue Kléber just a stone's throw from the Arc de Triomphe, is the perfect place to spend the night before commencing the journey of a lifetime), we were guided to an elegant meeting room where Belmond staff were waiting to offer us a short orientation. We were handed our boarding passes and several luggage tags. Luggage, we were about to discover, is an issue on the Orient Express.
The period compartments are no larger than a standard sleeping compartment on a modern night train. Anyone who has taken one will know that there is not a great deal of room for luggage beyond a small suitcase or two. Travelling by train across Europe, with three black tie events to attend en route, requires more than a small suitcase.
The solution is to have larger bags placed in a special storage compartment to be unloaded at each stop. Clothes for the night and following day on the train are carried in smaller bags kept in your compartment.
This requires a fair bit of forward planning. As such, we were asked to have our bags ready in our room (packed and with the luggage tags attached) by 7am on the day of departure. After we returned from breakfast they were gone. We next saw the smaller ones in our compartment as we boarded the train, the larger one when we reached our room at our hotel in Budapest. It's an impressive feat of logistics, and for someone who loses sleep over missing luggage, one of the features of travelling on the Orient Express.
---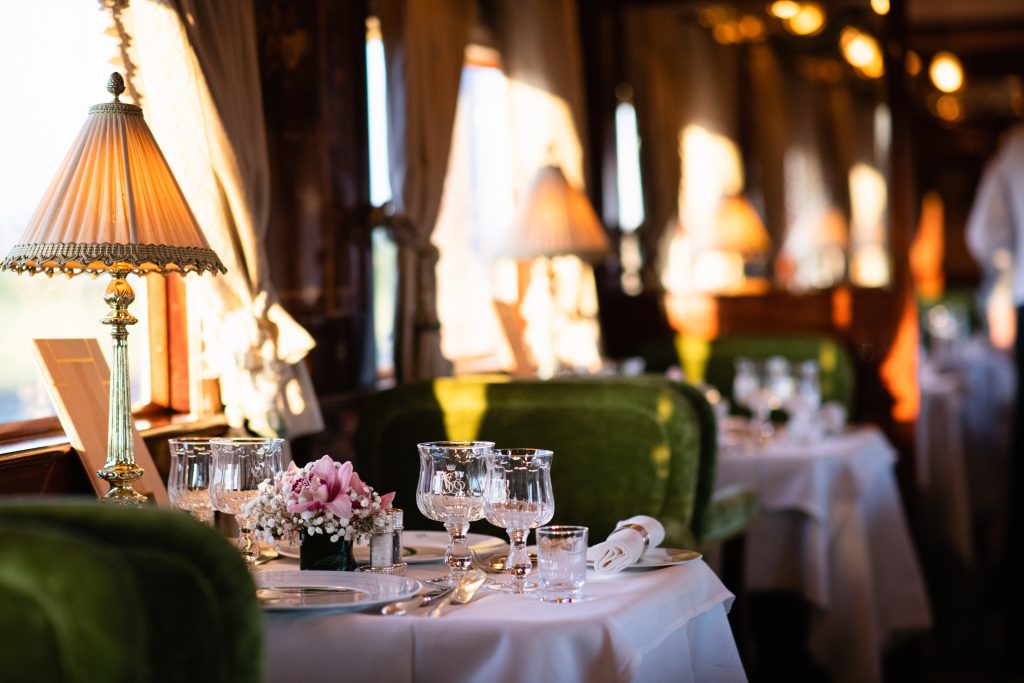 Dining car Etoile du Nord © Maelle Saliou
---
First impressions
The train leaves Paris from Gare de l'Est. Disappointingly, the departures board makes no mention of the Orient Express, nor even a train heading for Istanbul. Instead, it's listed as a nondescript 11:35am departure for Nancy.
The first sight of the train, standing at the platform, is as special and as memorable as you could hope for. It gleams, its navy blue livery with brass embellishments looking as though they were polished by hand just moments before. Staff in their smart, impeccable uniforms line up to welcome passengers, directing them to their assigned carriage.
Each carriage has a dedicated steward. Ours, Jonathan, was a charming Frenchman who greeted us with a broad smile and showed us to our compartment, decorated in art deco style with wooden panelling and lamp lighting. The luggage that we had selected to bring along for this first afternoon and night was already in the overhead racks, while on a small table were two fine, heavy crystal glasses that were promptly filled with a generous pouring of Veuve Clicquot. We would later discover that all of the glasses on board are specially made to be deliberately heavy in order to avoid spillage.
A further bottle of Reims' finest, in a commemorative metal box, was resting on the banquette.
The compartments are not spacious, but they are comfortable. There are no en-suite facilities. As authentic restorations of 1920s and 1930s carriages, there can't be: there were no en-suite toilets and showers on board a century ago, so there certainly aren't any now. Indeed, the only nod towards modernity are two discreet plug sockets. (One of the train's carriages does include a series of suites complete with a toilet and shower, but these are not original).
What you do get in your compartment, hidden behind two heavy wooden doors, is an elegant washstand complete with porcelain sink, mirrors, towels and a socket for electric razors. There is also a complementary vanity case which (according to Amelia) included a range of high-end cosmetics.
And what of the loos? There is a shared toilet at the end of each carriage. Used to the invariably putrid and often unusable facilities on board most trains, even though this was the Orient Express my hopes weren't high. I needn't have worried. Toilets on this train are different. Each has a marble floor, a large washbasin, fine soaps and cosmetics and is immaculately clean.
---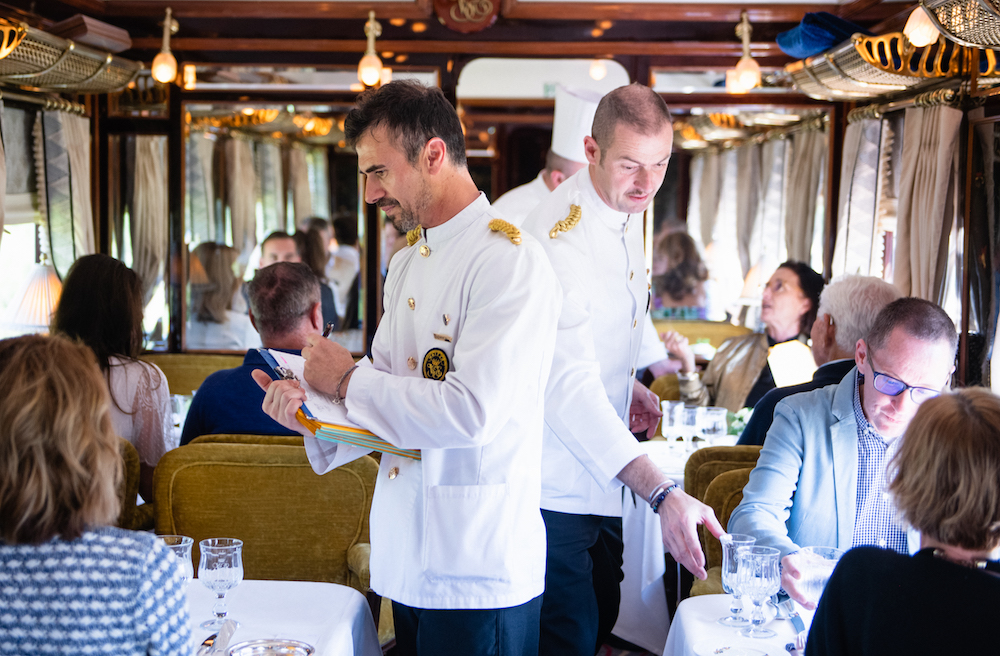 Lunchtime on the Orient Express © Maelle Saliou
---
It's always lunchtime on the Orient Express
With no fanfare at all, the train left Paris exactly on schedule, at 11:35am. As it began to make its way through the Paris suburbs, we settled back in our compartment, Veuve in hand, to take it all in. One of the joys of traveling by rail is the opportunity it affords for doing nothing except gazing dreamily out of the window at passing towns, cities or landscapes. Somewhat ironically, there is precious little time for such things on the Orient Express, given that there is almost always something else happening – usually a meal.
Hardly had the train reached a reasonable speed than an announcement was made: lunch was now being served in the dining cars. As one passenger would later quip, it's always lunchtime on the Orient Express.
Life on board revolves around mealtimes. Breakfast is served in your cabin, at a time of your choosing: pastries, coffee, fresh fruit and fresh fruit juice. Cooked breakfasts are also available in the dining cars, of which there are three. Lunch and dinner are both served in the dining cars. In between comes afternoon tea.
Our first meal on board, in a 1926 dining car known as Etoile du Nord, began with a cod and sea bass tartare, followed by poultry ballotine with black truffle sauce. An iced meringue cake was served for dessert.
It was a wonderful start, and the standard of food (and the impeccable service, from a team of Italian waiters) would remain consistently high throughout the trip. One afternoon, during a brief period of downtime between lunch and dinner, I visited the train's kitchen. It's tiny, packed with chefs, and made me wonder how they can possibly cook what is little short of Michelin-star food in such cramped surroundings. No doubt much of it is pre-prepared off-train and delivered at the various stops, but it still has to be cooked and plated (always immaculately).
What's more, they cater for all. Amelia recently discovered that she is gluten intolerant, which was not a problem. Her pastries at breakfast were all gluten-free, as was the bread served with lunch and dinner. Even the grissini that she was offered as an accompaniment to her champagne were gluten free.
There's a set menu for both main meals, but should you not fancy what's on it, or simply prefer plain rice instead of couscous or a vegetarian option instead of bison steak, such things can be accommodated with no fuss. I noticed several people ask for other options and a suitable alternative was always found.
---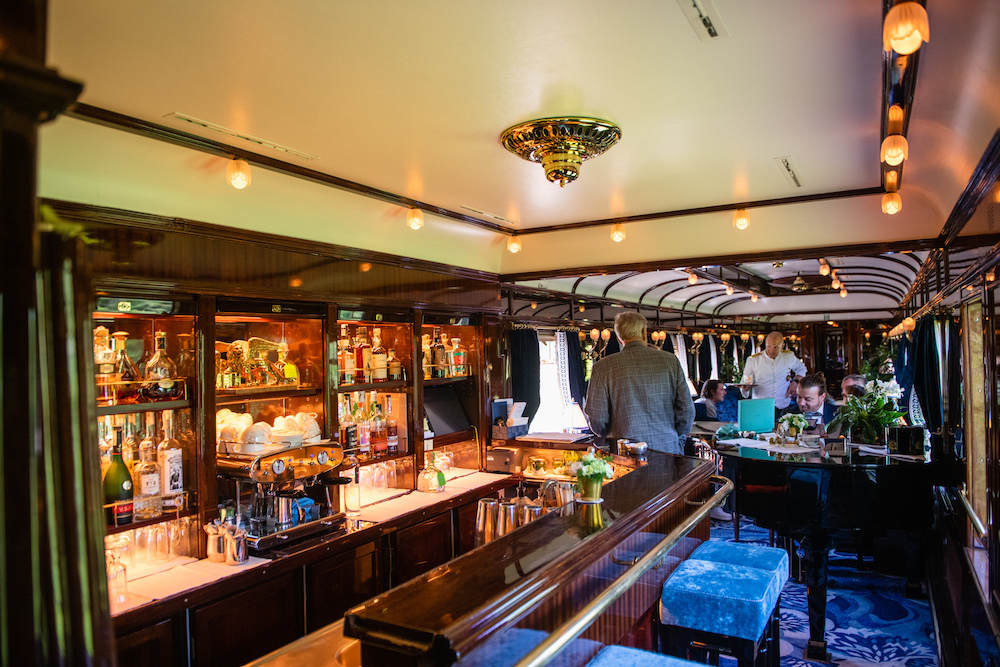 The bar car © Maelle Saliou
---
Laying out the red carpet
When not eating on the Orient Express, there's drinking to be done. It strikes me that one of the ways Belmond ensures its punters are happy is by keeping them in an almost permanent state of gentle, enjoyable tipsyness. Someone in a uniform always appears to be filling your glass with Veuve Clicquot. When they aren't, the barman will be mixing cocktails.
The bar car, known as Car 3674, is a modern addition to the train: there would not have been a bar car attached to an original Wagons-Lits service. Nevertheless, decorated in the same blue and gold as the train itself, its plush seating (made up almost exclusively of sumptuous chaise lounges) is decadent and complements the rest of the train. It also boasts the finest toilet anywhere on board, complete with art deco stained glass windows.
Later on that first afternoon, at our first stop of any length, at Basel in Switzerland, I asked Jonathan if it would be possible to step off the train briefly for a cigarette. Yes, he said, but added that he first needed to lay out a red carpet on the platform. I tried telling him that such things were unnecessary in my case, that I was merely the hired help and that my place in the hierarchy on board was considerably lower than his own.
You are still a passenger on board the Orient Express, he replied, and duly laid out the red carpet.
The roaring twenties
Our hosts had designated the first night on board as a 1920s evening. For men, that meant little more than black tie. For women, it meant vintage dresses and accessories. The food was suitably extravagant: fried langoustines with shellfish sauce followed by a rack of lamb with spinach sauté. A selection of fine cheeses was then served before dessert, a pineapple farandole with pistachios and coconut.
Our wine of choice throughout the trip would be a light Sancerre Blanc Jolivet, with a sweet Tokaji Aszú to accompany dessert. Occasionally, I grabbed a beer. One of (very few) disappointments on the Orient Express is a lack of draft beer (if Czech Railways can do it…) but there's an excellent bottled variety, Birra Venezia, a vaguely citrusy Italian pilsner.
After dinner and a couple of nightcaps in the bar we returned to our compartment, which, as if by magic, had been transformed into our sleeping accommodation.
The seating banquette had gone, replaced by bunk beds which at first glance looked similar to those found on any night train.
Climbing up the ladder (which had simply appeared from nowhere) to test out my bunk it became clear that these were not standard night train beds. A thick, proper mattress had magically made an appearance, the crisp sheets were made of the finest cotton and the two pillows firm but fluffy.
I've always slept reasonably well on trains, and my first night's sleep on the Orient Express was just that: reasonably good but far from perfect. The vintage nature of the carriages means that they are not as well insulated from noise as newer models, and while the mattress absorbs any bumps the constant to-ing and fro-ing (not to mention braking) can't be totally ignored.
The next morning found the train well inside Austria, having already crossed France, Switzerland and Liechtenstein (yes, the route crosses through tiny Liechtenstein).
Breakfast was served at 9:30am prompt, as requested, shortly after which Jonathan asked if we would like the compartment returned to day mode. We decided to make the most of a couple of hours without any dining obligations to simply laze in bed, so we kept it in its nighttime configuration until lunch. That made dressing for lunch even more of a tight squeeze, but we managed.
---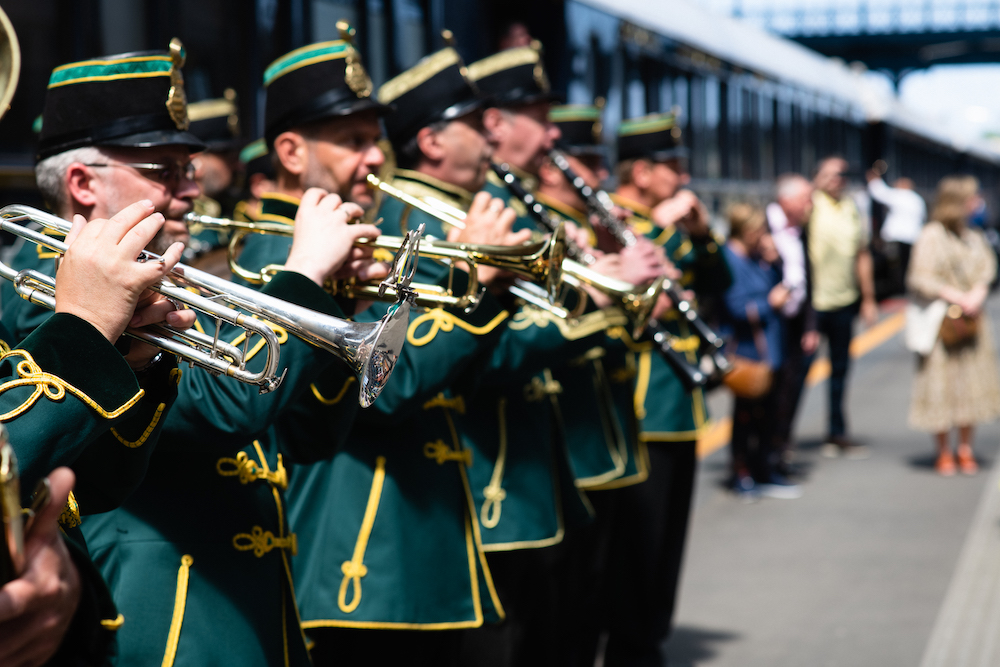 Arrival in Budapest © Maelle Saliou
---
Arrival is a song and dance
Given that the Orient Express stops at most places on the Paris-Istanbul route just once a year, its arrival is an event. In Budapest, at Nyugati Station, a brass band was waiting. At Sinaia in Romania, a military band. At Varna there was the traditional Balkan welcome of bread and salt. At Kapikule in Turkey, dancers. In Istanbul, drummers.
TV crews wait patiently for interviews with passengers. Most of the publicity-shy passengers on board our train politely refused, although a couple of members of the organising committee did oblige.
Only at Bucharest's Gara de Nord was there no formal welcome. I can only assume that the Romanians thought they had done their bit at Sinaia.
Having made our way past the brass band at Budapest, we were ushered towards waiting buses which took us to a pontoon dock on the Danube from where we embarked on a short boat cruise along the famous river – arguably at its most majestic in the Hungarian capital, with Buda Castle on one side and a plethora of Secession-era buildings on the other.
One of these buildings, the Gresham Palace, would be our home for the night, providing us with an opportunity to shower, take a swim, and sleep in a stationary bed. Completed in 1906 as an office building by the Gresham Insurance Company, it became a hotel in 2004, part of the Four Seasons chain. It has played host to Orient Express passengers ever since. Our luggage, as promised, was already in our rooms by the time we arrived at the hotel.
Dinner in Budapest was a black tie affair (far easier to dress for in an enormous hotel room than on board a train) at the city's Museum of Fine Arts in Heroes' Square and probably the least impressive meal of the trip. A paprika and raspberry soup was an interesting but eventually disappointing starter, followed by a competent duck and a local take on Black Forest gâteaux for dessert.
The next morning, before boarding the train, we visited Budapest's magnificent parliament building – a tour offered, I believe, to all Orient Express passengers. As impressive as the building these days are its surroundings: since I last visited a couple of years ago cars have been banished to create an agreeable pedestrian area. From what I saw, much of central Budapest has received the same treatment. I plan on returning to explore further soon.
At Nyugati Station, the train was ready to depart – as resplendent as ever, polished and cleaned overnight no doubt. Our luggage was again waiting in our compartment, as was more champagne, which we hardly had time to finish before an announcement was made that lunch was now being served. It's always lunchtime on the Orient Express.
Beef carpaccio with asparagus tips was followed by fillet of John Dory with sauteed artichoke and mint cream with palinka (a Hungarian or, depending on your point of view, Romanian spirit). All of the dishes offered on board nod towards the train's current location.
Passport control
Having crossed several borders within the Schengen single travel area since leaving Paris, the Hungarian-Romanian border, reached early in the evening, was the first where passport checks were necessary.
Usually when trains cross this particular border, passport control officers from both Hungary and Romania board the train to carry out their checks. The Orient Express is different: the train's staff take care of everything. Passport control officers do not board the train, and passengers are not required to disembark. The same courtesy is afforded the Orient Express when it crosses the Romania-Bulgaria border.
It's a service that would be highly appreciated on standard trains that cross these borders at night, when passengers are routinely woken up for passport control. Even better, Romania (and Bulgaria) will soon be admitted to the Schengen area, making passport control redundant.
Dinner that night (bison steaks) was a more casual affair with no black tie necessary. Men and women dined separately. This is not, I understand, something the Orient Express usually does. The organistion of which I was a guest had decreed the evening to be so.
---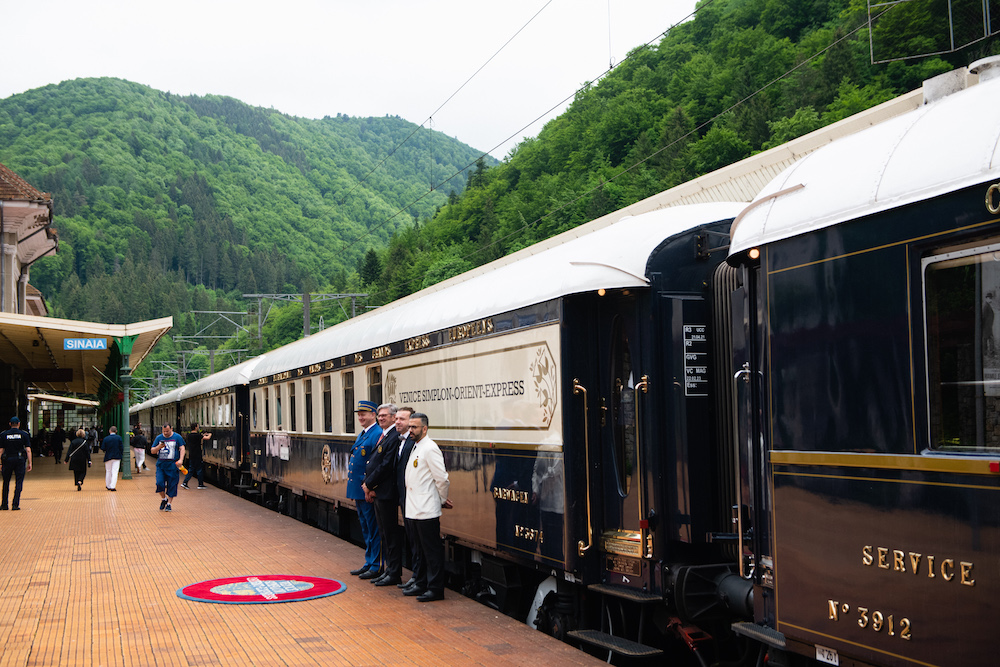 Sinaia © Maelle Saliou
---
Peleș Castle
By sunrise the next morning we were at Brașov, deep inside Romania. Breakfast, for the only time on the journey, was taken in the dining car during a stop of more than two hours. Scrambled eggs topped with white truffles were eaten as a large crowd gathered on the platform to view the train. News of its arrival had quickly spread around the town.
Finally departing from Brașov a short run was made up to the mountain resort of Sinaia for a fanfare welcome and a tour of its best-known sight, Peleș Castle. It was a national holiday in Romania, and the castle was closed to the public but, as we had now come to realise, nothing closes for the Orient Express.
Except that is for the toilets at Peleș. While staff had been kind enough to open up the castle for us, opening up the conveniences was clearly beyond them.
That the train stops at Sinaia at all is a throwback to the resort's roots as a royal retreat. On an early run a Wagon-Lits service was forced to stop at Sinaia so that Carol I, Romania's first king on whose orders Peleș was built, could meet its passengers. No carriages were provided which meant that they were required to walk – reportedly in torrential rain – to the castle. As anyone who has done it will testify, it is more a grim uphill trek than a pleasant stroll. Fortunately, we were provided with buses.
Bucharest
There was just enough time back on board for lunch (lobster) before the train pulled in to Bucharest's Gara de Nord.
Having arrived by train at Gara de Nord hundreds of times over the past three decades, to do so aboard the Orient Express was very special, although the station itself remains a dump.
Its 'Royal' reception room had been opened especially for us, but to be perfectly honest none of the passengers noticed.
Orient Express accommodation in Bucharest is at the hotel formerly known as the Hilton, now the InterContinental, and always the Athénée Palace. Dinner was at the equally historic Caru' cu Bere which, as it could hardly compete with other venues en route (including the train itself) when it comes to fine dining, amply compensated with the sheer quantity of its food.
As with dinner at the Fine Arts Museum in Budapest, the meal at Caru' cu Bere was an extra arranged specifically for this particular trip. Passengers are usually required (I believe) to make their own meal arrangements in each city.
---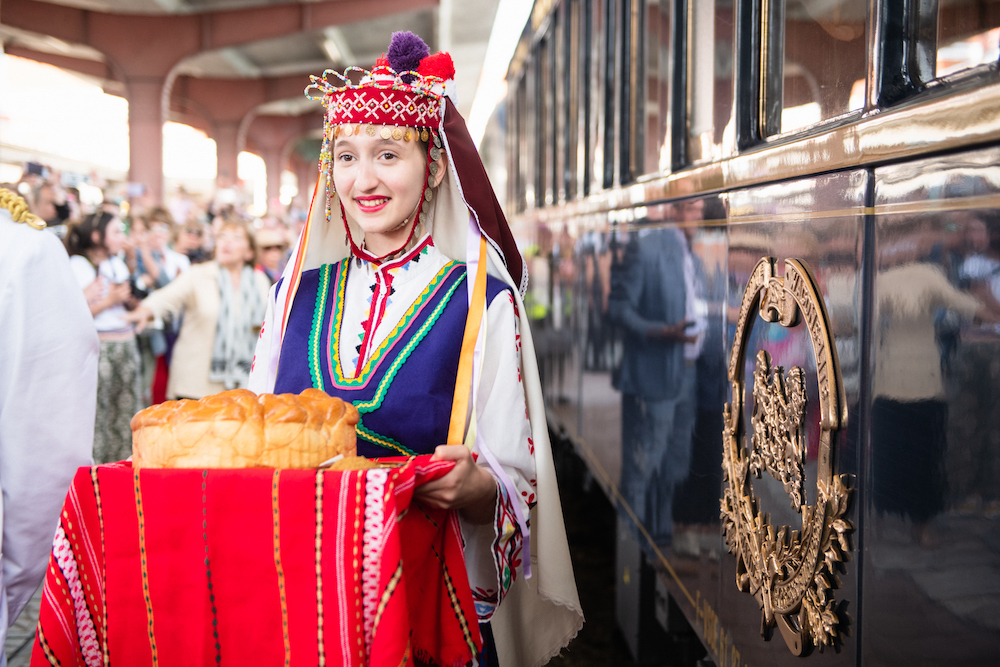 A traditional welcome at Varna © Maelle Saliou
---
Last supper
As some of our fellow travellers disembarked in Bucharest, unable to make the full trip, for the last leg to Istanbul Amelia and I were upgraded to a double compartment. In essence, this meant we had a compartment each, adjacent to each other and with the connecting door opened. Space was no longer an issue.
After crossing the border into Bulgaria and another long lunch (fillet of turbot) the train made a short stop in Varna. In its early days, before the construction of a railway to Istanbul, Varna was the end of the line. The journey to Istanbul was completed by boat.
There was time in the city to visit the Orthodox cathedral (where we were treated to a short but wonderful concert by its choir) and a reception on the beach at the resort of Constantine and Elena, where a tour guide insisted that the beaches back over the border in Romania were stony. They are not.
Back on the train, a late dinner (our last on board) was perhaps the best of the entire trip: sea bass with caviar followed by pastry-topped fillet mignon in a white wine sauce. The dessert, a Grand Marnier iced soufflé, was exquisite.
Turkey was reached late the next morning, and unlike at previous borders here we had to get off the train for a far more formal passport control. It was nevertheless stress free, each carriage ushered in turn into a small room for the formalities, while on the platform dancers and musicians entertained passengers. Our luggage was taken off the train and meticulously screened, then transferred directly to our Istanbul hotel.
Back on the train there was but one thing left to do: a final lunch of roast lamb followed by iced watermelon soup with pomegranate.
At 3:15pm, five and half days after departing Paris, we reached Istanbul's Bakirkoy Station, our final stop. Traditionally the Orient Express terminated at Istanbul's far more grandiose Sirkeci Station from where there were once boat transfers across the Bosphorus for onward services to Baghdad and elsewhere. Sirkeci has not, however, seen any international trains for more than a decade.
Journey's end
As we climbed down off the Orient Express for the final time, the staff were all lined up, waiting to say goodbye. Just about every passenger made a point of thanking them all. It is these faultless staff, after all, who are key to the whole experience; it is they who make the journey so memorable.
However, this being a bespoke trip, there were still treats in store: a night at The Peninsula Istanbul, uniquely located at the point where the Bosphorus meets the Golden Horn, and a gala dinner at a private home which boasts possibly the most amazing view of what is, from just about any angle, an amazing city.
It was a fitting end to what had been an unforgettable, if slightly surreal, trip of a lifetime.
---
All photos by and © Maelle Saliou unless stated.
---
Unlike many news and information platforms, Emerging Europe is free to read, and always will be. There is no paywall here. We are independent, not affiliated with nor representing any political party or business organisation. We want the very best for emerging Europe, nothing more, nothing less. Your support will help us continue to spread the word about this amazing region.
You can contribute here. Thank you.

---