Prishtina, the capital of Kosovo, is back on the map, open to visitors and making a name for itself as a great European city destination for those travellers looking for something a bit special. With a fascinating and admittedly troubled past, Kosovo is now welcoming almost 200,000 visitors each year and this trend is set to continue as word gets out about its trendy, low-cost, and quirky capital.
Let me first start by saying that 24 hours is by no means long enough to enjoy what it has to offer but for those of you on a tight schedule who are looking to make the most of the city of rebirth, here is how to spend 24 little hours in Prishtina.
Where to eat
One of the first things I noticed on my journey into Prishtina was the prevalence of qebapa (kebab) shops, each with an aluminium chimney affixed to the outside of the store. I noted ten in a row on one street and wondered how on earth they managed to do business with such localised competition. But then I understood how much Kosovars love to eat meat. With no coastline, meat is a staple of the Kosovar kitchen and served up with pickled vegetables, stuffed peppers, and salad is the best way to eat it.
In the evening, I dined at the Seasons by Otium restaurant that was conveniently located underneath my hotel. A part of the Otium franchise that has an excellent restaurant near my home in Tirana, my expectations were high, and I was not disappointed. Greeted by a smiling and attentive waitress who insisted on topping up my glass with red wine after every sip, she chose a selection of dishes that allowed me to sample a few of the finest options on the menu.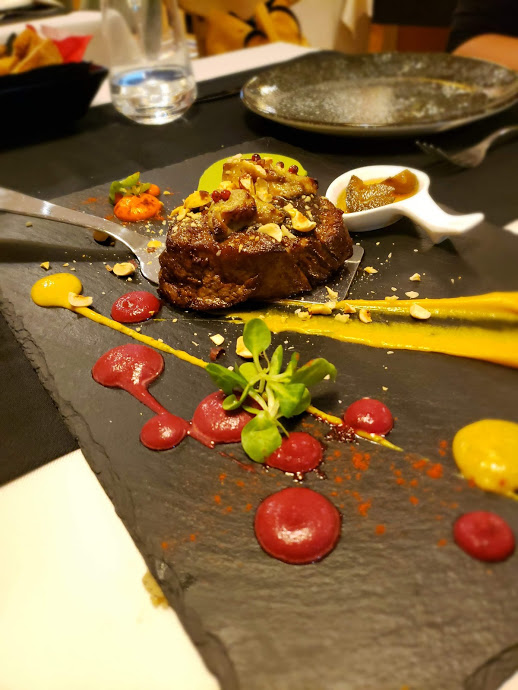 I tried fish, shellfish, chicken, and a wonderful steak that seemed to start melting the moment I looked at it. Everything was presented like a work of art and it was just the right amount to satiate my appetite, without leaving me too full.
Other great places to eat include Tiffany's for local cuisine, El Greco for Greek food, or Princessa Gresa, which I hear is great for steak.
If you fancy a drink, you can head to Soma Book Station which is probably one of the coolest bars I have seen in recent times. Floor to ceiling wood, it is full of trendy lighting, and as the name suggests- lots of books. A vintage pinball machine sits in one corner and you can avail yourself of snacks, cocktails, or a great wine list, depending on your preference. Other good hangouts include the Hamam Jazz Bar and Dit' e Nat' .
The sights
If you move quickly and don't dawdle, these are the things you have to see during your 24 hours in Prishtina.
No visit to the Kosovo capital is complete without getting a snap of the eponymous 'Newborn' sign in the centre of the city. It was unveiled on February 17, 2008: the day that Kosovo formally declared its independence from Serbia. Back then it was painted bright yellow, but now each year it gets a new paint job to reflect various social issues or occurrences.
Sadly, there is no escaping the fact that both Prishtina and Kosovo have been through incredibly hard times. One such necessary reminder of this is the Heroinat Memorial across from the Newborn sign.
Unveiled in June 2015, it consists of 20,000 small medals that have been put together to create the portrait of an Albanian woman. Each medal represents a woman raped during the Kosovo War and it is a sobering reminder of the atrocities that happened in the country between 1998-1999. From afar, it just looks like a 3D image of a woman's face, but as you get closer you begin to understand the sheer scale of the piece and the life that each medal represents. Visit, take it in, and move on, but don't forget its significance and the fact that there are still many women that still carry the burden of what happened.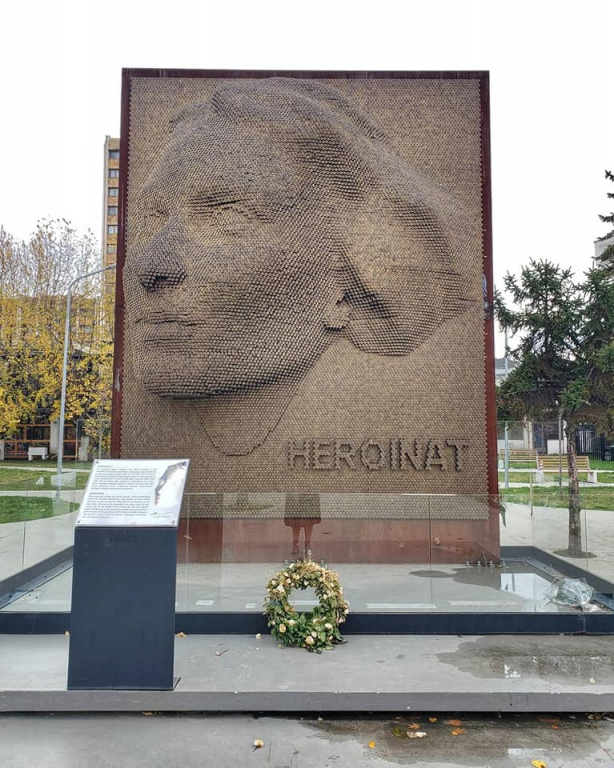 Located around 30 minutes outside of the city in Novo Selo, Prishtina Bear Sanctuary is well worth a visit. Aside from the beautiful drive that takes you up on a ridge behind the city, through a Serbian settlement, along the shores of the Liqeni i Badovcit (the cities reservoir), the sanctuary itself is fascinating and heartwarming.
For many years it was legal to keep bears as 'pets' and in neighbouring Albania, it is still allowed. When Kosovo passed a law making it illegal in 2010, all of the bears in captivity had nowhere to go. The Bear Sanctuary was founded in 2013 by Four Paws Austria in collaboration with the KFORR, the City of Pristina, and the Kosovar Ministry of the Environment and is home to some 20 bears (although the numbers fluctuate). Set over 16 hectares of woodland, the bears are free to roam in large, outdoor enclosures complete with small pools, trees, and all sorts of other elements designed to be as close to their natural habitat as possible. 
It is a truly wonderful experience to see these bears up close, whilst enjoying the space they inhabit. The sanctuary also has a great gift shop selling locally crafted items, and a small restaurant and cafe.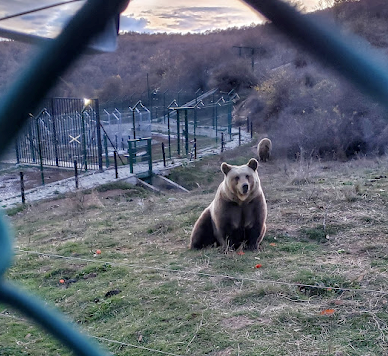 Prishtina's Ethnographic Museum is not just a building full of interesting objects, the building itself is a part of the history that it holds within. Situated in the Emin Gjiku Complex that dates from the 18th century, it holds an assortment of objects including tools, clothing, fabrics, homewear, and more all related to life in the Ottomon Kosovo period.
The collection of traditional clothing is vast and diverse and for a textiles geek like myself, it was a veritable visual feast.  For those not so enamoured with cloth, there are plenty of other things to see such as weapons, jewellery, woodwork, pottery and even music instruments such as the lute and an ocarina that dates back to neolithic times. 
With its authentic qilims on the floor, animal skins scattered on the seating, wooden floors and ceilings, and beautiful glass walled rooms a wonder around this place gives you a real sense of Kosovar history and the country's ethnographic richness.
The National Library of Kosovo is perhaps one of the most unique, and dare I say it, bizarre architectural sights I have ever come across. Sitting in the middle of a city park, not far from the Newborn statue, it consists of large cuboid sections, placed somewhat haphazardly on top of each other, with strange white domes on top of them.
Designed by Croatian architect Andrija Mutnjakovic, there are a number of different theories about its design. Some say it is supposed to represent a mix of Byzantine and Islamic influences, others say it was a reaction to the impersonality of international style and a means of combining modernity with regional cultural traditions. Serbian politicians at the time of its construction believed that the 99 white domes represented the Albanian national hat, the plisi and were not best pleased about it.
The library is home to over 382,000 books, 281,591 magazines, 984,022 newspapers, and 241,775 other items, totalling some two million units. It contains rare newspaper clippings, Albanian manuscripts with Latin, Greek and Arabic graphics, maps, documents, and photographs that are of great cultural value to Kosovo.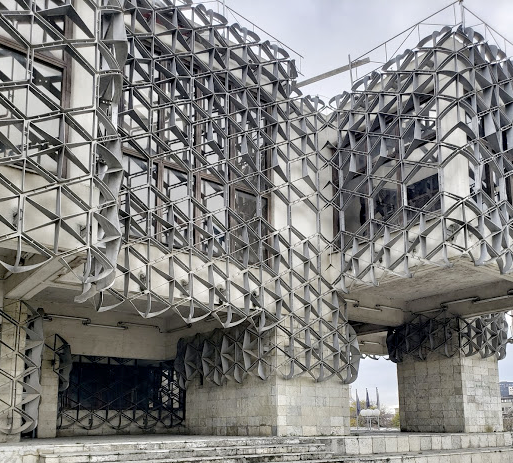 Visit the library, photograph the outside, marvel at the marble inlay floor in the foyer and spend some time perusing the aisles to soak up the knowledge and history within.
Where to stay
I stayed at the City Inn in the Qafa part of the city. Run by a group of friends who have known each other since school, the rooms were warm, spacious, well designed, and very comfortable. I particularly liked the fact that they had Netflix pre-programmed into the televisions in the bedroom. They provided a cot for my baby that complied with safe sleep guidelines and they also told me they were on hand to get me anything I needed for her such as food or other baby-related paraphernalia.
Breakfast was a buffet which included fresh juices, coffee, smoked salmon, bread, cold meats, cold vegetables, olives, cheese, and an omelette cooked to my specifications.
I asked for a macchiato I madhe, a Prishtina special and was served up the best coffee of my life which I think had the power to propel me back to Tirana without the need of a car.