While gender equality continues to be a topic of heated discussion throughout emerging Europe, with some countries in the region performing better than others, the publishing sector in Georgia one of those leading the way forward.
One of the many female leaders in the Georgian book industry is Gvantsa Jobava, an editor and international relations manager at Georgia's Intelekti Publishing, who serves as the chair of the Georgian Publishers and Booksellers Association (GBPA) and is a member of the executive committee at the International Publishers Association. Her long record of leadership experience and championing the empowerment of women in her industry means she is also a key figure Tbilisi: UNESCO World Book Capital 2021.
Ms Jobava, who was born to a philologist father and an English teacher mother, quickly fell in love with books at a young age: she started writing poems and making her own handmade books. "As soon as I graduated, I started my first job at a children's publishing house and immediately know that this was going to be my profession," she says.
Speaking in an interview with the PublishHer community, an international organisation advocating gender equality in the publishing sector, she explained why she was optimistic about the situation of women in Georgia's publishing business.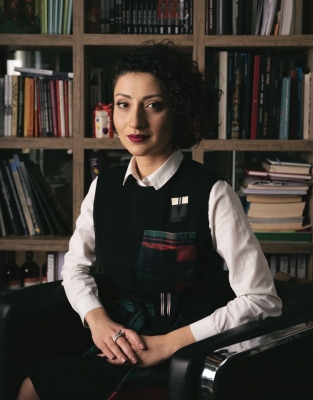 "The percentage of men and women directors of organisations is fifty-fifty, it is like a paradise of gender equality," she says, adding that the GBPA has been run almost exclusively by women over the last 10 years, while the number of female board members in her organisation is also solid.
Discussing her plans about how to lead Georgia's publishing association, she says that the GPBA has a key focus on fighting for gender equality, freedom of expression and against bullying, violence and the abuse of sexual and other minorities, all of which are "still strong in parts of our society."
"As for women in publishing, we have many interesting female publishing characters, who are leaders and public people, who are already influencing society positively and providing examples of struggles for success and how to gain the appropriate position in society," she continues.
According to her, gender has never been an issue in the Georgian publishing sector, unlike her age, "especially in a country still dealing with Soviet traces of ideology, opinions, views; a country full of contrasts and differences between generations."
"To gain the respect and trust of members, partners and in governmental organisations was hard," the 33-year-old GBPA chair believes. She took up her position in 2015.
Ms Jobava is also the first Georgian woman to have been elected as a member of the International Publishers Association's executive committee, marking a first for the Georgian literary industry. She calls its "a huge responsibility," citing freedom of expression, human rights, the freedom to publish and accessibility in education as the key issues she would like to contribute to in her new position.