Encouraging more kids to get into the study of natural science subjects (STEM) is a challenge faced by most countries around the world.
Propter, a Serbian VR edtech start-up, is ready to offer a solution.
With the 97,900 US dollars it recently received from UNICEF's Innovation Fund, Propter – the first Serbian beneficiary of the fund – will be able to bring its ScioXR product to market.
ScioXR is an open source extended reality (XR) platform that will feature games and other immersive content to help students learn about STEM.
Propter's CEO Adrian Djura says that UNICEF's support is crucial.
"Without UNICEF's help we wouldn't be able to develop this product so this investment is of the utmost importance for the project," he says.
Propter is a team of gamers and technology enthusiasts from Vršac, a city in eastern Serbia with a lot of experience in game development. Now they are bringing their interactivity know-how to the field of education software.
The company hopes that its XR platform, which is a concept spanning both augmented (AR) and virtual reality (VR) will spark children's interest in STEM by allowing them to learn by doing and by helping them to visualise complex science problems in an approachable way.
"The sense of immersion into the content is the greatest advantage [of ScioXR] compared to traditional teaching aides because your entire focus is directed to interaction and problem solving within the app," Mr Djura tells Emerging Europe.
As an example, a physics teacher could make an experience in which students learn about kinetic energy by moving objects in VR and visualising the results their actions are creating. Other subjects can benefit too, such as chemistry, where ScioXR could be used for virtual experiments, allowing students to work with chemicals that would otherwise be unsafe in a school setting.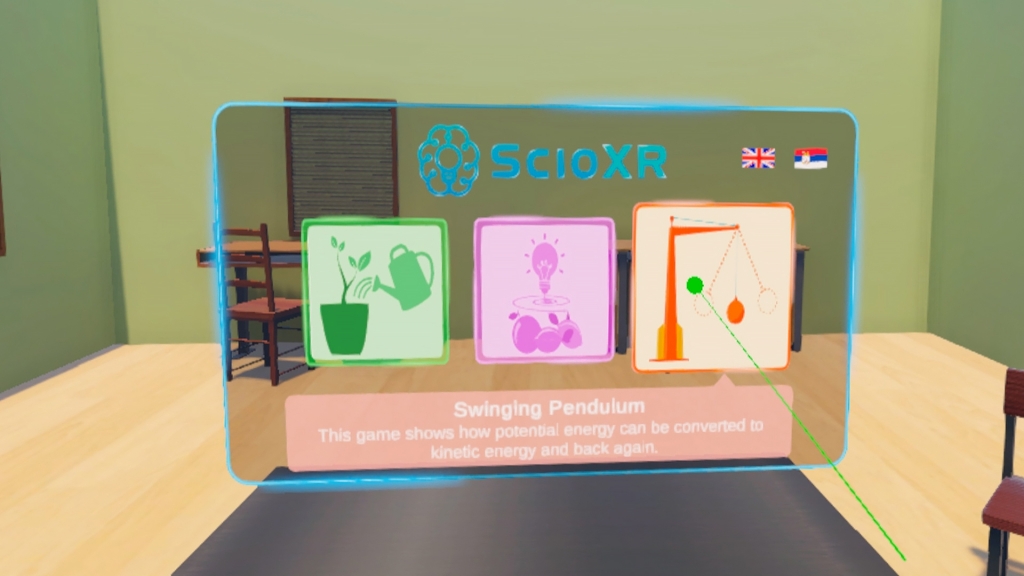 ScioXR is designed to be used by both teachers and pupils, with teachers being able to use the platform to create and design new content based on the curriculum.
What's more, since Propter is making its platform open-source, it will be free to use and its entire source code will be publicly available, allowing anyone in the world to modify the platform to suit their needs or improve it for others.
The company hopes that this level of interactivity and experimentation can help educate and guide the next generation of STEM experts.
"The need for STEM professions is only increasing, and one of our tasks is to increase interest for STEM subjects. Our goal is to use our platform to aid in the teaching of these subjects and therefore create an interest in the students for the subjects that will enable them to pursue STEM careers," Mr Djura says.
Mr Djura believes that XR solutions such as ScioXR will become a part of the STEM classroom of the future.
"In the future we expect to have tools and platforms that will make it more interesting for students to learn. We think that one part of that will be XR solutions but also artificial intelligence that could tailor the curriculum to each individual student," he explains.
With the investment from the UNICEF Innovation Fund, part of UNICEF's Office of Innovation which seeks to use technology and innovation to help children's development, Propter hopes to further develop and innovate its technology while raising awareness of the benefits of XR for teaching applications.
The next step is preparing for a pilot study to be conducted in collaboration with UNICEF's country office and Serbian schools.
As for the students themselves, the company's experience with testing their prototype is encouraging.
"We noticed that students are very interested in this form of teaching and that they find it much more engaging to study with XR devices," says Mr Djura.
—
Unlike many news and information platforms, Emerging Europe is free to read, and always will be. There is no paywall here. We are independent, not affiliated with nor representing any political party or business organisation. We want the very best for emerging Europe, nothing more, nothing less. Your support will help us continue to spread the word about this amazing region.
You can contribute here. Thank you.