North Mitrovica remains de jure a part of Kosovo, but it feels a world away from multi-story Bill Clinton artwork and George Bush Boulevard in Prishtina.
A bridge over the Ibar River separates and divides the city of Mitrovica. Kosovar Albanians live to the south of the bridge and Serbs live to the north while Kosovo Force (KFOR), a NATO-led peacekeeping mission, guards the bridge itself.
When viewed from the spomenik atop a hill overlooking North Mitrovica, the bridge and divisions are not clearly visible—Mitrovica appears a somewhat unremarkable post-industrial city.
But Kosovo's fifth largest city has been de facto partitioned and the site of almost yearly ethnic riots since the end of the Kosovo War in 1999. North Mitrovica became a separate municipality in 2013 as a result of the Brussels Agreement that ended the 2011 to 2013 North Kosovo Crisis.
North Mitrovica remains de jure a part of Kosovo, but it feels a world away from multi-story Bill Clinton artwork and George Bush Boulevard in Prishtina.
Serbian flags are everywhere they can possibly be hung or painted. A café is named after Gavrilo Princip, the notorious Serb assassin of Archduke Franz Ferdinand.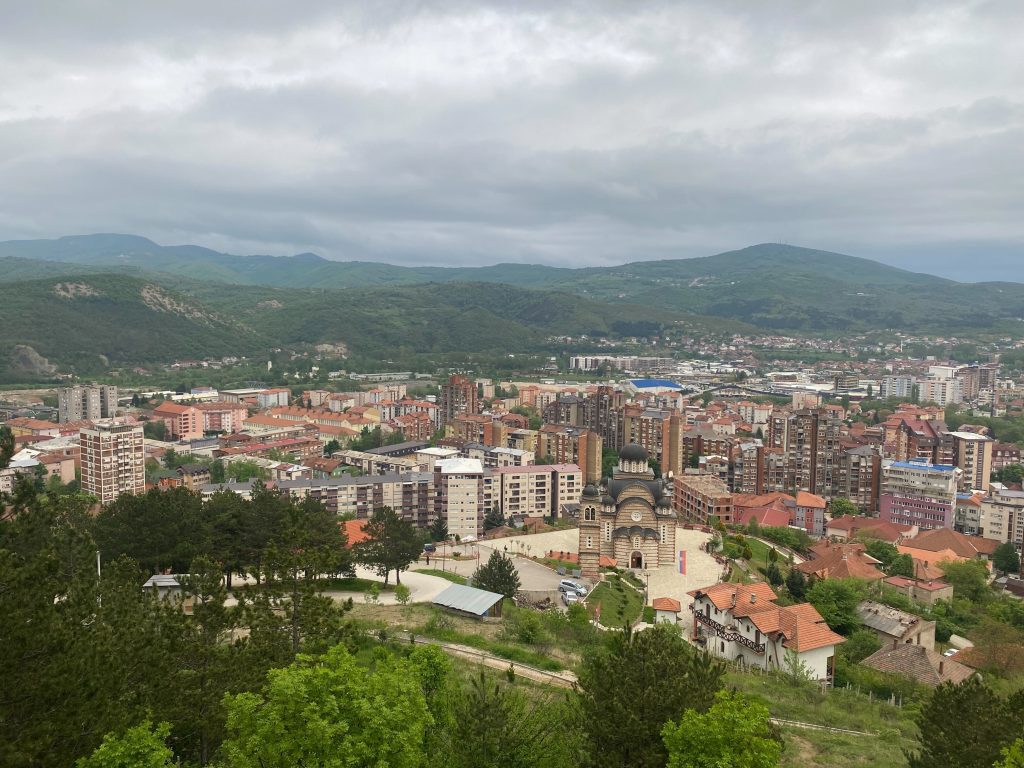 "NATO GO HOME" is spray-painted onto many walls, although if KFOR officers are the intended audience, Italian would be a better choice of language than English.
Shows of support for Russia's invasion of Ukraine abound. The capital letter "Z"—a symbol of support for Russia in the war—is graffitied onto many, many walls. A mural depicts Kosovo above a Serbian flag while Crimea—illegally annexed by Russia but internationally recognised as part of Ukraine—is above a Russian flag.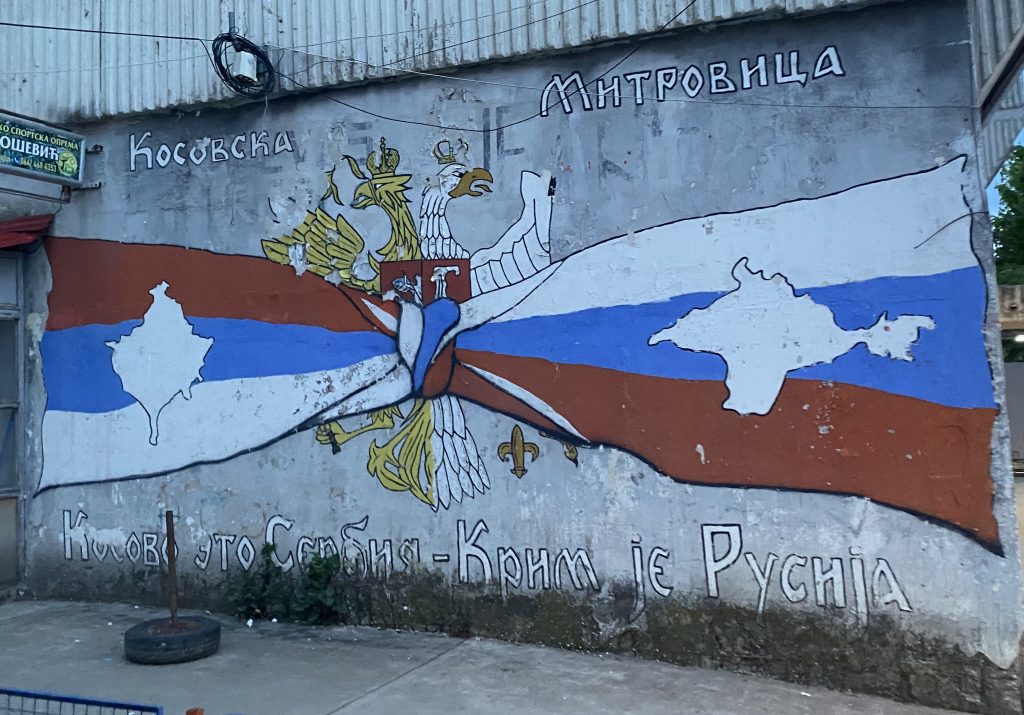 All of the cars in North Mitrovica have white stickers to cover the Serbian national symbols and country code on their license plates. Rows over license plates have spawned multiple cycles of protests, arson, and border barricades.
Serbia—which considers Kosovo to its province rather than a sovereign country—prohibited Kosovar license plates following Kosovo's 2008 declaration of independence. Kosovo has sought to reciprocally ban Serbian plates on multiple occasions, but as unrest escalated in 2021, both Serbia and Kosovo agreed to de facto permit the other's license plates as long as national symbols and country codes were covered by temporary stickers.
Mitrovica has been the epicentre of multiple crises since the end of the Kosovo War. Even as Kosovar Albanians that had fled ethnic cleansing returned to Kosovo, 164,000 Serb residents left as Yugoslav troops pulled out following a campaign of NATO airstrikes. Internally displaced Serbs concentrated in north Mitrovica and neighbouring towns in the region of North Kosovo, seeking safety in numbers.
North Mitrovica and the other Serb-majority municipalities in Kosovo will be crucial to ongoing talks between Kosovo and Serbia to normalise relations. Serbia maintains that an agreement will hinge on Kosovo's establishment of a Community of Serb Municipalities—posters for which line the streets of North Mitrovica.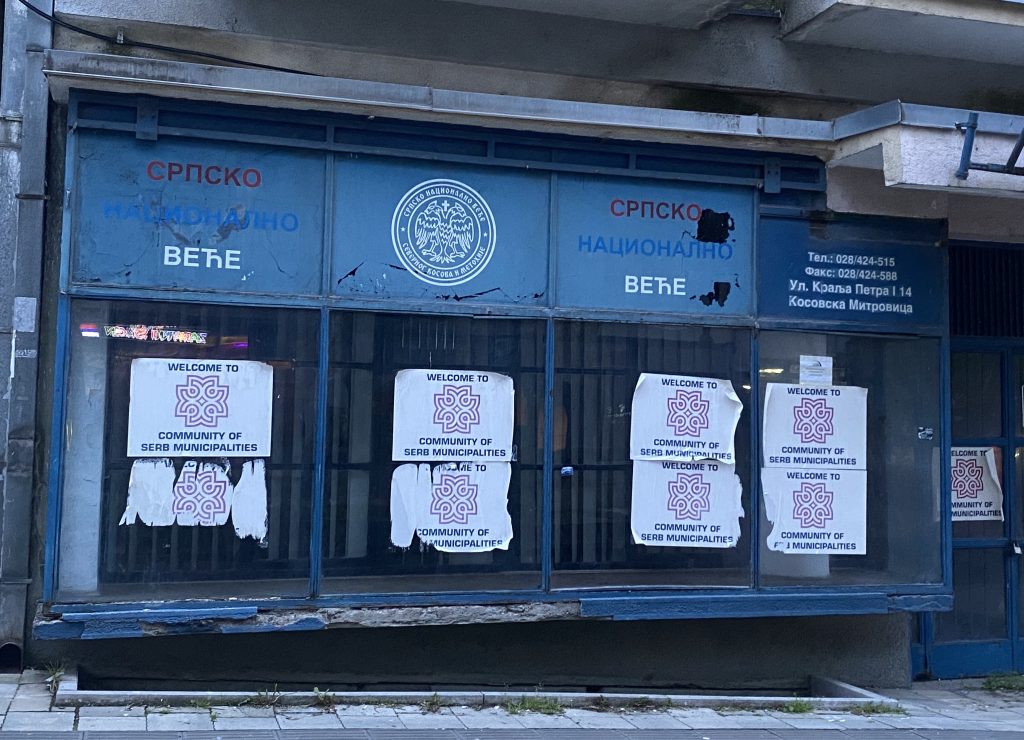 Kosovo and Serbia agreed to form a Community of Serb Municipalities as part of the 2013 Brussels Agreement to allow Kosovo's Serb minority to collectively develop policy regarding their economic development, education, health, and urban and rural planning.
Kosovo, however, has not yet implemented that part of the 2013 agreement.
In November 2022, amidst unrest in North Kosovo over Prishtina's decision to move ahead with the ban on Serbian license plates and the arrest of a Serb policeman, Kosovan Prime Minister Albin Kurti said, "Our constitution is incompatible with the establishment of an ethnic unity because the essence of the Constitution of Kosovo is the multi-ethnic structure of the state".
"Such demands for autonomy for the Serb-majority areas in northern Kosovo did not even come from the local population," Kurti claimed. "Only Belgrade wants this to compensate for the losses suffered in the war under Milosevic, but that is not possible."
Serbian president Aleksandar Vučić has remained emphatic that the creation of the Community is a prerequisite for the normalisation of relations between his country and Kosovo. The European Union has stated normalising relations is a prerequisite for Serbia and Kosovo's desired accession.
Now, as normalisation talks commence again, the creation of the Community of Serb Municipalities is again at the top of the agenda and Kurti is finally showing signs of softening his stance.
"I will ensure that…the existence of an appropriate level of self-government of the Serbian community according to the highest European standards for the protection of minorities is implemented," he said at the end of April.
But he warned: "What we will not allow is the is the right to territorialise and create anything that resembled Republika Srpska in Bosnia and Herzegovina. We will not allow a satellite prefix with a destructive essence that would undermine the citizenship of Kosovo."
---
Unlike many news and information platforms, Emerging Europe is free to read, and always will be. There is no paywall here. We are independent, not affiliated with nor representing any political party or business organisation. We want the very best for emerging Europe, nothing more, nothing less. Your support will help us continue to spread the word about this amazing region.
You can contribute here. Thank you.

---