Getting away for a week's holiday this summer might be difficult for many people as a result of Covid-19-related travel restrictions, but for many in emerging Europe a holiday remains out of reach for a more prosaic reason: they simply can't afford it.
According to a recent dataset published by Eurostat, 34.6 per cent of the population of emerging Europe is unable to afford a week's holiday. The rate is higher the average for the EU as a whole, where 29 per cent of the population can't afford a holiday.
Romania has the highest percentage of those who can't afford to holiday, at 54.1 per cent. In the emerging Europe region, Croatia follows with 48.4 per cent, and Hungary is third with 41.5.
However, Romania's result for 2019 is better than that of 2018, when nearly 60 per cent of the country's people said they can't afford to go on a vacation.
The World Bank recently upgraded Romania to a high-income country with a Gross National Income (GNI) of 12,630 US dollars per capita, up from 11,290 US dollars in 2018.
However, Romania remains one of the EU countries with the highest proportion of income inequality.
The income inequality ratio, also published by Eurostat, compares the incomes of those in the top 20 per cent with the incomes of those in the bottom 20 per cent. For 2018, this ratio was 7.21, meaning that top earners in Romania had an income more than seven times that of those at the bottom.
There is a clear downward trend in most of Europe and CEE as the number of those unable to get away for a week has been steadily decreasing since 2010, when all emerging Europe countries in the survey – except for Czechia and Slovenia – showed results in excess of 50 per cent.
The same decrease can be observed when 2019 is compared to 2018, with Bulgaria the only country bucking the trend and showing an increase, from 30.5 to 35.5 year on year.
Compared to 2010, Latvia has the most improved score with a decrease of 35 percentage points.
Czechia and Slovenia remain the countries with the least amount of people who can't afford to travel, 19.7 and 19.4 per cent respectively.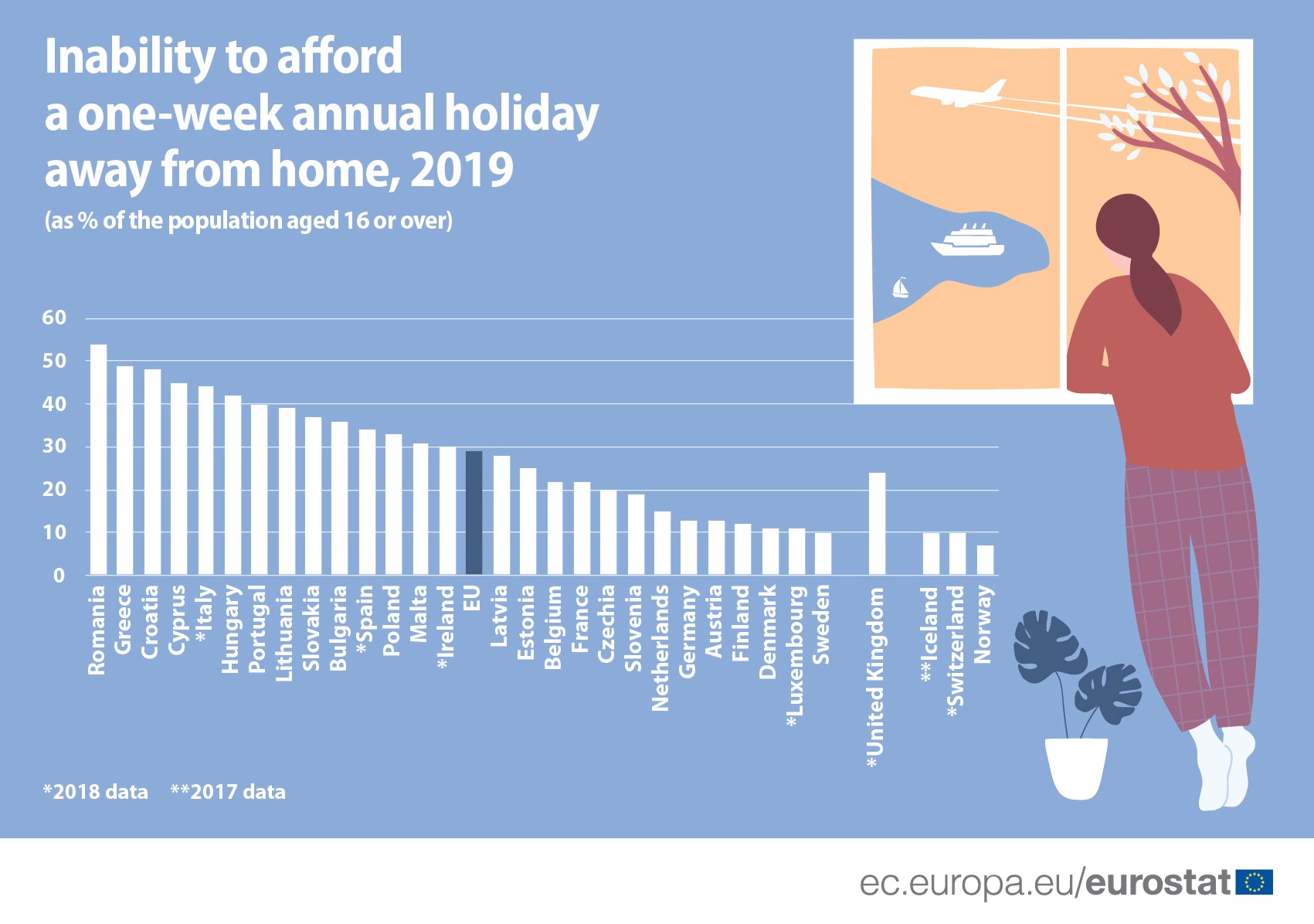 —
For the Western Balkans, 2019 data is still not available but 2018 numbers also show a decrease compared to previous years. In Serbia as of 2018, 52 per cent of the population cannot afford a week's vacation. North Macedonia has a particularly high result of 57.5 per cent, although it too shows a reduction compared to 2017 when more than 60 per cent of the population couldn't afford a holiday.
—
Unlike many news and information platforms, Emerging Europe is free to read, and always will be. There is no paywall here. We are independent, not affiliated with nor representing any political party or business organisation. We want the very best for emerging Europe, nothing more, nothing less. Your support will help us continue to spread the word about this amazing region.
You can contribute here. Thank you.