Georgia remains the best place in emerging Europe to do business according to the latest edition of the World Bank's Doing Business Report, published on October 31. Georgia has climbed three places overall to sixth, surpassing the UK and the US. Globally, New Zealand took the top spot once again.
Elsewhere across the region, 11 countries saw their rankings drop, while a further 12 countries held their ranking or saw it improve. The most significant change came from Azerbaijan, which climbed 32 places globally to 25th
According the latest report, Azerbaijan has implemented eight reforms making it easier to do business over the last year, a record number among the 10 top improvers globally. Azerbaijan has reduced the time it takes to procure a building permit by 80 days, and has reduced the cost by 12,563 manat (about 7,500 US dollars), while the Asan Communal Facility has streamlined the process of connecting to the electricity grid. To improve access to credit, Azerbaijan has established a new credit bureau and a new unified collateral registry.
Besides Georgia, emerging Europe can also boast another member of the global top 10: Macedonia which saw its ranking climb by one place. Generally, countries from the emerging Europe region fared well, with 16 making it in to the global top 50.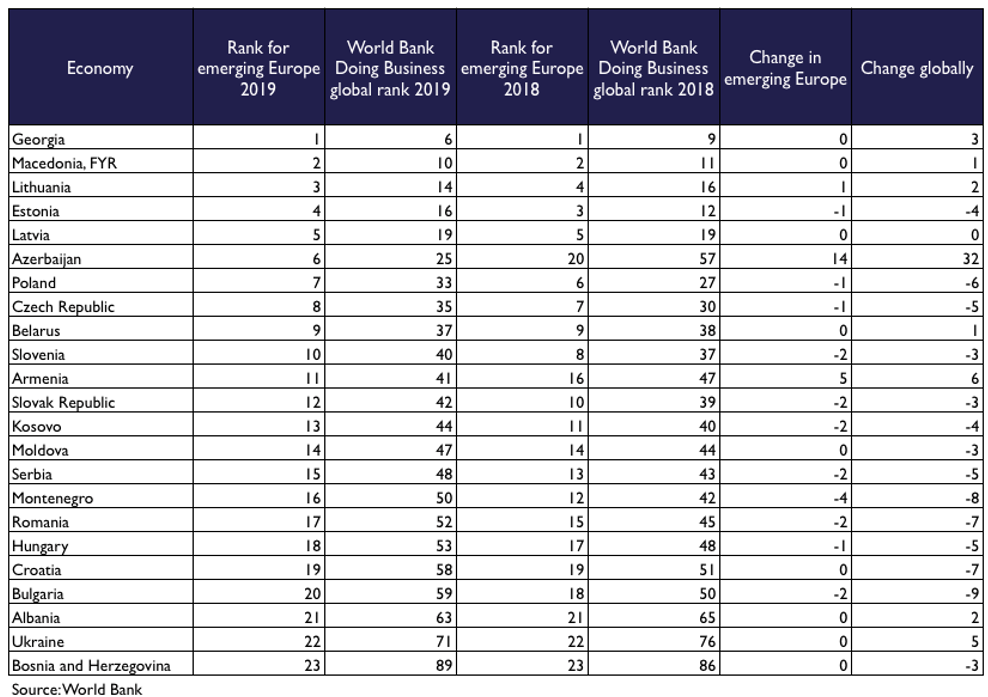 Georgia owes its continued success to the large amount of reform the country is carrying out in a number of key areas. The country has reduced the amount of time it takes to start a business to two days by streamlining business registration and opening a country-wide network of one-stop-shops where businesses can deal with all manner of administrative issues in one place.
"Governments have the enormous task of fostering an environment where entrepreneurs and small and medium enterprises can thrive," said World Bank Group President Jim Yong Kim. "Sound and efficient business regulations are critical for entrepreneurship and a thriving private sector. Without them, we have no chance to end extreme poverty and boost shared prosperity around the world."
According to the World Bank, this has been a record year with regards to the number or reforms made to procedures for doing business: Between June 2, 2017, and May 1 this year, 128 governments introduced a record 314 reforms benefitting small and medium business and entrepreneurs, enabling job creation, and stimulating private investment.
Worldwide, the 10 economies showing the most notable improvement in performance are Afghanistan, Djibouti, China, Azerbaijan, India, Togo, Kenya, Côte d'Ivoire, Turkey and Rwanda. Together, these economies implemented a total of 62 business regulatory reforms across all areas measured by Doing Business.
"The diversity among the top improvers shows that economies of all sizes and income levels, and even those in conflict can advance the business climate for domestic small and medium enterprises. Doing Business provides a road map that different governments can use to increase business confidence, innovation, and growth and reduce corruption," said Shanta Devarajan, the World Bank's senior director for development economics and acting chief economist.
"This year's results clearly demonstrate government commitment in many economies, large and small, to nurture entrepreneurship and private enterprise," said Rita Ramalho, senior manager of the World Bank's Global Indicators Group. Ms Ramalho adds that: "economies that do well in Doing Business generally have a strong e-government to deliver services to citizens and firms. E-government also cuts red tape and reduces corruption."