Most of emerging Europe's EU members have fallen behind the rest of the bloc when it comes to the implementation of digital public services.
To what extent are government services provided online across emerging Europe? How mobile friendly are they? And what online support and feedback mechanisms are in place?
A major new study from the European Commission, published as part of its first annual report reviewing its Digital Decade targets, provides a comprehensive look at progress towards achieving the digital transformation to empower a more digitally sovereign, resilient, and competitive EU.
---
---
The report, which is the first of an annual series, is a call to member states for collective action to address the current investment gaps, accelerate digital transformation in Europe and intensify efforts to reach the objectives of the Digital Decade Policy Programme (DDPP).
The DDPP entered into force in January 2023, and includes a series of targets and objectives for 2030 focusing on four main pillars: digital skills, digital infrastructure, digitalisation of businesses, including the use of Artificial Intelligence (AI), and the digitalisation of public services.
The DDPP targets provide for 100 per cent online accessibility of key public services and, where relevant, the possibility for citizens and businesses in the European Union to interact online with public administrations, online access to their electronic health records, and access to secure electronic identification (eID).
A key part of the report, an eGovernment benchmark, sheds light on the progress towards the full digitalisation of public services in the 27 European Union member states, but also in Iceland, Norway, Switzerland, Albania, Montenegro, North Macedonia, Serbia and Turkey.
The results show that while much of the emerging Europe region is performing well (notably the Baltic States, which all have overall eGovernment implementation scores above the EU average), there are countries which are falling further and further behind the EU average, notably in Romania and the Western Balkans.
Romania, the EU's eGovernment straggler
The long queues that form early in the morning at just about any public service department in Romania's towns and cities have long been evidence of its failure to digitalise public services. Procuring any official documentation—be it a passport, ID card, driving license, even paying taxes—often requires a long wait in a long queue.
Although the country made some improvements in from 2021-22, Romania still performs significantly below the EU average on the availability of digital public services for citizens (score 48 against the EU average of 77) and for businesses (a score of 45 against the EU average of 84).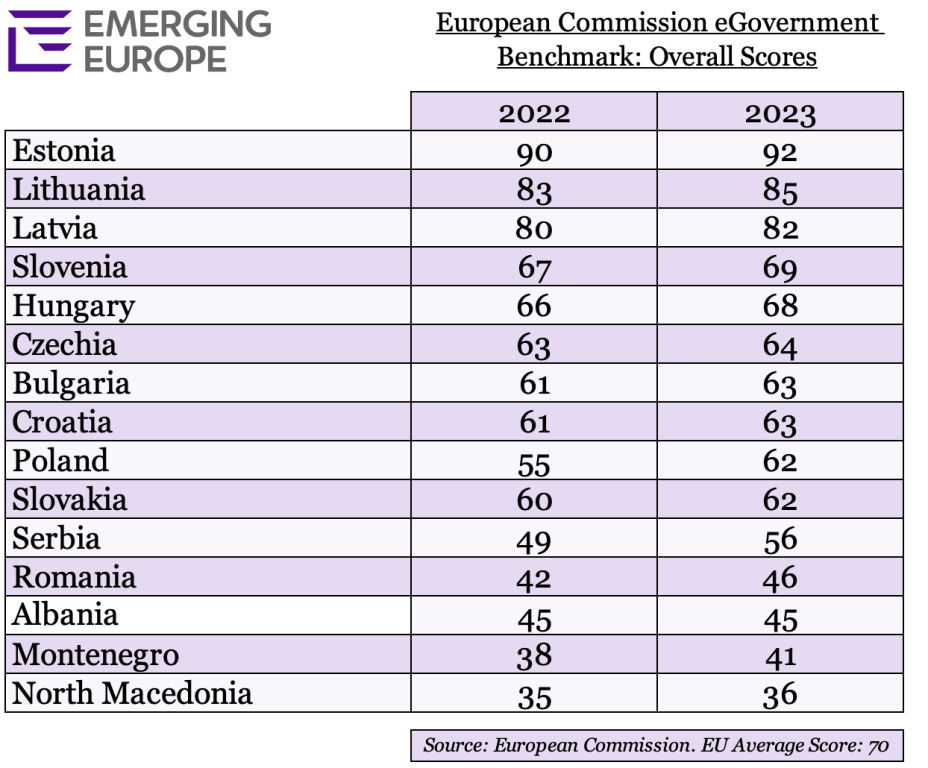 Only 24 per cent of Romanian online users actively use eGovernment services, compared with an EU average of 74 per cent. A key issue is the country's lack of a digital ID, although Romania has committed to issuing eight million digital ID cards by 2026 (around 40 per cent of the population).
While there are efforts to digitally transform public services, with many projects, funded under the country's Recovery and Resilience Programme, expected to bring more services online, reduce fragmentation, improve interoperability and remove bureaucratic barriers, the report stresses that Romania must, "implement planned measures swiftly and effectively, as they represent a major opportunity for the digital transformation of government. This will have significant benefits for citizens and businesses."
Improvement needed across the board
An outlier Romania may be, but the Commission's report makes it clear that all countries need to do more.
"We need to accelerate our efforts to reach our targets by 2030," says Thierry Breton, Commissioner for Internal Market. "Now is the moment to work together to put Europe at the forefront of the digital transition. This is the meaning of the recommendations that we issue today to member states."
Even Estonia, a global leader in eGovernment which continues to invest heavily in making its digital public services even more user friendly and accessible for citizens and businesses can do more, the report suggests, especially in addressing accessibility of health data for all people (including people with disabilities) and ensuring that public service portals can be accessed from mobile devices.
According to Věra Jourová, the Commission's Vice-President for Values and Transparency, the journey towards the full achievement of the Digital Decade targets is still long.
"Now is the time to take every measure to bridge the gap and ensure that the full digital transition is reached by 2030, without leaving anyone behind."
---
Unlike many news and information platforms, Emerging Europe is free to read, and always will be. There is no paywall here. We are independent, not affiliated with nor representing any political party or business organisation. We want the very best for emerging Europe, nothing more, nothing less. Your support will help us continue to spread the word about this amazing region.
You can contribute here. Thank you.

---