The 2020 World Press Freedom Index, compiled by Reporters Without Borders (RSF), shows that the coming decade will be decisive for the future of journalism, with the Covid-19 pandemic highlighting and amplifying the many crises that threaten the right to freely reported, independent, diverse and reliable information.
The 2020 edition of the index, which evaluates the situation for journalists in 180 countries and territories, suggests that the next 10 years will be pivotal for press freedom because of converging crises affecting the future of journalism: a geopolitical crisis (due to the aggressiveness of authoritarian regimes); a technological crisis (due to a lack of democratic guarantees); a democratic crisis (due to polarisation and repressive policies); a crisis of trust (due to suspicion and even hatred of the media); and an economic crisis (impoverishing quality journalism).
These five areas of crisis are now compounded by a global public health crisis.
"We are entering a decisive decade for journalism linked to crises that affect its future," says RSF Secretary-General Christophe Deloire. "The coronavirus pandemic illustrates the negative factors threatening the right to reliable information, and is itself an exacerbating factor. What will freedom of information, pluralism and reliability look like in 2030? The answer to that question is being determined today."
There is a clear correlation between suppression of media freedom in response to the coronavirus pandemic, and a country's ranking in the Index. Even in the European Union, Prime Minister Viktor Orbán of Hungary (down two places to 89th), had a "coronavirus" law passed with penalties of up to five years in prison for false information, a completely disproportionate and coercive measure.
"The public health crisis provides authoritarian governments with an opportunity to implement the notorious "shock doctrine" – to take advantage of the fact that politics are on hold, the public is stunned and protests are out of the question, in order to impose measures that would be impossible in normal times," Deloire adds. "For this decisive decade to not be a disastrous one, people of goodwill, whoever they are, must campaign for journalists to be able to fulfil their role as society's trusted third parties, which means they must have the capacity to do so."
Norway tops the 2020 index for the fourth year in a row, while Finland is again the runner-up. Denmark (up two places to third) is next as both Sweden (down one to fourth) and the Netherlands (down one to fifth) have fallen as a result of increases in cyber-harassment. The other end of the Index has seen little change. North Korea (down one at 180th) has taken the last position from Turkmenistan, while Eritrea (178th) continues to be Africa's worst-ranked country.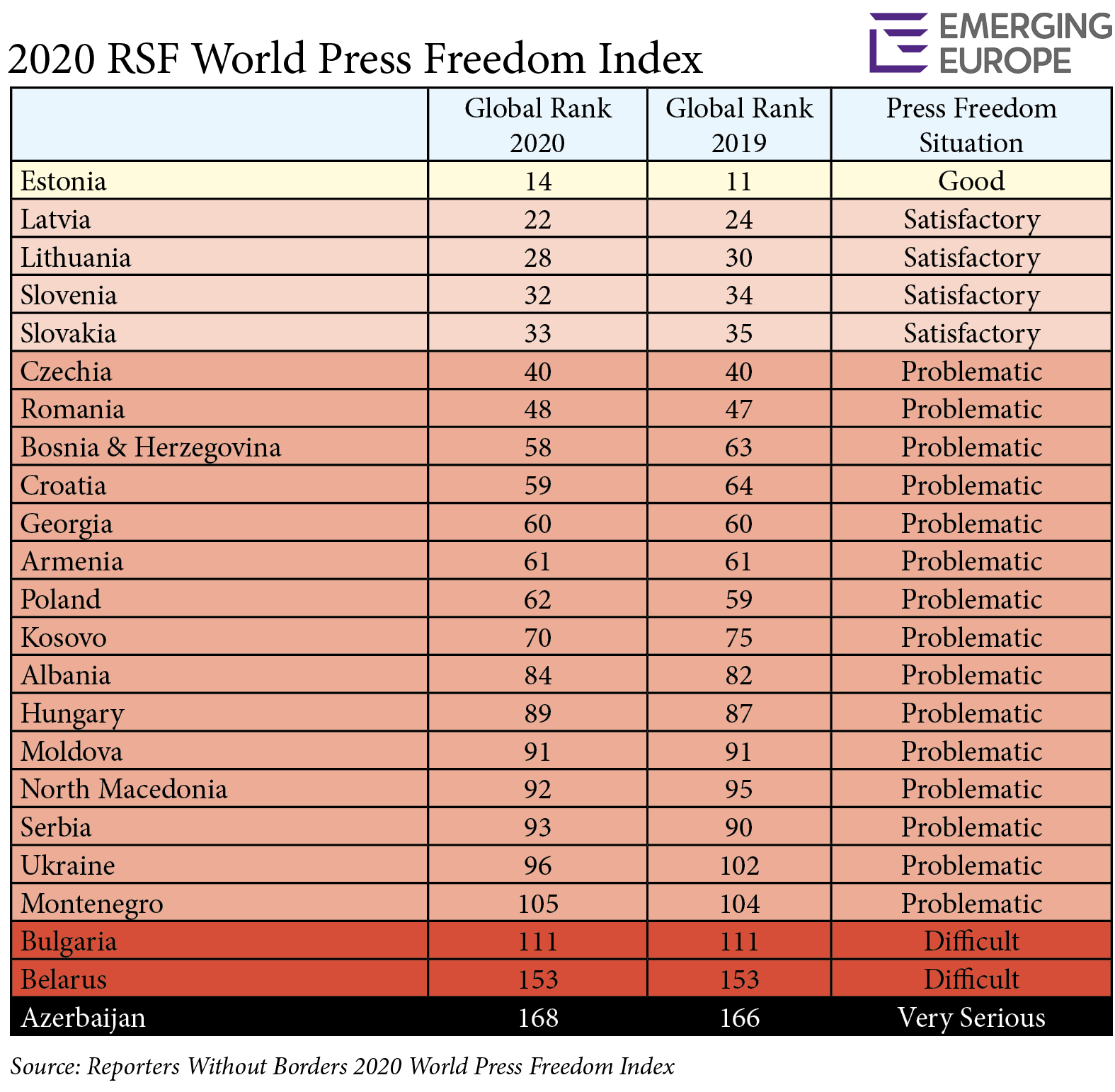 In emerging Europe, a number of countries besides Hungary have seen their rankings fall.
Estonia (14th globally) remains the best place to be a journalist in the region, the only emerging European country where press freedom is defined as being in "a good situation". However, the country fell three places in a year in which reports emerged that the owner of Estonia's oldest newspaper, the Postimees, had been interfering in the work of journalists and using the newspaper to promote his conservative worldview and advertise his other businesses. In response to these revelations, almost all journalists of the investigative and opinion desks resigned.
In Poland (down three at 62nd), which lost three places this year, the government's control over the judiciary has adversely affected press freedom. Some courts use article 212 of the penal code which allows sentences on journalists of to up to a year in prison on defamation charges. Up to now judges have only imposed fines but the damage has been done and an underlying climate of self-censorship has now come to the surface.
In southern Europe, a crusade by the authorities against the media is very active. In Bulgaria (111th), which remains in the region's lowest position, an attempt by the public radio management to suspend the experienced journalist Silvia Velikova, a government critic, has highlighted the lack of independence of Bulgaria's public broadcasting media and the hold some political leaders have over their editorial policy.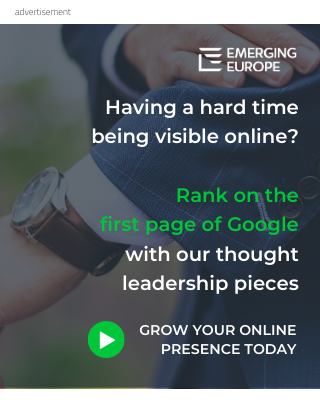 EU candidate countries Montenegro (105th) and Albania (84th) each fell two places after a year which saw journalists detained on the pretext of the fight against disinformation, and instances of legal harassment exemplified by the Kafkaesque trial of investigative reporter Jovo Martinovic.
During the same period, many abuses directed against reporters in the Balkans went unpunished. In Serbia (93rd), down another three places in the 2020 Index, those who set fire to the house of the investigative journalist Milan Jovanovic have yet to be convicted in court.
The fight against impunity for violence against journalists has made progress in two EU countries. In Slovakia (up two at 33rd), where those alleged to be behind the murder of Ján Kuciak and his fiancée Martina Kušnírová have been brought to trial, the country has moved up in the index for the first time in three years.
At the bottom end of the scale is Azerbaijan, in 168th place, where, RSF claims, President Ilham Aliyev has been waging a relentless war against his remaining critics since 2014. Independent journalists and bloggers are jailed on absurd grounds if they do not first yield to harassment, blackmail or bribes. The hopes raised in late 2019 by the dismissal of presidential advisor Ali Hasanov, regarded as the media's "censor in chief," and by the announcement of major reforms were quickly dashed in early 2020 by the post-election crackdown on journalists who had tried to cover electoral fraud and opposition rallies.
—
Unlike many news and information platforms, Emerging Europe is free to read, and always will be. There is no paywall here. We are independent, not affiliated with nor representing any political party or business organisation. We want the very best for emerging Europe, nothing more, nothing less. Your support will help us continue to spread the word about this amazing region.
You can contribute here. Thank you.