With a score of 0.79, Slovenia ranks 13th globally in the latest Human Capital Index (HCI), the highest score for an emerging European country. The index, launched during the 2018 Annual Meetings of the International Monetary Fund and the World Bank Group in Indonesia, ranks 157 participating countries in terms of education, skills, and health outcomes among their citizens. The HCI is made up of five indicators: the probability of survival to age five; a child's expected years of schooling; quality of learning; adult survival rate; and the proportion of children who are not stunted.
The Czech Republic comes a close second in the region and 14th place globally with a score of 0.78, a long way ahead of Serbia in 27th with a score of 0.76, and Estonia and Poland in joint 30th with scores of 0.75.
At the other end of the scale Romania performs poorly, with a score of just 0.60, the lowest in the European Union.
Romania's score means that children born in Romania today will be 60 per cent as productive when they grow up as they could be if they enjoyed complete education and full health. Worryingly, between 2012 and 2017, the HCI value for Romania decreased from 0.63 to 0.60.
"The Human Capital Index highlights that Romania needs to invest in the health and education of its citizens if it wants to remain competitive in the long run," said Tatiana Proskuryakova, World Bank country manager for Romania and Hungary. "The World Bank is committed to assist Romanian authorities in their efforts to invest more and invest smarter in human capital, in quality healthcare systems and educational programmes."
Elsewhere in emerging Europe Armenia, Kosovo and Macedonia also perform poorly.
"Macedonia's index value, especially the value of the education indicators is a call for immediate action. It seems reforms thus far have not transformed the education system enough to help the majority of students attain at least basic competencies," says Marco Mantovanelli, World Bank country manager for FYR Macedonia. "An in-depth analysis of the OECD's Programme for International Student Assessment (PISA) data is the first step in engaging in any serious discussion on possible policy action and reforms genuinely aimed at improving education outcomes in Macedonia. It is important for the country to continue participation in the international large-scale assessments to monitor the quality of education system."
Evidence shows that progress is possible. Poland enacted education reforms between 1990 and 2015, and experienced one of the fastest improvements in PISA scores in OECD countries.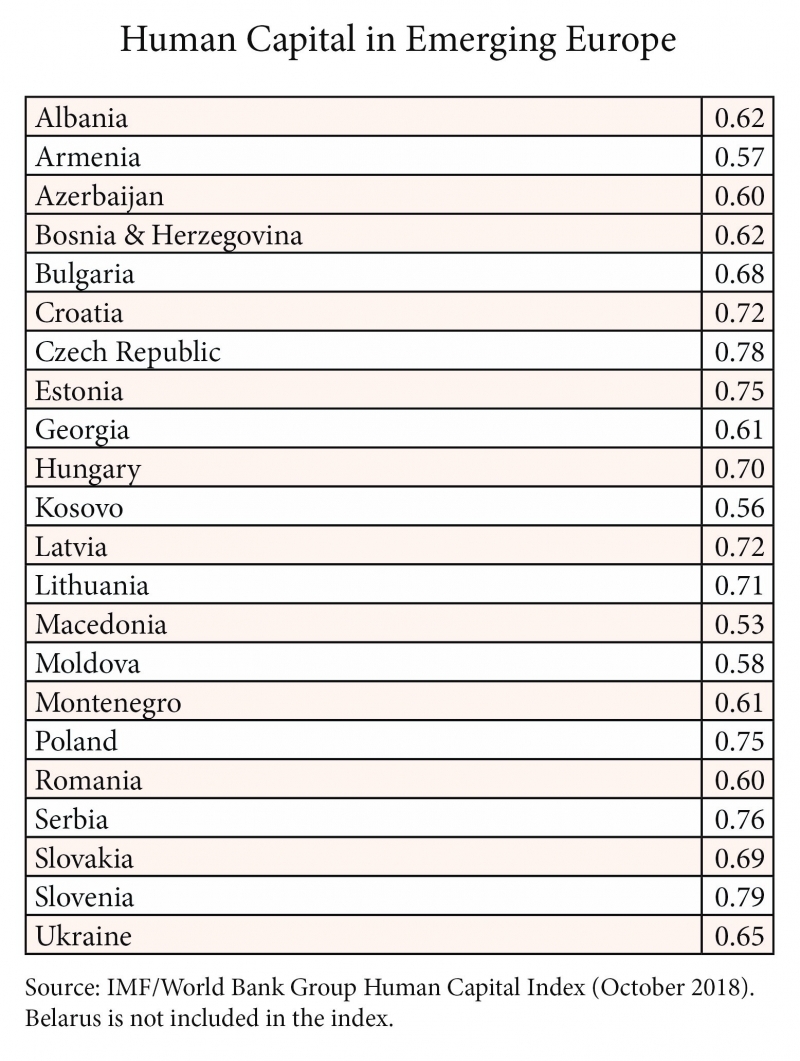 The Human Capital Index is part of the Human Capital Project, which is launched to incentivise and support national leaders to prioritize transformational human capital investments. The objective of the initiative is to accelerate progress towards a world in which all children arrive in school well-nourished and ready to learn, can expect to receive quality learning in the classroom, and are able to enter the job market as healthy, skilled, and productive adults.
"For the poorest people, human capital is often the only capital they have," said World Bank Group President Jim Yong Kim. "Human capital is a key driver of sustainable, inclusive economic growth, but investing in health and education has not gotten the attention it deserves. This index creates a direct line between improving outcomes in health and education, productivity, and economic growth. I hope that it drives countries to take urgent action and invest more – and more effectively – in their people."
"The bar is rising for everyone," Mr Kim added. "Building human capital is critical for all countries, at all income levels, to compete in the economy of the future."
Singapore, with a score of 0.88, has the world's highest HCI.