There is a high level of correlation between digital development and sustainability, and digital development and resilience, says Microsoft's Evangelos Chrysafidis.
It's become one of the repeated statements of the past few years: that the Covid-19 pandemic sped up the process of digitisation in the public sector across Europe, and indeed much of the world.
For Evangelos Chrysafidis, Public Sector Lead for Central and Eastern Europe, Middle East and Africa at Microsoft, repeating the statement does not make it true. Real world examples of public sector digitisation are what we need, he says, and offers a couple of his own.
---
---
"In Greece, with Microsoft as a key partner and stakeholder, the Ministry of Digital Transformation has managed to over the past four years introduce, shape, create and enhance a digital environment for a vast number of digital services, which has tremendously impacted the lives of citizens in a highly visible way," he tells Emerging Europe.
"Today, the majority of core public services are digitised. One example, getting a certificate from the tax authorities – this used to mean a day-long queue. Now it's a 10-minute task. That has freed up time both for citizens and, most importantly, increased the value of the work carried out by public servants."
Leaders embracing digitisation
Another example comes from Malta, where in partnership with the Malta Information Technology Agency (MITA), Microsoft is helping the country speed up its digital transformation, including the creation of what Evangelos describes as "one of the best security operations centres currently run by a central agency of a government".
So impressive has Malta's digitisation process been, he suggests, that it can now be spoken of in the same terms as digital frontrunners such as Estonia and Denmark.
Evangelos is a firm believer in the idea that public sector digitisation is a catalyst for overall digital progress, with that digitisation being directed from the top levels of government.
"We are seeing leaders understand and embrace digital strength as a way of transforming their countries, making them more competitive. And that is key," he says.
Not only does public sector digitisation improve the resiliency, agility and efficiency of the 'business of government', it also creates the conditions for broader digital economic growth and greater digital inclusion.
"Our Digital Futures Index has established that more digitally advanced countries are greener, more productive, innovative and competitive," says Chrysafidis, adding, "Investment in ICT, cloud, IoT, and AI is a major driver of digital progress and, as a result, of economic and societal benefits. There is a very strong correlation between the digitisation of public services and greater productivity."
The Index also shows that higher levels of digital interaction with government encourages greater participation in the digital economy amongst citizens. This creates a virtuous cycle of expanding digital skills and creating more demand for digital services.
The Index also found a significant range of correlations between digital development and sustainability, underscoring the importance of twinning digitisation and green strategies as part of national recovery initiatives.
"Of all the correlations we found, investment in digital technology and the digital skills of the general population had the strongest positive relationships with environmental outcomes," believes Chrysafidis.
---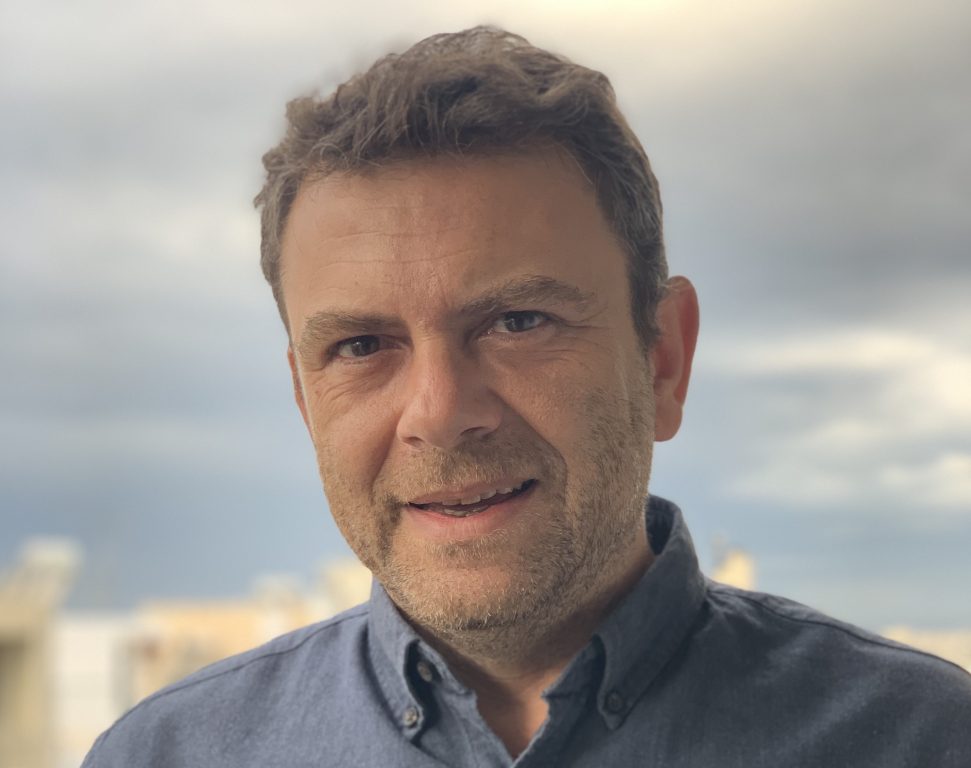 Evangelos Chrysafidis
---
AI has the potential to transform public sector services and operations
AI is bringing huge positive change to all industries, including the public sector, which plays a huge role in the digital innovation ecosystem.
Evangelos believes that the past few months have been an exciting time for AI innovation, saying that the mindset surrounding the technology has changed, and that it is now a tool that can transform government services. "It's no longer AI for the sake of AI," he says.
"AI will evolve to become a platform. That platform is essentially the end game where a series of services will be available, provided by artificial intelligence platforms."
Given the many valid concerns of regulators and the wider public regarding the development and implementation of AI, Evangelos is as aware as anyone of the need for its responsible deployment.
"AI has the potential to transform the way we live and work, and the opportunities it opens to solve long-term challenges are vast. But we also have an important responsibility to develop and deploy this technology thoughtfully, ethically, and focused on benefiting people and society broadly," he says.
"At Microsoft, we are committed to developing responsible AI systems, and this is especially important for the public sector, ensuring that the technology drives a positive impact for everyone.
"It's critical that we showcase our responsibility, which goes far beyond ethical concerns. Responsibility is much more than talking about ethics. Responsibility towards AI creation and technology dissemination is fundamental to its success."
---
---
From cybersecurity to resilience
In today's geopolitical landscape cybersecurity is a key priority for building the resilience of governments and their local organisations, and provides an essential foundation for accelerated digitisation.
As the world digitises, it's important to recognise that the benefits of hybrid work, smart supply chains and intelligent internet of things come with new and different risks to manage.
Yet according to an IDC study commissioned by Microsoft, only half of companies in Central and Eastern Europe have a comprehensive cybersecurity strategy. This in a landscape where anything less than comprehensive security is no security at all.
"Cybersecurity gives public sector leaders confidence to embrace the shift to the digital economy and reap the benefits of their investment in it," says Chrysafidis, who stresses that it is time to change the narrative around cybersecurity, focusing on building resilience.
"How can governments become risk managers?" he adds. "Governments must be equally strong both proactively and reactively – for me, that's the key."
"When we talk about resilient government, it has, of course, the component of cybersecurity and cyber defense. But it also has components of how those come into play with respect to strategic resilience, geopolitical resilience, natural disasters. These are continuous needs and must be looked at in a diligent and holistic way."
Government resilience – including cybersecurity – has been a key part of Ukraine's defence against Russia's invasion, and Microsoft has been supportive of Kyiv's efforts. Ukraine's government has continued to function, has continued to offer public services – even developing new digital tools to deliver them while war rages. It's another example, says Evangelos, of a country getting the basics right.
"We see that countries which have taken steps to make government resilient have done so in all areas of risk – in terms of both government operations and in broader society. That approach has led to much better results."
Ultimately, countries need to ask themselves: How can I develop the ability to keep my government open, even in the most difficult circumstances?
"It's this ability to stay open that is true resilience," concludes Chrysafidis.
---
This article is part of Digital Future of CEE, a regional discussion series, powered by Emerging Europe, Microsoft and PwC.
---
Unlike many news and information platforms, Emerging Europe is free to read, and always will be. There is no paywall here. We are independent, not affiliated with nor representing any political party or business organisation. We want the very best for emerging Europe, nothing more, nothing less. Your support will help us continue to spread the word about this amazing region.
You can contribute here. Thank you.

---