Catch up quickly with the stories from Central and Eastern Europe that matter.
---
Russia's war on Ukraine
A critical juncture has been reached in Ukraine's months-long counteroffensive as after weeks of difficult battles, Ukrainian forces have slowly edged south in the Zaporizhzhia region, taking hamlet after hamlet as Russian forces try to keep them at bay.
The counteroffensive in the south is just one part of a significant push along a vast front line, stretching from Vasilivka in Zaporizhzhia to the city of Donetsk in the eastern region of Donbas and up to Bakhmut, a city north of Donetsk to the outskirts of Kupiansk in northeastern Ukraine. This does not even include the strikes and raids on Crimea and from across the Dnipro River from the city of Kherson to the Black Sea.
The Zaporizhzhia village of Robotyne has been taken, and the next hamlet, Novoprokopivka, is in Ukraine's sights with Tokmak, one of its strategic objectives, now within reach. Tokmak is a vital railway junction and the key to taking the city of Melitopol at the neck of the Crimean Peninsula.
On Wednesday, a four-hour wave of drones that Moscow blamed on Ukraine hit an airport near Russia's border with Estonia and Latvia, damaging four Il-76 military transport planes.
Ukrainian President Volodymyr Zelensky said on Thursday his country has developed a weapon that hit a target 700 kilometres away, in an apparent reference to the previous day's strike on the airport in western Russia.
Zelensky said on his Telegram channel that the weapon was produced by Ukraine's Ministry of Strategic Industries, but gave no other details.
The president's comments marked an apparent shift in strategy, as Kyiv officials typically don't explicitly claim or deny responsibility for attacks on Russian soil, choosing instead to refer to the strikes indirectly.
Zelensky on Wednesday decried what he called systematic corruption in medical exemptions for people avoiding military service, saying the system was subject to bribes and mass departures abroad.
Ukraine has made a crackdown on graft a priority as it presses on with its counteroffensive. Uprooting corruption is also a key element in the country's bid to join the European Union.
Zelensky said the National Security and Defence Council has investigated data showing the extent of false exemptions, bribe-taking and flight abroad since the February 2022 invasion. He said the investigation had exposed corrupt practices in different regions and by officials in different positions, involving bribes ranging from 3,000 to 15,000 US dollars, and that a separate analysis was needed to determine the numbers of people who had fled abroad, largely on the basis of medical commission decisions.
Viktor Orbán, prime minister of NATO ally Hungary, told former Fox News host Tucker Carlson this week that the United States re-electing former president Donald Trump—who he believes should then end military support to Ukraine—is the best hope for ending the war.
Trump thanked Orbán for his praise.
"We should make a deal with the Russians on the new security architecture to provide security and sovereignty for Ukraine but not membership in NATO," said Orbán in the interview.
Orbán has tried to block European Union aid, refused to supply arms to Kyiv, and has repeatedly said that Ukraine's counter-offensive was doomed to fail while cutting deals with Russia on energy, securing gas supplies and pressing ahead with the Russia-led construction of its nuclear power plant over the reservations of some EU and NATO allies.
The Hungarian leader has referenced Putin as a model on which he has built what he calls an "illiberal democracy" that opposes the EU's multicultural values.
---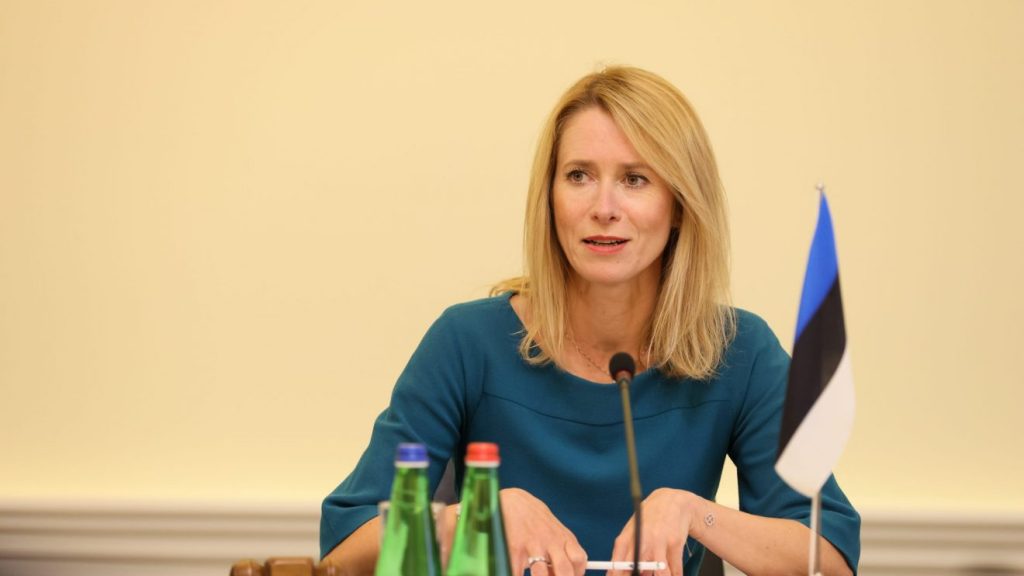 Estonia's PM Kaja Kallas
---
Other news from the region
The Estonian prime minister, Kaja Kallas, is under mounting pressure over claims her husband has maintained business interests in Russia that the country's president, Alar Karis, has said have put "the credibility of the Estonian state into question". Reports emerged last week that Stark Logistics, a company partly owned by Kallas's husband, Arvo Hallik, has continued to do business in Russia since the invasion of Ukraine last year.
Poland is not planning a quicker end to using coal, the government said on Wednesday, criticising state-controlled utility PGE for bringing forward its carbon neutrality target by a decade to 2040. Under a pact the government signed with trade unions, Poland plans to keep mining coal until 2049. PGE, Poland's biggest power utility, said on Tuesday it is seeking a faster exit as it bets on renewable energy.
Poland's working-age population will decline by nearly a third by 2060 unless the country opens its borders to more migrants from beyond eastern Europe, according to a study by the state statistics office. The projection reflects a dwindling birth rate and highlights political battles over opening the European Union's sixth-largest economy to more migration. In a little less than four decades, Poland's working-age residents could shrink by 7.1 million from 22.2 million now, according to the study.
Kosovo's president on Wednesday lashed out at France's Emmanuel Macron for saying this week that Paris may review visa-free EU travel rules in 2024 for Kosovo and Serbia over their stalled talks on normalising ties. President Vjosa Osmani said any suspension of visa-free travel to the European Union for her country's citizens next year would "kill the dialogue once and for all" with Serbia. EU lawmakers in April gave the green light for citizens from Kosovo to travel to the bloc without visas from January 1 next year.
Elections in Bosnia and Herzegovina are undemocratic and entrench the privileged position of dominant ethnic groups, the European Court of Human Rights ruled on Tuesday. The legal case was brought to the Strasbourg-based court by Slaven Kovačević, a political scientist and adviser to a member of Bosnia and Herzegovina's Presidency, who argued he was not genuinely represented. The court found in his favour, describing the country of 3.2 million inhabitants as an "ethnocracy".
China's Zijin Mining Group Co. is developing plans to expand its copper mine in eastern Serbia due to demand for the metal considered vital to the global energy transition—an effort that could cost billions of dollars. The company opened the Cukaru Peki copper and gold mine almost two years ago, with a 678 million US dollars investment allowing it to reach reserves a few hundred metres deep. Now it wants to drill down almost two kilometres to make the most of assets acquired in a takeover spree.
Chancellor Olaf Scholz's cabinet on Wednesday classified Moldova and Georgia as so-called "safe countries of origin" meaning asylum seekers from there can be rejected and deported faster than in the past. The move, once parliament has approved the new regulation, is a further step in efforts to curb migration to Germany as the country struggles to house and integrate more than one million refugees who fled the war from Ukraine last year.
The president of Nagorno-Karabakh, Arayik Harutyunyan, announced his resignation this week, along with the second most senior official, State Minister Gurgen Nersisyan. He cited the defeat in the 2020 Second Karabakh War and "subsequent difficulties" experienced by the region—including the ongoing blockade by Azerbaijan of the only road to Armenia—as significantly reducing the trust in authorities but said his resignation was aimed at ensuring "internal stability and strong public order" in the breakaway state.
Officials in Kyrgyzstan have requested that digital censors block access to TikTok. In its petition to the Digital Development Ministry, the Culture Ministry said this week that it is worried by the unfettered availability of harmful content and the lack of age restrictions on the app. The move against TikTok is in keeping with broader trends in Kyrgyzstan, where the government is pursuing ever greater censorship in what it argues is an effort to uphold social and political stability.
Thousands of teachers, health-care workers, and other state employees in Turkmenistan have been forced to pick cotton as the annual harvest season kicked off in August amid scorching summer heat. In the eastern Lebap Province, the government has ordered all state agencies to mobilise 50 per cent of their staff for cotton picking during weekdays, several workers told RFE/RL. During the weekends, however, all employees must work in the fields, they said. Local residents said that, in some regions, army soldiers are also picking cotton.
---
Unlike many news and information platforms, Emerging Europe is free to read, and always will be. There is no paywall here. We are independent, not affiliated with nor representing any political party or business organisation. We want the very best for emerging Europe, nothing more, nothing less. Your support will help us continue to spread the word about this amazing region.
You can contribute here. Thank you.

---