"One of the fastest growing fintech destinations in the CEE Region"; "An evolving fintech hub"; "The most vibrant fintech destination in the SEE region".
You can often hear or read these definitions of Sofia, the capital of Bulgaria. Trust us, this is not an overstatement. Behind these words stand real data, numbers and trends that should convince even the most doubtful that Sofia is definitely one of the hottest spots on the European fintech map.
A fast-growing ecosystem
"A few years ago, it was pretty rare to come across a stand-alone technology on top of a financial giant's infrastructure. However, this has changed dramatically in recent years mainly due to the favourable legislation and the inspiring unicorn stories coming from the US, Asia and Western Europe," says Daniel Tomov, founding partner of Eleven Ventures.
It seems that these foreign success stories really stirred the enthusiasm of Bulgarian entrepreneurs. Today, Sofia has a "critical mass of start-ups and financial and technological service providers", according to RBI's Fintech Atlas.
The Annual Fintech Report 2019, published by the Bulgarian Fintech Association and the media company SEE News, counts 65 fintech companies operating in the country as of April 2019, with 54 of them headquartered in Sofia. They cover all aspects of international fintech, with payments and billing (30 per cent), capital markets solutions (15 per cent), and personal finance (12 per cent) being the most popular segments.
The Annual Fintech Report 2019 points out that the number of employees in the fintech sector is also constantly rising, both as a consequence of the emergence of new players and the expansion of existing companies. Within the five years between 2014 and 2018, the sector more than doubled in terms of personnel, reaching more than 2,700 people.
"I guess this is just a reflection of global trends in the sector, and to a certain extent probably also of EU regulations like eIDAS and PSD 1 and 2," says Alexandra Kozbunarova, editor in chief of TrendingTopics Bulgaria. "I heard something interesting recently: One of the reasons why fintech is such a trendy topic in Bulgaria is the fact that the market is quite small, and the banks have realised that they need to open up towards new technologies and approaches to stay relevant. Therefore, big financial industry players are scouting for tech and innovation outside their structures and calling out to start-ups," she adds.
The fintech partnership programme Elevator Lab by Raiffeisen Bank International is further evidence for the vivid Bulgarian ecosystem – in 2018 the country was ranked second after Russia with 23 applicants. The number of candidates in the local challenge is growing every year (eight in 2017, 16 in 2018, and 24 in 2019).
For the last two years, the annual Fintech Summit in Sofia has gathered more than 1,500 fintech and investor representatives not only from the region, but from all over the world.
It's not only numbers, but also value
Between 2014 and 2018 the fintech sector in Bulgaria was blooming, both in terms of numbers and revenue, states the Annual Fintech Report 2019. According to the document, the total operating revenue of the sector exceeded 200 million euros in 2018, an annual jump of 33.5 per cent and double compared to three years ago. Along with its rising revenue, the fintech sector is contributing more to the national economy each year – the share of the sector in the country's Gross Domestic Product (GDP) expanded from 0.4 per cent in 2017 to 0.5 per cent in 2018 and has doubled since 2014. In addition, the Bulgarian fintech sector was profitable every year between 2014 and 2018 with a total net profit amounting to more than 59 million euros in 2018. The result was more than twice that of 2017. More than half of the companies achieved a net profit amounting to 62.4 million euros in 2018.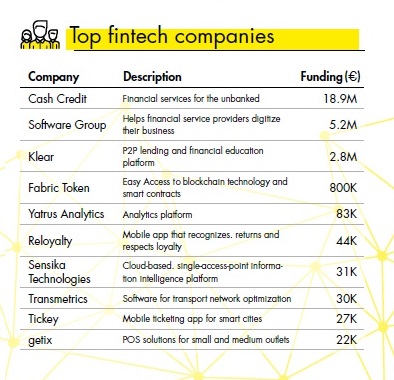 Sofia, how did you achieve that?
These figures are not accidental. The RBI's Fintech Atlas emphasises that Bulgaria is second after South Korea in terms of broadband internet speed and is the world's second most innovative upper-middle income country and number one in the SEE region in terms of innovation efficiency and achievement.
Furthermore, in its latest report ranking the fintech locations of the future, the Intelligence Division of the Financial Times placed the Bulgarian capital city of Sofia first globally when it comes to affordability, followed by Vilnius, Lithuania, and Bucharest, Romania.
"The abundance of tech talent, the favourable conditions to run and the proximity of the market coupled with the world fintech trends naturally led to establishing Bulgaria as a fintech hub. In addition to that, the city-population in Bulgaria has proven to be curious and eager to easily adopt new technologies, which makes the Bulgarian market perfect for testing innovations," says Valeri Valtchev, chairman of the Bulgarian Fintech Association.
Daniel Tomov from Eleven Ventures emphasises the fact that the buzz word "fintech'' in fact emcompasses a variety of sophisticated software tools and interconnected relations that transform all kinds of financial services into consumer goods. "And we have brilliant software engineers, who could code and design a new fintech platform in days, even hours. However, the biggest challenge is how to transform this technology into a sustainable business. Sofia has the right ingredients to support the start of fintechs; here it's also easy to approach and schedule a pitch meeting with top corporate executives and investors," he says.
Bulgaria ahead of the CEE fintech sector?
Well, we do not have enough comparative data to claim that there are fintech segments where Bulgaria is far ahead of other countries in the region, but what we clearly see is that the largest number of fintech companies in CEE is in Bulgaria.
Alexandra Kozbunarova and Daniel Tomov emphasised that trend companies like Tick42, Tide, SumUp, Paysafe or even Uber (the whole digital billing system is developed in Sofia) chose Bulgaria for opening up development centers.
According to Valeri Valtchev, Bulgaria is extremely strong within the payments sector. There are at least 20 fintech companies operating within this segment and Bulgarian solutions for money transfers, P2P payments, NFC payment and acceptance are already used not only on the domestic market, but also in different CEE countries.
"Payments is probably the segment with the largest potential in Bulgaria," claims Valeri Valtchev: "There are different explanations for that, but to name just one – the presence of global payment giants is a premise for having experienced professionals within this field, who can transfer their knowledge also within Bulgarian based ventures that compete on a global scale."
Daniel Tomov agrees: "If we keep up the momentum, payments could be the niche to set Bulgaria on top of the CEE fintech map. We still have a long way to go but we're moving pretty fast." He says that VCs would be very interested to see more local ''fintech for good'' solutions – a niche that is still unoccupied domestically. Daniel Tomov predicts that all tech will be built around personalities: "So, no matter whether I am trying to buy a new home or to order organic oranges from a trusted farmer, something holistic will help me to do it in a single environment, in a closed ecosystem, where I search, review, order, sign and pay with a single move. This is how the near future of fintech will look like and could be a possible way forward for the future-looking positioning of Bulgarian fintechs."
—
This article was first published at Discover CEE.