Belgrade is a city famed for its nightlife and laissez-faire approach to partying. Now, the Serbian capital is also a home to a nascent but thriving drag scene.
It's hard to avoid drag queens in the media these days. Bolstered by the breakout TV hit Ru Paul's Drag Race, drag culture has exploded into the mainstream. Even relatively conservative publications have recently been "throwing shade" and "spilling the tea".
As an art form, drag is about transformation and liberation. Performers, usually but not always gay men, dress up in a hyper-real representation of femininity. High heels, large cleavage, even larger hair. While intended as entertainment, drag has always been political and regularly controversial. An oft-repeated story tells us that at the Stonewall riots, it was a drag queen who cast the first brick.
The trajectory of drag on the global stage is similar to that which the LGBT community had to go through in Serbia.
From invisibility and obscurity, to antagonism, and then finally tolerance. Or at least a semblance of it.
LGBT people in Serbia still remember the chaos and bloodshed visited upon the brave few who decided to hold a Pride Parade in 2001. The proceedings quickly erupted in violence as participants were viciously battered by hooligans and members of extreme right wing organisations.
Nine years later, nearly 1,000 marchers had to be protected by a cordon of police in heavy riot gear. That day saw brutality and destruction as counter-protesters, led again by hooligan gangs and the extreme right, set fires, robbed stores, demolished cars, and clashed with the police. Around 200 people were injured. And according to estimates published by the media at the time, the material damage was in excess of one million euros.
It's a far cry from the latest pride, held last September in the Serbian capital. While there were still some protests, this year's event saw no significant incidents.
It is in this atmosphere of begrudging tolerance that a drag scene has begun to emerge.
Over the last few years, performers such as Dekadenca, Markiza de Sada, Sonja Sajzor, and Dita Von Bill have built up a loyal audience performing in Belgrade's clubs.
Now there are regular drag parties, at clubs such as KC Grad, which feature a growing number of new queens. Their performances run the gamut from the classic lip sync to the more avant-garde and political.
"For me, in the beginning, drag was just a way to exist on the Belgrade queer scene," Dita Von Bill tells Emerging Europe. "The first time I got up on that stage, I knew I was breathing in floodlights instead of air. Meanwhile, it became great fun to think up concepts for the shows and meet new queens and collaborators. This fun and hard work led to people getting to know my drag persona. I realised then that I've created a platform for addressing my followers so I added a political and social note to messages in my performances."
During our conversation Dita emphasises the strength and inspiration that can come from adversity and the positive aspects of the drag scene. But she confesses she is aware some parts of her performances can be seen as provocative.
"Everyone has their way of fighting, I do it in my own way and I'm aware that way I relate certain messages is controversial."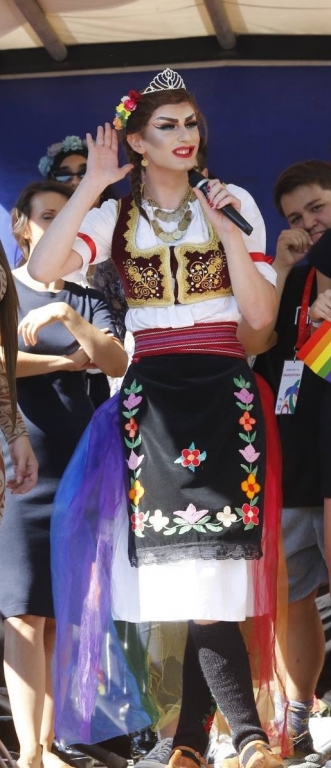 In 2018, she performed at pride in Belgrade while dressed in traditional female Serbian garb. The reactions came fast and hard. Many on Twitter and other social media voiced their disapproval in no uncertain terms. The situation escalated further with Dita receiving death threats. Some organisations even lodged official complaints with the police in an attempt to get her charged with a crime.
They did not succeed.
"The death threats did not scare me. A real death sounds less horrifying than a fake life," she says.
The situation Dita Von Bill found herself in is emblematic of the state of LGBT rights in Serbia. On the one hand, there is a growing liberalisation of attitudes toward homosexuality and gender expression. The prime minister, Ana Brnabić, is openly gay. On the other, conservative and right wing forces do still hold a lot of sway in society and are able to intimidate and cause harm. This is one of the reasons we cannot reveal Dita's real identity in this piece, at her request.
But Dita is largely optimistic.
"The drag scene in Serbia is in full expansion now. Negative aspects are nearly non-existent. We believe we are yet to show just how talented and skilled all our queens are," she concludes.