In Prison 325, located in the suburbs of the capital city Tirana, 84 female prisoners serve their sentences whilst dreaming of a better life.
"The conditions are not so bad there, it is a bit different from the men's prison," Alma Kordoni tells me as we sit sipping iced coffee in the blistering midday heat. "But it's their circumstances that are more of a problem."
Kordoni is the director of NGO Orkidea Albania, an organisation that seeks to promote and protect the rights of women and girls through the provision of direct services as well as providing capacity building, empowerment, and advocacy. But it is their most recent project, Made in Prison, that is the reason for our interview.
She tells me: "Many of these women are serving time for crimes they have committed due to being victims themselves. They have suffered from domestic violence, various different kinds of abuse, and are vulnerable – this is why they committed the crimes that got them sent to prison."
Delving into the subject further, Kordoni tells me of one woman who after years of violence inflicted upon her, murdered her abusive husband. Another was in a toxic relationship with a drug dealer. After being pulled over by the police, he escaped from the car, leaving the drugs behind and her to suffer the consequences.
Whilst their crimes are not excusable, most of the women in Prison 325 have a sad story to tell – one of challenges, obstacles, and harsh life experiences that they have suffered on the fringes of society.
When these women are released, their prospects are not great. In a country with a soaring unemployment rate, anyone with a criminal record finds it even harder to find gainful employment. Add to this the stigma and shame that prevails around women going to prison, even if they are victims themselves, and you have a situation where many end up destitute or slipping back into crime or abusive situations.
But Made in Prison is hoping to change their lives or at least provide them with a skill set that can help them to succeed on the outside. As well as providing counselling and other forms of assistance in acclimatising to the outside world, Made in Prison also teaches the women how to create beautiful handmade products and to sell them via social media.
Taking inspiration from the latest fashions and under the watchful guidance of a professional designer, a range of products including earrings, pins, bags, and other accessories has been created. Each product is developed, designed, and then carefully crafted by each woman, ensuring that high standards of quality control are adhered to. Once they are completed, the NGO sells them via social media and the money is used to buy more materials, with the profit going into the bank account of the woman that made it.
Beautiful beaded tassel earrings with geometric prints, whimsical hummingbird brooches, and tote bags decorated with handmade lace and embroidery – these are just some of the products that have been carefully curated and created by the prisoners.
Some of the pieces these women create are truly stunning and would not look out of place in any number of high-street stores. Customers can even request custom pieces and have them designed by a woman whose work they particularly like the look of. 
But it is not just the money that motivates these women, although being able to give money to their families or buy little gifts for their children goes a long way at rebuilding bridges that may have been burnt due to their situation. 
More than anything, this project has brought confidence and hope to women who felt that their lives had headed in a direction that it could not recover from.
One inmate, M.K. said: "I am so happy when we are told that my product has sold – it makes me feel really good."
E.L. added: "When I told my mother I am involved in this project, she was very happy. She started to trust me again and she even showed her friends."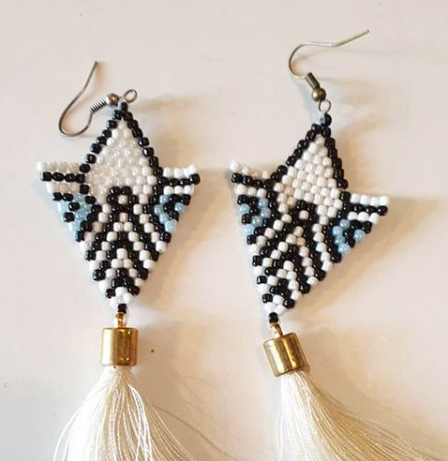 A.H., another woman involved in the project explained that: "Made in prison Albania has helped us increase our skills. It has helped us to feel better and to express ourselves, to have more confidence in our abilities, to learn to appreciate the handicraft market, to adapt the traditional work to the trends of time, what customers want, what products are plausible, how to introduce the product etc. My dream is to open a business, using the skills that I have learnt through this project."
To learn a new skill and most importantly to build confidence through empowerment is the real aim of this project, and the way that these women have evolved is a topic that brings a smile to Alma's face.
"It is so rewarding to see how they change – how they learn, become more creative, and even surprise themselves," she tells me.
Through providing counselling to take care of their mental health, boosting their self worth, helping them to repair relationships with family members, and teaching them a skill they can apply in the outside world, these women are in with a fighting chance of success. Whilst life after prison is still an uphill struggle, initiatives like this give them a better chance at making the transition successfully before standing on their own two feet.
Made in Prison started in March with a small grant from the US Embassy in Tirana, but at the end of August, the funding will dry up and the organisation only has enough money to survive until the end of the year. Between now and then, they need to drum up enough business to ensure they can not only afford to buy materials to make products and pay the women, but also to employ the designer and people to help with marketing and administration.
"I hope we can continue-I want this to become a proper social enterprise. We have had a lot of interest and support – so far we have made around 300 products and sold them, I hope that this number will increase as people come across our products and realise that they are great quality and well designed, not just items that raise money for charity," Kordoni says.
In a country where still, the most vulnerable members of society are marginalised and left to fend for themselves, a project like this which promotes confidence and sustainability is something of a light in the dark, especially for the women of Prison 325.
You can find out more about Made in Prison at the project's website, here, and Instagram account.