Slovakia's High Tatras are great for hiking in the summer and skiing in the winter, but a trip during autumn offers stunning colours, pleasant weather, and no crowds.
I looked out the airplane window, and—convinced my eyes were deceiving me—tried to clean the glass with my sleeves before checking again. But there hadn't been anything on the window—the colours were genuine.
I was descending towards Košice, Slovakia, and everything below me was fluorescent yellow-orange.
As we prepared to land, what at first appeared to be an endless carpet of marigold-coloured pincushion moss came into focus as a seemingly endless expanse of forested hills. Each tree a different point of rust, gold, or burgundy, from above they appeared a single shade of amber.
I smiled to myself—I had timed the trip perfectly.
---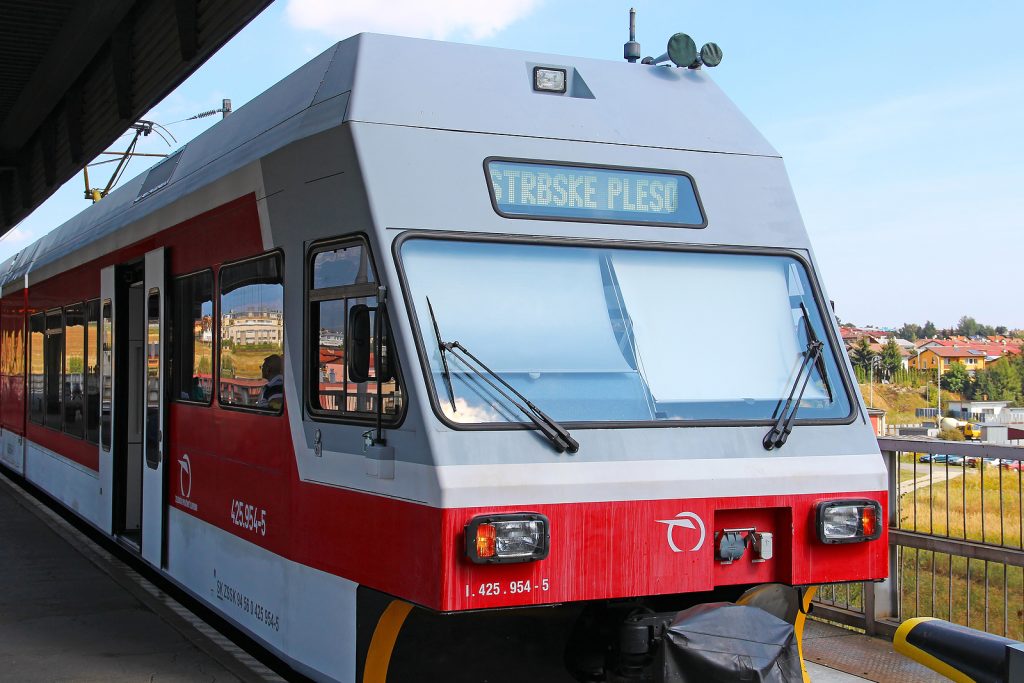 A Tatra Electric Railways train prepares to depart Poprad for Štrbské Pleso
---
While my destination—the High Tatras—is worthy of a visit anytime of the year, I had come specifically for the autumn foliage. The third week of October offers unparalleled colour and pleasant weather with barely a tourist in sight.
Old power plants and rows of pastel commie blocks became visible, and the woods gave way to the city of Košice. After a speedy experience at the petite airport, I experienced the first of many cases of Slovakian hospitality as I had to politely decline an offer by my seat-neighbour on the flight to ride with him in his taxi because the woman in front of me in the customs line had already bought me a bus ticket and had decided to escort me to my hostel's street.
Košice's downtown was lovely enough that I wondered if I should have allocated more than a night there, but I had already booked the first train of the morning to Poprad.
---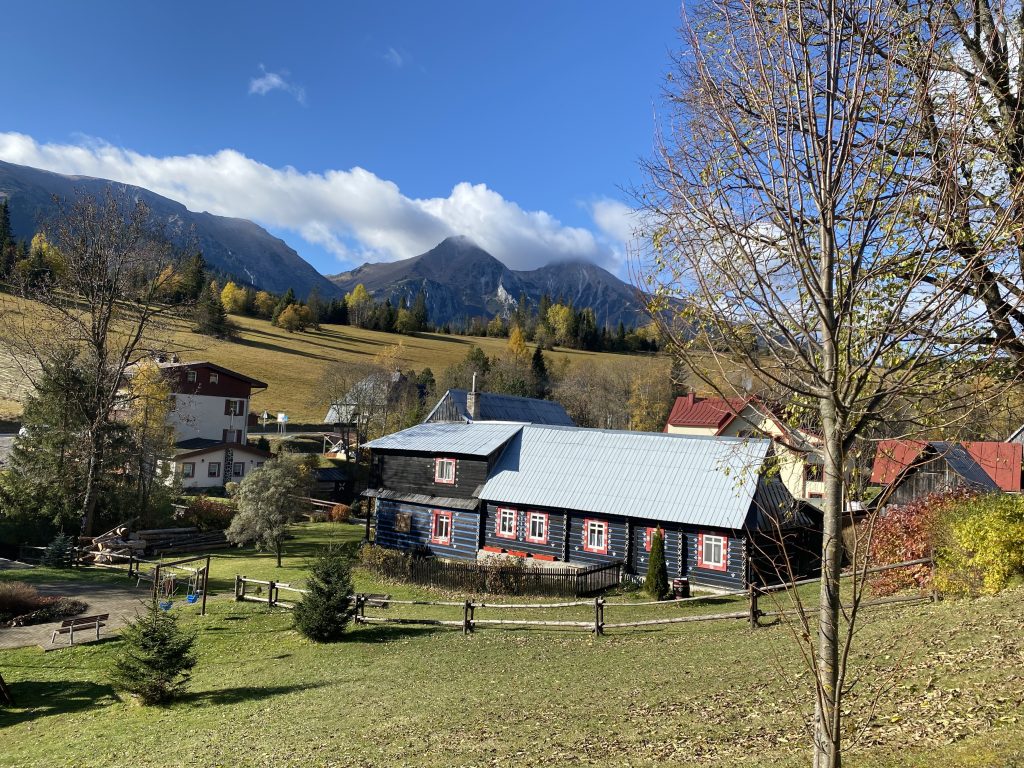 ---
That morning train gave me a chance to see the colours of rural Slovakia cast in dawn's first light. It would have been a magical journey under any circumstances, but my excitement at having finally visited Central Europe made every new church—and even communist-era block—that passed by seem induce a thrill.
I continued to experience the overwhelming kindness of Slovakia as other passengers—who noticed my sniffles—gave me an entire bag of sea buckthorn cough drops and a packet of tissues.
As the High Tatras came into view, my jaw dropped. As the highest range in the Carpathian Mountains, the Tatras form a natural border between Slovakia and Poland with snowcapped peaks of exposed grey rock. Their lower slopes are covered in forests of larch, pine, and beech—and the deciduous trees had now turned a bright yellow.
From Poprad, I took a bus to Ždiar, a small Goral village of wooden buildings, in the mountains by the border with Poland. On the ride, I passed grand hotels above the road framed dramatically by the peaks. I do not think it is a stretch to compare the beautiful Grand Hotel Praha—a historical Art Nouveau construction in Tatranská Lomnica dating back to 1905—to the Grand Budapest Hotel of the 2014 film of the same name.
---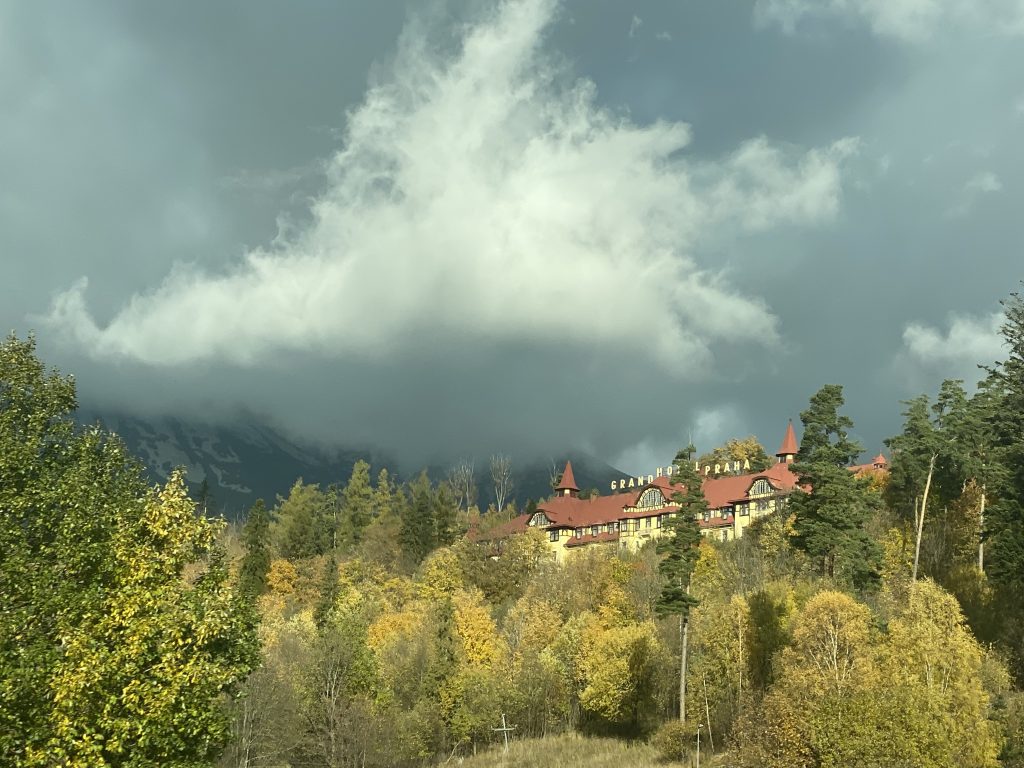 The Grand Hotel Praha
---
I checked into an inn in Ždiar to find I was the only guest. The High Tatras are full of hikers in the summer and skiers in the winter, but October was clearly the off-season. That's a shame, since I can hardly imagine the mountains any more beautiful than when they are flush with yellows and oranges.
After a delicious lunch and trip to the town's ethnographic museum about Goral culture, I took a bus to a trailhead just outside Starý Smokovec. The region's villages are well connected by frequent buses and the Tatra Electric Railway (which I would use to return that evening).
The hike itself exceeded expectations—an ascent through yellow forests to an emerald green lake and waterfall framed by sheer grey stone. Upon reaching its end, I was rewarded with a light flurry of snowflakes.
Besides a few other hikers from nearby Poland, I had the mountain to myself.
---
Unlike many news and information platforms, Emerging Europe is free to read, and always will be. There is no paywall here. We are independent, not affiliated with nor representing any political party or business organisation. We want the very best for emerging Europe, nothing more, nothing less. Your support will help us continue to spread the word about this amazing region.
You can contribute here. Thank you.

---