For seven years the Batumi Black Sea Music and Art Festival has been bringing together the finest young Georgian and international artists and offering them a chance to shine.
The festival was created by Georgia's most talented pianist, Elisso Bolkvadze, both as a showcase for young musicians and as a way of bringing classical music to an audience that may not otherwise have the opportunity to discover the fine arts.
"Since we began, the festival's mission has always been to promote and support the young Georgian talents of today, to show all of their diversity, but also to make it accessible to as many people as possible," Bolkvadze, who since 2015 has been a UNESCO artist for peace, tells Emerging Europe. "There are so many people who want to discover culture, and the festival helps them to do that."
The desire to bring culture to as wide an audience as possible is the reason the festival is held in the Black Sea resort of Batumi, and not the Georgian capital, Tbilisi.
"It's vacation time," Bolkvadze, whose mother is from Batumi, tells me. "People are at the seaside on holiday and have plenty of time to come and enjoy the music. There is a special ambiance in Batumi during the summer, people are relaxed. I spent my own summers here as a child."
Batumi's infrastructure is also a plus, with Bolkvadze pointing to the many excellent hotels the city can offer. The only problem is getting there, one which all visitors to the city recognise. "We need more direct flights," she says.
On the margins of the festival Bolkvadze organises a summer camp for young people.
"We started this two years ago," she says. "As a UNESCO artist I am very sensitive to the need to offer Georgian children who have been damaged by conflict the opportunity to participate in these camps, which were created with the ministry of education. We bring together hundreds of 12-17 year-olds from all over Georgia who can discover art, music and culture. They take part in workshops and they have access to the festival. It's about letting them discover their creativity."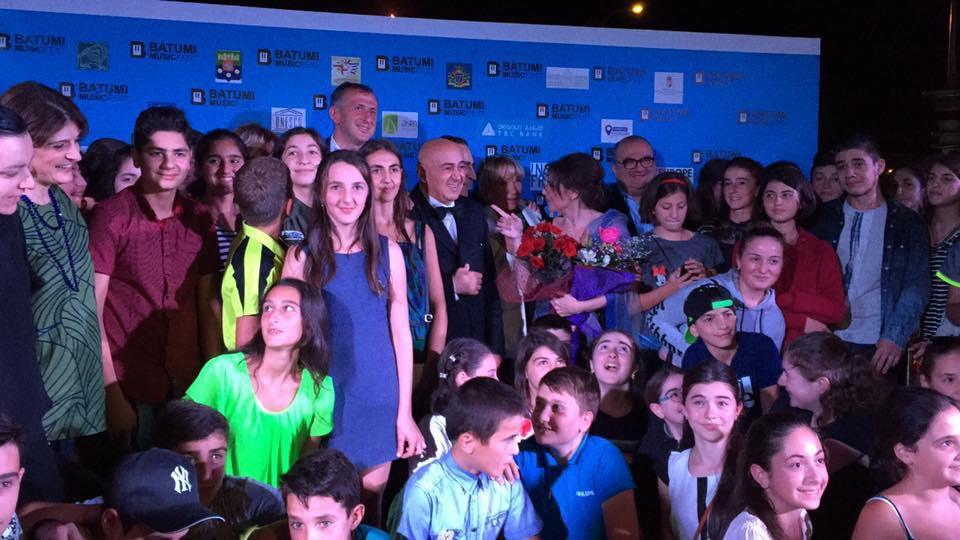 The festival regularly invites leading international musicians from Europe and other countries around the world to perform, and many will offer younger musicians masterclasses.
"These classes encourage new musical talents to broaden their knowledge and notions in the field of music. Those who are the most talented will benefit from being invited abroad and will participate at the most prestigious gala concerts in Europe," says Bolkvadze.
Above all however, the Batumi Black Sea Music and Art Festival is a celebration of music, a reminder that nothing brings people and nations together like the arts. Bolkvadze – who is a delightful person to speak to, so passionate about using music as a force for good in the world – is the festival's ideal persona, and the perfect ambassador for music, UNESCO, and Georgia.
"The sound of classical music transcends Batumi during these wonderful 10 days and revives the masterpieces of Bach, Beethoven, Saint-Saëns, Chopin, Ravel, Liszt and many others," she says, pointing out that there is a place for Georgian folk music too. Georgian polyphonic song – a unique, priceless tradition listed by UNESCO's Intangible Cultural Heritage of Humanity – is just one of the local elements featured in the festival. "It is always presented as a national treasure. The festival gives a voice to, and supports, Georgia's international cultural integration."
The Batumi Black Sea Music and Art Festival this year takes place from September 1-10. More details can be found at the festival's website, here.