Few cricket fans will ever forget last weekend. On Sunday at Lord's, the spiritual home of cricket, England finally won the World Cup, defeating New Zealand in the most exciting 50-over match ever played. The game, which ebbed and flowed all day, ended in a tie and went to a so-called super over, which also ended in a tie. When actual cricket couldn't separate the two teams, England were eventually declared winners courtesy of having scored more boundaries in the match.
The previous day, in very different surroundings, another game of cricket was played at Moara Vlasiei, 25 kilometres north of the Romanian capital Bucharest: an under-17 international between Romania and Serbia. For those involved it was no less important than the World Cup final: it was the first time either country had played an international cricket match at youth level.
The story of cricket in Romania goes back little more than a decade. A group of friends, Australians and Brits, all long-term residents of the Romanian capital, decided that it was about time they introduced the game they loved to the country they had decided to call home. Pick-up games on tennis courts were organised, and potential players – some of whom had long given up any hope of playing the game again – were contacted. From those modest beginnings, the game took root. Over the next couple of years a group of Australians, New Zealanders, Brits, Pakistanis, Indians, Sri Lankans and Afghans – as well as Romanians – created a network of eight clubs in Bucharest, Timișoara and Cluj. They now compete in an annual national championship: Cluj are the reigning champions, and at the end of July will represent Romania at the first ever European Cricket Champions League, being played at La Manga in Spain.
The Romanian Cricket Federation was created in 2009, and became an affiliate of the International Cricket Council (the ICC: the game's ruling body) in 2013. Shortly afterwards, with the financial help of a Romanian businessman whose son had fallen in love with the game while at school in England, a proper ground was built, at Moara Vlasiei.
Cricket is often played in idyllic surroundings. Its very nature, a summer game played on vast expanses of lush grass means that few cricket grounds anywhere in the world are rarely less than picturesque. Moara Vlasiei is no exception: indeed, it is one of the most glorious cricket grounds in Europe, set in a clearing just beyond a typical Romanian country village, between a lake and a forest.
After a week of occasional yet heavy rain which had begun to put the under-17 game in doubt, the sun came out last Saturday as if to provide its blessing for the whole affair. As the teams lined up for the official photos, the two captains shook hands and wished each other luck. Both desperately wanted to win, but cricket is about more than victory: it's a game which brings people together, often from hugely diverse backgrounds. England's captain in the World Cup final was an Irishman, star performer Ben Stokes was born in New Zealand, bowler Adil Rashid is a practicing Muslim and Jofra Archer – who bowled the key super over – was born in Barbados.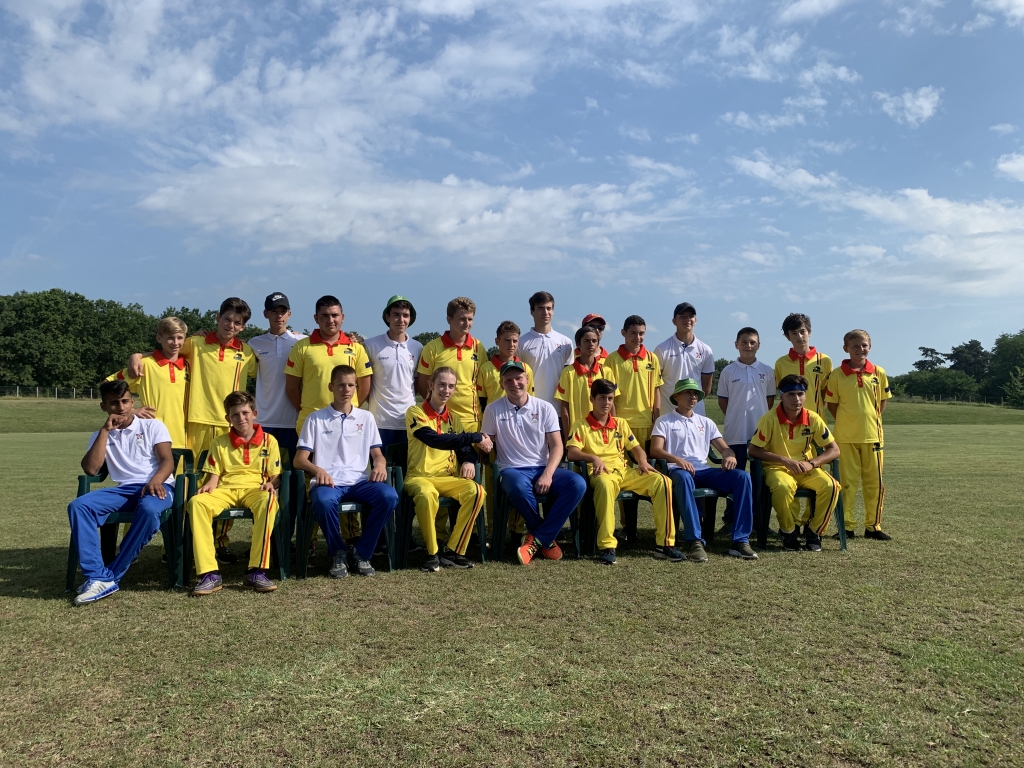 The Romanian under-17 team which faced Serbia was no less diverse, including a player from the United Arab Emirates who recently acquired Romanian citizenship, some lads from the village of Moara Vlasiei itself, and an Anglo-Romanian: my son.
Yep, captain of Romania in their first ever youth cricket international was Maximilian Turp-Balazs, born and raised in Bucharest but holding both British and Romanian passports.
He didn't start well: he lost the toss. Fortunately, the Serb captain decided to bat: Max had already said that he would ask Serbia to bat should he win the toss.
The Serb batsmen began cautiously, and runs were at first slow to accumulate. A couple of wickets fell. Then a good partnership took root – Romania dropping a couple of easy catches in the field did not help – and the score shot up quickly. A two-week coaching session in Pakistan (organised by the Pakistan embassy in Belgrade) looked to have worked wonders for Serbia as they eventually scored an impressive 127 from their allocated 20 overs, setting Romania a daunting 128 to win.
Romania nevertheless began strongly, with Laurentiu Gherasim – one of the lads from Moara Vlasiei – scoring a fine 43 to anchor the innings. Once he was out, however, runs became harder to get and as wickets fell it looked as though it would be Serbia's day. Salaar Mir then came to the crease and quickly set about the Serbian target, but by the time the last over came around Romania still needed four runs to win.
After two dot balls, Salaar hit two runs, then one. That single meant Max would face the final two deliveries. One run was still needed. It's impossible to convey what I felt, as a parent, standing helpless on the boundary. Could he do it? Would the pressure get to him? His family was watching, his friends were watching.
I needn't have worried. A loose ball was smashed away and the winning run scored. It couldn't have been scripted any better.
As he came beaming off the pitch to a round of applause I told him to retire, there and then. For however long he plays cricket it will probably never get any better than that. 
And indeed it didn't. Serbia would get their revenge, winning the second game between the two sides, although few in Romania will remember that. What will remain (albeit a very, very small footnote) in the history of Romanian cricket is that first victory in the first ever youth international played by a Romanian side. And it will note that Romania were captained to victory by my son. Well done Max.