More than worthy of its location in Prague's Malá Strana, nestled between the city's splendid castle and the Charles Bridge, the Alchymist Grand Hotel and Spa - opened in 2006 – occupies one of the most historic buildings in the Czech capital.
The remarkable baroque Dům U Ježíška, or the House of Jesus, was first built in the late 16th century during the reign of Holy Roman Emperor Rudolph II, who died in Prague in 1612. In a city in which almost every building has a plethora of stories waiting to be discovered, the Dům U Ježíška, now part of the Alchymist Grand Hotel and Spa, has some of the very best.
"There are indeed many legends about this area of Prague," Lucie Gajdošová, the Alchymist's manager tells Emerging Europe. "Rudolph's court teemed with alchemists, all seeking to turn base metal into gold."
The oldest preserved part of the Dům U Ježíška is the rear portion facing the courtyard, which was built after 1591. The lower part of the original tower structure, with its perimeter masonry supported by steel bars, dates from the fortification of the Malá Strana in 1257.
"After many years, we are lucky that things did not change a great deal. The hotel is still a very unique product on Prague's hotel market with its charm, great location and we are also very lucky with our staff, who are loyal to our company," says Mrs Gajdošová.
Reflecting the historical character of the building, the hotel sensitively incorporates a splendid Italian restaurant, Aquarius, and the luxury Ecsotica Spa, located in the building's ancient cellars and offering the perfect relaxation retreat.
"We are constantly trying to meet and exceed our clients' expectations. We had to adapt to new markets and their needs," Mrs Gajdošová explains.
"For many guests, Wifi speed is more important than the breakfast," she adds. "The social media phenomenon has changed things a lot. It is very important to post new photos on Instagram, to be active, to be in touch with important bloggers and celebrities, who have a certain number of followers. This is the new form of marketing and PR, far more important than advertising in popular magazines for example."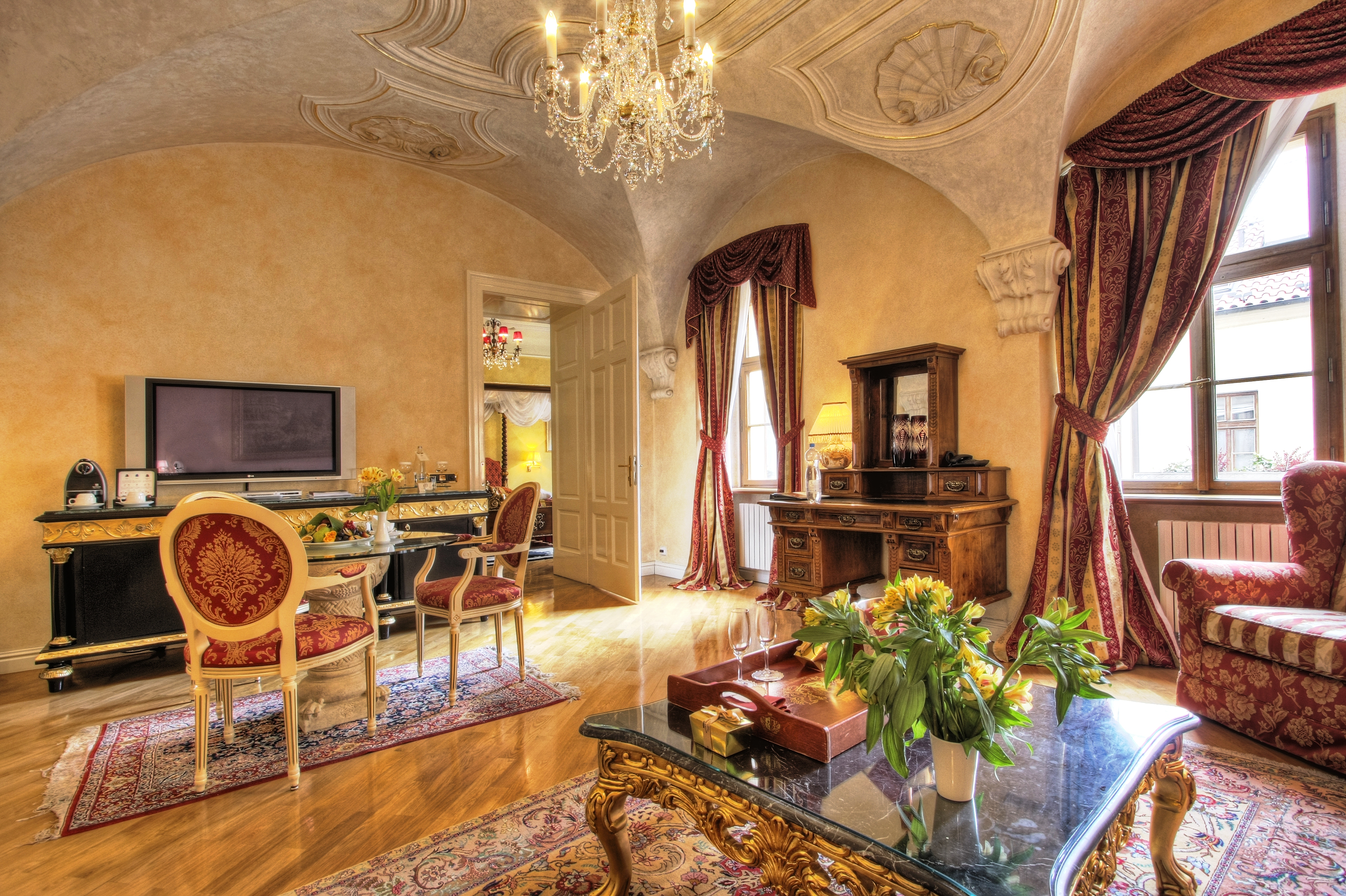 Abuzz
Social media would have been abuzz with some of the stories that have become part of the Dům U Ježíška legend. One of them says that a convent once stood on the site, and that a local nun seriously violated the rules of her order. Although the legend does not specify her offence, we can assume it was a breach of the order of celibacy, because the punishment that followed was the usual sentence for this kind of behaviour – she was bricked-up, alive. Legend claims that her unhappy soul has been wandering at night here ever since. The legend also suggests a solution: the nun will be freed only when the house built on the former convent's foundations is demolished and the nun's remains are duly buried.
For Lucie Gajdošová, these legends are important.
"We try to inform our guests about the history of the building, not only through our website, but also mention in our posts on social media. We celebrated the 500th anniversary of Dům U Ježíška a year ago with a huge party. American and Asian guests especially are very interested in the history of our buildings; it is one of our unique selling points," she says.
The Alchymist Grand Hotel and Spa offers 26 deluxe rooms and 19 suites all individually sized and shaped according to the historical character of the building. They mix history, luxury and every possible modern convenience, as well as more than the occasional touch of Italy. Besides Aquarius, situated in the central area of the hotel, there are also Italianate influences in the Café Barocco Veneziano, decorated in Florentine style.
At the Ecsotica Spa, guests can enjoy a number of unique massages, as well as beauty treatments, or simply relax in the health club at the swimming pool (complete with waterfall), the sauna or the steam bath.
The need to be different
"If you wish to succeed in a city like Prague, with such huge competition, you have to be different. We do not have the name of a big hotel chain like Four Seasons or Mandarin Oriental, but we offer unique spaces, decorated in baroque and gothic style. You feel like you are staying in a castle rather than a hotel. There are many beautiful and great hotels in the Malá Strana area, but the feeling you get when you enter the Alchymist Grand Hotel and Spa is different. You know you are in a building full of history and charm," Mrs Gajdošová adds.
Big names certainly like the place. Eva Herzigova, the Czech supermodel or Pierre Richard, the legend of French movies, stay here when in town. English novelist and screenwriter Anthony Horowitz, while writing his James Bond novel, Trigger Mortis, also stayed at the Alchymist while in Prague for a day of live-fire weapons training.
"Every room is exquisitely furnished, the service was delightful and, quite honestly, the home-made chocolates left on your pillow every night would alone make this place my first choice when I come back to Prague," he wrote in 2015.
"Personally, I like the style and charm of our hotel and our team is one of the best in the city. There are always points that could be improved. From my perspective I think we would have to update some of the technology we are using in order to be more environmentally friendly," admits Mrs Gajdošová.
"We are currently finalising the new ballroom that could provide us with more capacity to organise different events like fashion shows, weddings and corporate meetings. This will be a unique space in Malá Strana. We will even have a new Mandarin-speaking colleague to improve our communication and business opportunities with the Asian market."
Whether it is for a romantic weekend away, a very special holiday, a wedding one will never forget, or indeed an elegant and efficient place for conferences, the Alchymist is the ideal venue for every occasion. A perfect jewel box of a hotel, as Mr Horowitz defined it.
—
Photos courtesy Alchymist Grand Hotel and Spa