It's fair to say that football in Romania has seen happier times.
The game is currently at a low ebb. Crowds for domestic matches are smaller than ever, and only the high fees paid to clubs for the television rights to broadcast matches keeps many of them in business. The country's biggest and best-known club, Steaua Bucharest (or FCSB, as the team should now officially be called), currently occupies the bottom position in Liga A, Romania's top division, having lost five matches in succession.
On August 29 they were knocked out of the Europa League by Portuguese club Vitoria. FCSB's infamous financier, George Becali, said he would chop his own head off if the team lost in Portugal. So far, he has not carried out his promise.
None of this however matters to the more than 50 soccer fans from across Europe who will spend five days in September travelling around Romania with the sole intention of watching football in some of the most picturesque locations it is possible to play the game.
Called Football in Heaven, the trip starts in the capital Bucharest at the national stadium, the Arena Naționala, with a big game: Romania vs. Spain in an important qualifying match for the 2020 European Championship (Euro 2020). Romania are eager to qualify for the tournament, not least as four Euro 2020 matches will be played in Bucharest.
The fans then head north to Bușteni in the Prahova Valley to watch a game in the Romanian sixth division, followed by fifth division matches in Brașov, Rupea (complete with medieval fortress in the background) and Comarnic, before the tour ends with another international, as Romania entertain Malta in Ploiești.
The trip is the fourth Football in Heaven tour organised by Romanian football journalist Emanuel Roșu.
"When I first became active on social media I noticed that there were people interested in travelling to faraway places to watch football, people known as ground-hoppers," he tells Emerging Europe. "They were going all over Europe to watch football, and I thought why not show them something beautiful in Romania?"
There's certainly plenty to show off. Romania's football may not currently be of the highest quality but few will argue with some of the heavenly landscapes that can be viewed from its lower-league football stadiums.
"The initial idea was to bring people to Suceava [in the northeast of Romania] because that's where I was born and that's where I discovered the first cool grounds," he adds. "Grounds like Pojorâta, a beautiful place, which I think can become a football hipster's paradise. So the first two tours centered on Suceava, but then I decided to show people the rest of the country."
A trip to Sibiu in Transylvania followed, which included a game at Zarnești, one of Roșu's favourite grounds. Pictures hardly do the place justice.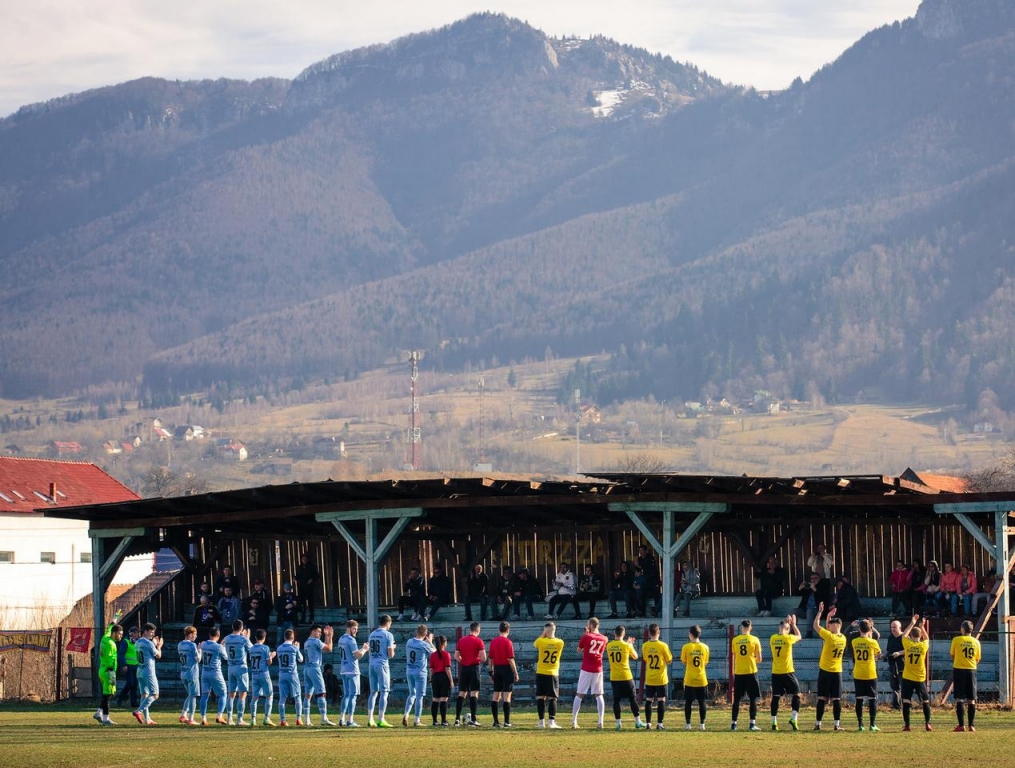 "I think the best view on this coming tour will be at Bușteni, where the stadium is set amongst trees with the high Bucegi mountains in the background," he says.
Roșu tries to centre the tours on places which are accessible to people coming from England.
"I focus on the English because they have the largest community of ground-hoppers," he says.
However, the current tour will also include Norwegians and a couple of Romanians, keen to discover the wonders of their own back yard. In all, 54 people are joining the tour. The first attracted just 13.
"I think 54 is something of a world record for a ground-hopping tour," says Roșu.
What's more, the trips are free. Guests arrange their own flights and accommodation, and Roșu arranges tickets and transport within Romania. He refuses to charge for his time.
"I want the trips to stay free. I do this not to make money but because I want to show people how beautiful football in my country can be."
—
Photos: Ben Webster. You can find out more about Football in Heaven on Facebook.