What is a foreigners' idea of Bulgaria? How can Bulgaria pleasantly surprise them? Would they come to work here? How is the business environment in Bulgaria changing? How can Bulgaria attract foreign investments?
While we were trying to find the answers to these challenging questions, our paths crossed with Ulrike Straka. Voilà! She came to Bulgaria, in 2014, as both the head of Advantage Austria, Sofia and a commercial counsellor in the Austrian Embassy, Sofia. She was in Bulgaria, with her team, to support Austrian companies doing business in Bulgaria, and to help Bulgarian businesses to find partners or to set up shop in Austria. Ms Straka has a lot to share from her five years in Bulgaria, not only about the business environment but also about the must-see places in Bulgaria and the mentality of the local people.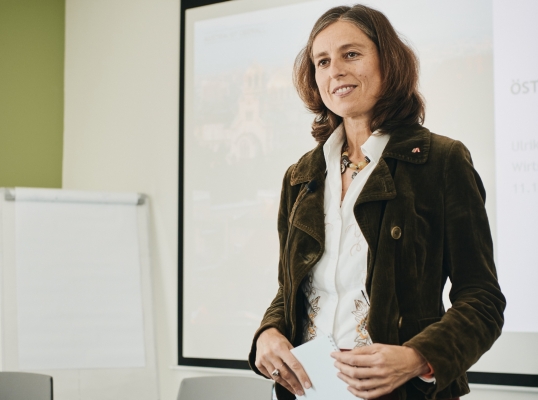 Q: Did you have any hesitation about making Bulgaria your new home?
A: I was aware that my assignment would be for a couple of years. In fact, I applied to come to Bulgaria, because I like the Balkans and because of the mountains and the beautiful nature that Bulgaria has to offer. Work-wise it was also interesting for me, because there were a lot of Austrian investors in Bulgaria.
Q: What did you know about the country before moving there?
A: I didn't know much about Bulgaria. I knew it was part of COMECON (the Council for Mutual Economic Assistance) and had to cope with the swerve to a market economy.
Q: What has surprised you pleasantly?
A: The excellent Bulgarian professionals, who were successful on an international level. The openness towards Austria and Austrian people. The vegetarian restaurants. What I find interesting is the infiltration of Asian knowledge and culture; for example some elements of traditional Chinese medicine are part of the education for physiotherapists; and spices, foods and soap from the Middle East are available at the Women's Market in Sofia…
Q: Do you already have a favourite place in Sofia and across the country?
A: The little church and church garden in Dobarsko near Bansko, and Arbanasi are my favourite places in Bulgaria, because of the old architecture, the beautiful frescos and the countryside around them. In Sofia, I would recommend everyone to visit these places: The Roman road leading towards the Eastern gate of Serdika (start walking from Serdika Metro station, behind Sveta Petka); the remains of the little Byzantine church of St. Sofia, underneath the modern red-brick church; and for hard-core art lovers: a guided tour of the icon gallery underneath Nevski Cathedral (an excellent guide leads you through the centuries, in English). You can get a guided tour of the National History Museum in Boyana in English or German, where you'll find my favourite replica of the Kazanluk grave fresco, where the queen is saying good-bye to her husband. I also had the wonderful experience of spending a night in Rila Monastery, where you have the whole place to yourself late in the evening and again in the early morning. I recommend spending a night in an old town house in Karlovo, or hiking on Pirin Mountain! You see, I can't stop…
Q: Is there something that foreigners don't know about Bulgaria, but that they should?
A: Bulgarians are short-term planners. Two weeks' advance notice of an event is no problem. Last minute changes can be dealt with successfully. Do not try to get a meeting for a date half a year away, though. In Bulgaria, personal contacts are very important. Emails often remain unanswered, unless you know the person to whom you are writing. Make sure to keep in touch regularly. Bulgaria's international image is not that good. There is a still lot of communication that needs to be made about the beauty of the country and its hospitality.
Q: What is the most positive, and the most negative, trait of the Bulgarian people?
A: For me, the most positive trait is the warmth and openness of the people. What I regret is that many people either complain about the past or dream about past glory. I have a feeling they are not ready to take their fate into their own hands – not individually, but collectively.
Q: What was the most difficult thing that you had to deal with in Bulgaria?
A: Finding construction companies for repair work.
Q: Could you please highlight five key factors of Bulgaria that you would point out to a potential investor?
A: It is geographically close to unsaturated markets. It has educated people, a low level of taxes, and wages are still relatively low. It has EU-membership.
Q: Do you have any favorite examples of Bulgarian businesses – perhaps a company that impressed you?
A: The company, Kyashif, really impressed me. It is situated in Djebel, a very remote village in the Rhodope Mountains. The company employs approximately 300 of the 3000 inhabitants and produces state-of-the-art hydraulic cylinders, mainly for export. In a time of crisis, its owner invested in a product that he was convinced was needed, and he won markets in the DACH region with this strategy. Bravo!
Q: Have you noticed any changes in your five-year stay in Bulgaria, in terms of the business environment and the standard of living?
A: Investors have had to deal with a lack of (qualified) labor and, now, they are taking things into their own hands, offering not only advanced (specialized) training but also professional training in general. Education is no longer guaranteed by the state. This is a serious threat to the long-term survival of the Bulgarian intelligentsia. Young people are leaving. The standard of living in Sofia has improved (e.g., the Metro network, and renovations of sidewalks and buildings).
Q: How could the Bulgarian business environment make itself more attractive to even more investment from global companies?
A: According to what I hear from our Austrian investors and from Bulgarian companies, they would require a more predictable business environment, a rule of law and a level playing field. If the Bulgarian state invested more in education and health care, and if knowledge and merit became the basis of governance and employment, I think more people would stay in the country or would come back.
This article was first published at Discover CEE.