In the second of two articles written for International Holocaust Remembrance Day, personal reflections on the many Jewish, and post-Jewish, quarters of emerging Europe.
Hi! I was wondering if you had any flódni?
The server at a café in Budapest's Jewish Quarter pauses to think. I'm sorry. I don't know what that is, she replies.
Google says it's a Hungarian Jewish pastry made with poppy, walnuts, apple, and plum jam?, I tell her.
She shakes her head. We do not make that, sorry.
That café was the sixth I had futilely checked in Budapest's Jewish Quarter for flódni, and I dejectedly decided it would be the last. As I pushed through crowds of tourists on their way to chic restaurants and clubs in the revitalised district, I felt silly.
Why would cafes have Jewish pastries just because they're in the Jewish Quarter? I thought to myself. I should have known better.
Family roots
That trip to Slovakia and Hungary was my first to emerging Europe, and one of my hopes had been to get some sense of where my mother's family once lived. As Jews from Lithuania, Slovakia, Hungary, and the Russian Empire, they moved to the United States in the early 1900s.
Old family pictures of my Jewish great-great-grandparents in Europe hang in my grandmother's house, but I grew up in a non-religious household. We celebrate Hanukkah as a secular cultural holiday, but that's about it. Most of my exposure to other Jewish holidays came from celebrating them with cousins who still practice and with friends from Jewish families that emigrated to America from Belarus and Ukraine in the 1990s. No living members of my family speak Yiddish or Hebrew.
The idea that major cities in Europe still had Jewish Quarters was exciting to me. I knew that Vilnius, where my grandma's family came from, and Iași had been roughly 45 per cent Jewish before the Holocaust. One-third of Ukraine and Moldavia's urban populations had been Jewish. A third of Warsaw had been Jewish, as had 23 per cent of Budapest.
I hoped to find neighbourhoods that still felt Jewish. Some 57 per cent of Borough Park, Brooklyn, speaks Yiddish, and with that as my only reference, I hoped to hear at least some Yiddish spoken on Jewish Quarter streets or printed on the signs of kosher restaurants.
In Budapest, the Jewish Quarter is now described in blog posts as the "Party Quarter". In Prague – once home to some of the 20th century's most notable Jews: Franz Kafka, Miloš Forman, and Madeleine Albright – the Jewish Quarter's streets are lined with Chanel, Moncler, and Prada stores.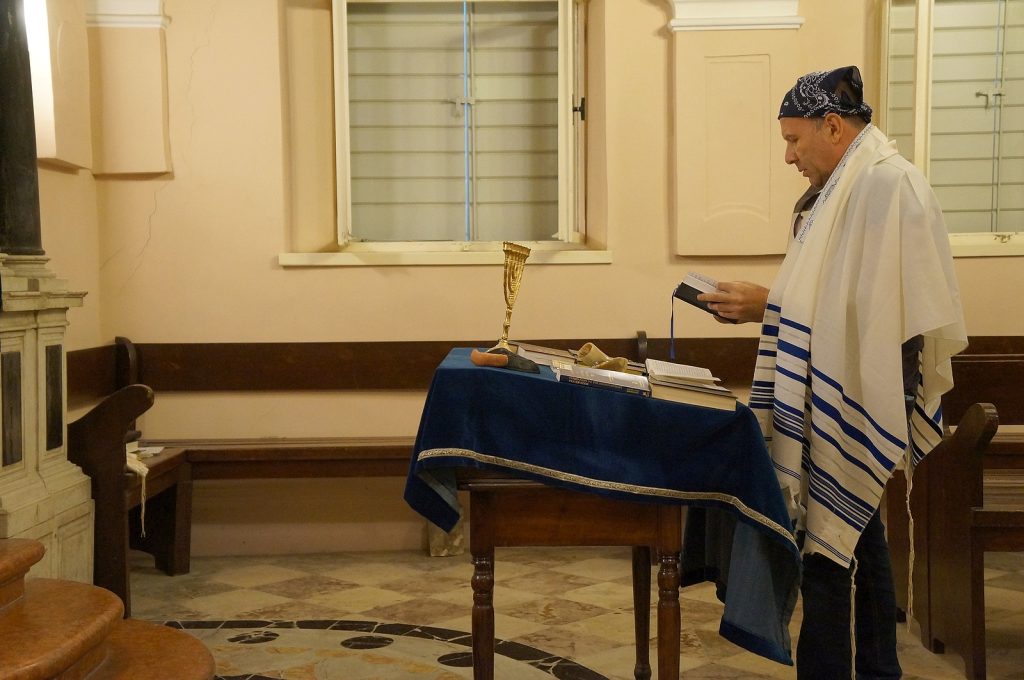 Split
To date, the only time I have found anything written in Yiddish, Hebrew, Ladino, or Karaim in Europe was when I discovered Hebrew letters on a building now housing a restaurant. The restaurant was located within the walls of Split's Old Jewish Cemetery. It served pork and had no labelled kosher options on its menu, so any observant Jews mourning at the graves of their ancestors – metres away from the tables – would be out of luck if they developed an appetite. The Hebrew letters over the entrance were the Tziduk Hadin, a Jewish prayer said after a grave has been filled at a funeral.
Split's Jews lived in a ghetto; in fact, the very word "ghetto" entered the English language from the Venetian word for the segregated part of the city, enclosed by walls, where Jews were forced to live.
Split's Old Synagogue, looted during World War II, no longer has a permanent rabbi, and the 100 Jews remaining in Split must lead their own prayer. The historical Zagreb Synagogue was destroyed in 1941 by the fascist Independent State of Croatia and has not been rebuilt. At least 30,000 of Croatia's 39,000 Jews were killed during the Holocaust, but unlike Jews in other parts of Europe, most of these were killed locally in the Independent State of Croatia's own concentration camps rather than being deported to camps operated by Nazi Germany.
I had, of course, extensively studied the Holocaust in school long before I ever came to Europe. But I associated the genocide with images of the Auschwitz-Birkenau Death Camp, not the ghetto streets where Jews starved and died of typhus that are now the hottest destination for stag nights. I did not expect that students in the cities in which my family once lived would tell me I was the first Jew with whom they'd ever had a conversation. And I would have dismissed the idea of a pork-serving restaurant within an old Jewish cemetery as too absurd to be real.
At least 90 per cent of Jews in Poland and Lithuania were killed during the Holocaust; newer estimates put this number closer to 95 per cent for Jews in Lithuania and 98 per cent for Jews in Nazi-occupied Poland. There were 3.3 million Jews throughout Poland in 1939, but today there are between 10,000 and 20,000.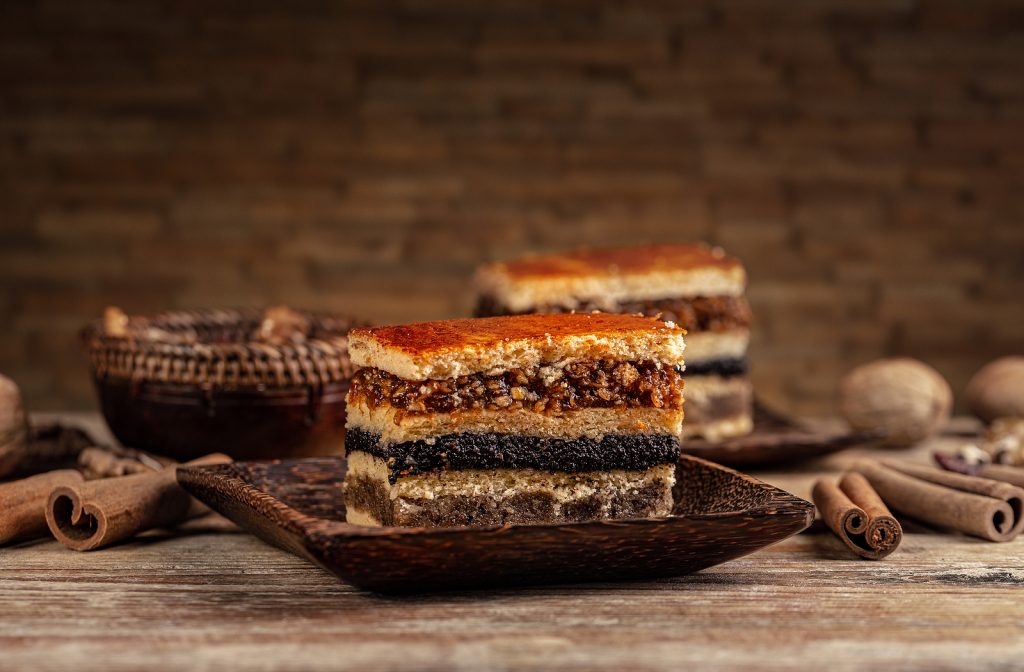 In Szolnok, flódni
Anti-Semitic violence in Europe did not begin or end with the Holocaust. Between just 1918 and 1921, there were over 1,100 pogroms in an area now part of present-day Ukraine that killed over 100,000 Jews. In the two years after the end of World War II, 2,000 Jewish Holocaust survivors were killed in Poland in a series of incidents including pogroms in Kielce and Kraków; in 1968, Poland stripped 15,000 Jews of their citizenship and expelled them, halving what remained of the country's Jewish population. Jewish mass graves were looted across Europe, and the Czechoslovak communist government used Jewish tombstones to cobble the streets of Prague's Old Town.
Most of emerging Europe's remaining Jews emigrated to the United States or Israel when communism fell, but small communities remain in even the most unlikely of places.
I did, in the end, manage to find some flódni. I'd met a Hungarian linguistics student on the train to Budapest from Slovakia, and I decided to cut my stay in Budapest short by half a day to visit his hometown of Szolnok. He took me to Szolnok's new synagogue, which is quite small but enough for the needs of the local Jewish community, and to a bakery which offered flódni and an assortment of other delicious Central European confections.
The interior of Szolnok's old, historical synagogue meanwhile – used for worship by up to 2,000 Jews, pre-Holocaust – has been emptied of religious symbols, painted white, and is used as a gallery for work by Estonian, Finnish, French, and German artists.
---
Unlike many news and information platforms, Emerging Europe is free to read, and always will be. There is no paywall here. We are independent, not affiliated with nor representing any political party or business organisation. We want the very best for emerging Europe, nothing more, nothing less. Your support will help us continue to spread the word about this amazing region.
You can contribute here. Thank you.