Lithuania's multi-faith heritage has produced some beautiful wooden houses of worship which, after decades of disuse, are finally being restored.
Fifteen minutes outside of Vilnius, on the side of the motorway to Minsk, lies the small village of Nemėžis, home to one of just four operational mosques in Lithuania – and one of the last wooden mosques in all of Europe.  
---
---
Nemėžis has been home to a community of Lipka Tatars since 1397. Vytautas, the ruler of the Grand Duchy of Lithuania at the time, captured Turkic-speaking Tatars during his fight against the Golden Horde and settled many of the prisoners of war across what is now Lithuania, Poland, and Belarus.  
While many of the Tatars adopted the local languages, their Islamic faith endured.
Wood has been – and in some rural areas of Lithuania, remains – the building material of choice in the densely forested country, and Tatars built their mosques of wood.
An older wooden mosque was built in Nemėžis in 1684 but burnt down and was replaced by the current mosque in 1909. During the Soviet period, it was no longer allowed to be used for prayer and was converted into a museum. In 1993, prayer resumed and the community of several hundred Muslims in Nemėžis continue to use it for prayer and its grounds for communtiy events and burials.
Other wooden Tatar mosques can be found in the Lithuanian villages of Raižiai and Keturiasdešimt Totorių, as well as in Kruszyniany and Bohoniki in Poland and Novogrudok and Iwye in Belarus.
The kenesa of Trakai
At the same time as Vytautas settled Muslim Tatars in Lithuania, he also settled Turkic-speaking Karaite Jews known as Karaims around Vilnius as well – mostly in the town of Trakai, where the construction of a large castle was underway.
While the vast majority of Jews adhere to Rabbinic Judaism, which accepts both the Written Torah (Tanakh) and the Oral Torah (the Talmud and Midrash), Karaite Jews do not believe the Oral Torah is binding. Karaite Jews use kenesas – similar to Rabbinical synagogues – for worship, and the Karaims built a wooden kenesa in Trakai.
Similar to how Yiddish is a Germanic language with Hebrew influences and script, the Karaim language is Turkic with Hebrew influences and script. There are three main dialects of Karaim, and one of them is unique to the Trakai-Vilnius area.
Today, however, the Karaim language is endangered and has only a few dozen speakers. Luckily, tourism to see the castle in Trakai has increased interest in the town's Karaim community, and cultural tourism has facilitated new efforts to preserve Karaim culture and language.
Besides seeing the Trakai kenesa, tourists can also try Karaim pastries and dishes at the restaurant Kybynlar.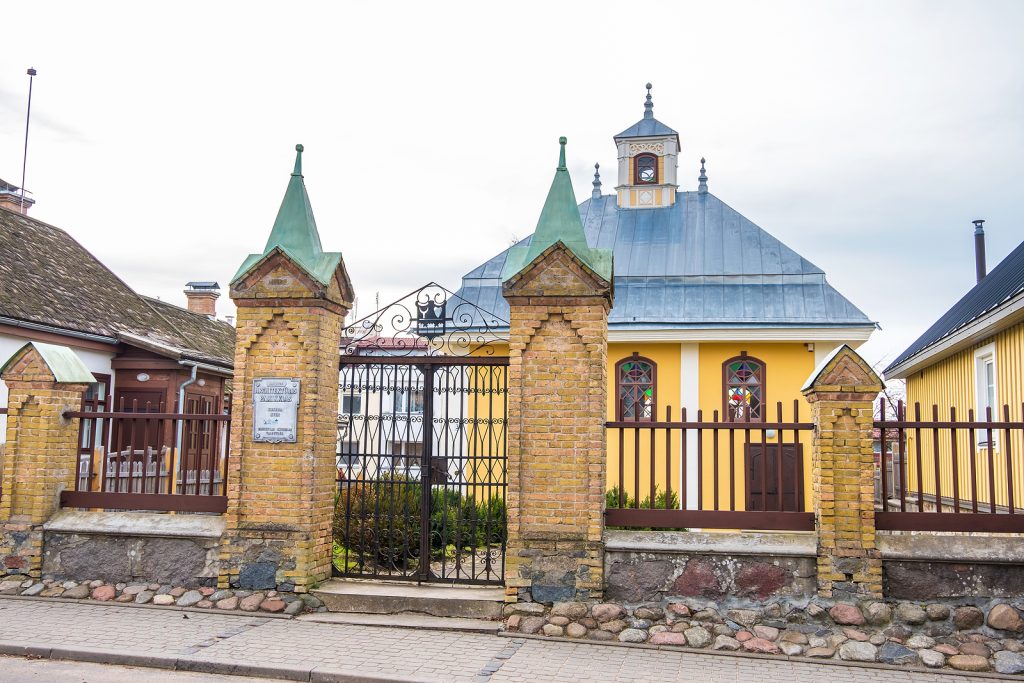 The last of the great wooden synagogues
Before World War II, Vilnius – known as Vilne in Yiddish – was 40 to 45 per cent Jewish, home to both Rabbinic and Karaite Jews. Vilne was nicknamed "The Jerusalem of the North". It was home to 110 synagogues and prayer houses, six daily Jewish newspapers, and many Yiddish theatre companies. Jews from around the world travelled to study in its yeshivas. 
Many of pre-war Lithuania's roughly 220,000 Jews lived outside of Vilne, and many rabbinic Jews built grand wooden synagogues with intricate wooden carvings and paintings inside. There were once over 200 wooden synagogues across Lithuania and neighbouring countries.
The Nazis destroyed virtually all of these – burning many – and wiped out a long, beautiful architectural tradition.
Nevertheless, as they had done in Tsarist Russia, Karaites succeeded in convincing the Nazi authorities that they were different enough from Rabbinic Jews to be exempt from anti-Semitic policies. Still, solidarity between Karaite and Rabbinic communities remained; Ashkenazi rabbis told Nazi interrogators that Karaites were not Jews to save them from persecution and many Karaites risked their lives sheltering Rabbinic Jews during the Holocaust.
Despite this, 95 per cent of Lithuania's Jews were killed in the Holocaust. Jewish art and culture were also destroyed; only one of Vilne's 110 synagogues survived.
Collaboration
Nazi-occupied Lithuania's drastically high death toll is attributable to local collaboration with Nazis. Right-wing nationalist paramilitary groups began massacring their Jewish neighbours before Nazi authority was firmly established.
Many of the Jews who survived had been deported to Soviet gulags between the beginning of Soviet occupation in 1940 and the Nazi invasion in mid-1941, or took up arms to fight the Nazis with Soviet partisans.
The Lithuanian government continues to honour the very nationalist collaborators that killed thousands of Jews but has prosecuted octogenarian Jewish Holocaust survivors for fighting Nazis with Soviet partisans. It has failed to prosecute Lithuanians deported by the United States for their collaboration with Nazis.
Nonetheless, the Lithuanian government is taking welcome action to ensure that the 14 surviving wooden synagogues do not fall into disrepair. The only wooden synagogues to survive the Nazis' genocide were small, indistinct, and in remote villages. They were used for storage in Soviet times and, since there are no permanent Jewish communities left there to maintain them, many rotted away or burnt down.
Restoration funded by the Lithuanian Culture Ministry has begun on small wooden synagogues in the villages of Alanta and Kurkliai. Centuries-old wooden synagogues in Pakruojis and Žiežmariai are now completely restored and are open for visitors interested in getting a rare glimpse at a once-widespread form of Jewish art.
---
Unlike many news and information platforms, Emerging Europe is free to read, and always will be. There is no paywall here. We are independent, not affiliated with nor representing any political party or business organisation. We want the very best for emerging Europe, nothing more, nothing less. Your support will help us continue to spread the word about this amazing region.
You can contribute here. Thank you.