Faced with the dilemma of wanting to take photos of people without violating social distancing rules, Lithuanian photographer Adas Vasiliauskas decided to peek through windows across the country's capital Vilnius and see how people are spending their time in quarantine.
What he found was unexpected, entertaining, diverse and, most importantly, optimistic.
People dressed as beach-goers, families exercising, having picnics or celebrating birthdays on balconies, and others dressed in costumes, complete with wigs and painted faces. People are doing all kinds of things to cheer themselves up, and together with their kids and dogs, look as though they are accepting the challenges that come with being in quarantine with a lot of resilience.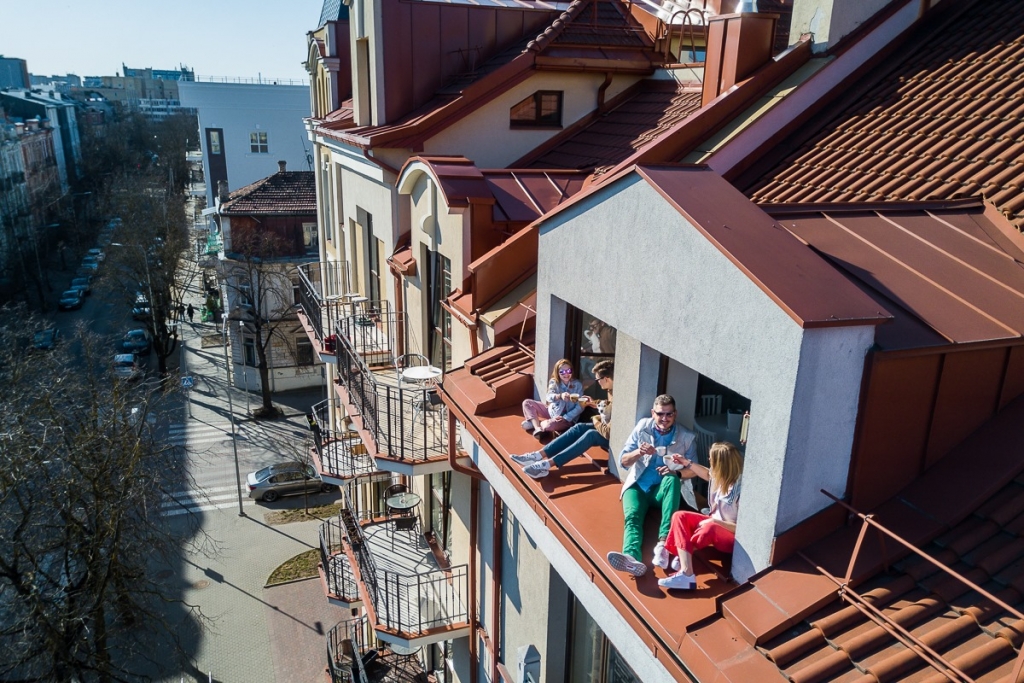 "When the quarantine was first declared in Vilnius, all my photography assignments in advertising and events were cancelled. I was left wondering what to do and how to earn a living to support my family," says Vasiliauskas. "I started thinking about how people can be photographed from a distance using a zoom lens, then the idea of using a drone came to me. Drones allow you to reach spaces that might otherwise be inaccessible, like upper floors of apartment buildings. Plus, flying a drone is fun and people like them."
On March 19, the fourth day of quarantine in Vilnius, Vasiliauskas announced on social media that he was starting a project called portraits of the quarantine and invited anyone interested to apply to have their photos taken.
He decided to test his idea out on his own family and posted a photo of himself with his wife and two kids peeking through their window. His announcement and first photos turned heads around the city and many requests from families, students, and seniors soon followed. So far, he has taken more than 30 portraits of the quarantine photographs and is adding more every day. You can follow him on social media to see his progress.
"Just a few days after the project started, I could barely keep up with the requests. I ended up making a list and now keep adding people to it," he  says. "Young people and families have been most interested in having their photos taken but yesterday I received a request from an older woman who asked for a romantic photo of her on her balcony, as if she is waiting for her Romeo."
—
Photos: Adas Vasiliauskas official Facebook page