When the war in the Donbass started, she joined the battalion that fought to retain the territory for the country. She was arrested by Russian separatists in June 2014, and, after one month, taken away to Russia. Nadiya Savchenko is one of the most recognised Ukrainians; a pilot-navigator, a deputy of the Supreme Council of Ukraine and, first of all, a symbol of the fight for the freedom and independence of Ukraine. She talked to Krzysztof Tadej about what kept her alive during the 706 days she spent in a Russian prison.
What was the worst thing after you were arrested in 2014?
Desolation. Being alone in prison is one of the worst and most difficult challenges for anyone. Few can endure it. It was one of the methods they used on me in Russia. They isolated me and said Ukraine did not exist anymore, that there was no one who was waiting for me. I had to fight it. I looked into their eyes and replied: "I am Ukraine!"
Were you terrified when separatists threatened you with beating and rape?
I tried to tell myself that this is just an indication of human aggression. When they take you into captivity, this is what they do: they beat you and threaten you with rape. I tried to convince myself that it was only temporary, that it would not last forever. In such a situation, you need to remain calm and not to provoke the enemy.
Did your faith in God help you in those difficult situations?
I cannot say I am very religious or that I observe all the duties and obligations that come with faith. But I know that God exists. This helped me in prison. I knew that I was not alone, that there was a power that kept me in this world.
You once said that your parents' attitude, and your childhood, had a huge impact on your personality.
Well, I often rebelled. But it was during my childhood that my parents taught me that it is me who is responsible for my life; no one else. In this way, courage was born in me.
My parents were people of their era. They lived in the Soviet Union, in a system, whose goal was to brainwash people. But in every human being, regardless of their circumstances, something humane remains. I am glad that my parents were able to preserve some beautiful virtues that proved their humanity, their morality. And independent thinking – my father was in the [Communist] Party but in difficult moments he would say: "Oh God, oh my God…" Mother often reproved: "You appeal to God even though you belong to the Party?!" But he was in the Party only because he wanted to have a job; to earn a living and support us.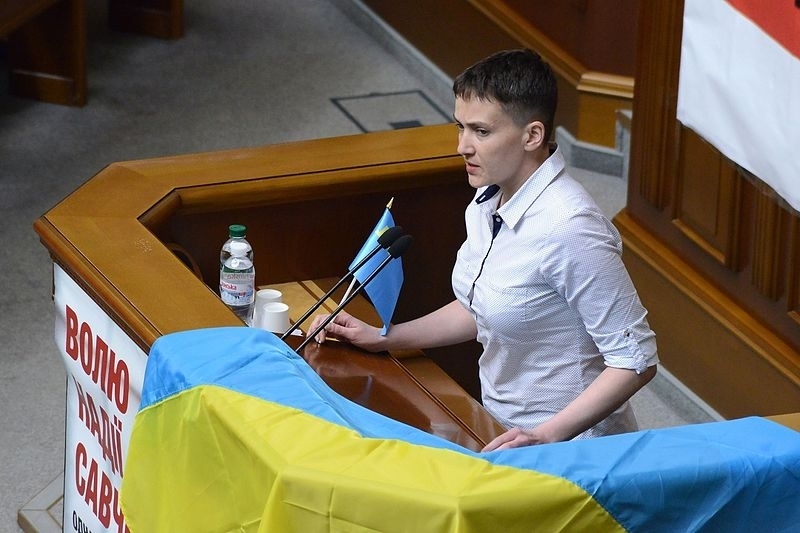 We are having this conversation at a time when Ukraine is being discussed less and less in the international media. It is as if the world has forgotten that in some parts of your country there is still a war, and some of its parts are still occupied.
The worst thing is that the conflict that was previously a regular war has become "frozen" now. It is a very bad scenario. With Ukraine's problems with the economy and corruption, this conflict will be holding up the country's development. This can be solved, but – in my opinion – it is impossible with the politicians who ruling both Ukraine and Russia today.
At the same time we shouldn't forget that nothing lasts forever. I hope that soon we will take a giant leap forward, and that awareness that nothing is impossible will be born in people's minds. My dream is that soon Ukraine will unite with all territories that are occupied today.
In your opinion, is it realistically possible, that Crimea will be recovered?
If we look at it within the context of various historical processes, this will be a short period of time, but for us, contemporary people, this may take long years.
Are you going to run for the presidential elections in Ukraine?
Fate has cast me into this fight, but you know… I do not really like this job. Today, Ukraine needs a person who will not be afraid of responsibility and who will be willing to devote all their power to make people's lives more dignified. I am not this kind of person. We have a young team and a number of wise and active people. But if it is necessary, and if the citizens of the Ukraine consider it is me, I will not refuse. I am not afraid of hard work.
Joe Biden, former US vice-president, said of you that "your strength sets the example for Ukrainians and for the world". After you had been set free and come back to the country, you were honoured with the Order of the Gold Star as a Hero of Ukraine. How has all of what you endured – imprisonment, threatening, isolation – changed you? Do you still have aversion or suspicions towards others?
Imprisonment and war make people more brutal, and tougher. But the most important thing is to remain human and not become an animal.
Yes, I still feel some discomfort and what I have experienced is still in me. But when I am with other people, I try not to show anger. Quite the contrary – I want to show good feelings. I go to people with an optimistic attitude. I have something that is of the utmost importance in my heart: love for Ukraine and a dream that it remains great and wonderful.
_______________
The article was originally published by Polish Niedziela. It has been edited, translated and reprinted with permission.