The Tbilisi nightlife scene is currently one of the most talked about in all of Europe. It offers everything from huge mega-clubs to smaller live music venues, and is home to a number of good local rock bands, such as Vakis Park, which has been a fixture on the scene for some time. Nothing unusual there, until you learn that the band's guitarist and songwriter, Zaza Khutsishvili, has been a member of Georgia's parliament since 2016. This has not stopped him playing music however, and anyone can attend his live performances at the city's various pubs.
Zaza Khutsishvili's musical career began in the middle of the 1980s when rock and underground music began developing in Georgia, with students and young people forming bands, trying to recreate the music of Pink Floyd, Led Zeppelin, The Doors and other rock giants. Access to western music, until then limited in the Soviet Union, gave many young people new motivation to change things.
"As a child, I didn't like music school and playing classical pieces, which were boring for me," Zaza Khutsishvili tells Emerging Europe.
"Later, I discovered The Beatles and Led Zeppelin and everything changed. At that time, several rock-bands in Tbilisi played the songs from the 1970s, and I decided to join in. Then in 1996, I created Vakis Park, which became very popular, and during the 22 years of its existence, the band has released six albums. Alas, it was impossible to live simply by playing music in Georgia. But the band has survived, and we still play in pubs and have a significant audience."
Zaza Khutsishvili remembers that his decision to become an MP was somewhat spontaneous. In 2016, when Vakis Park was celebrating its 20th anniversary with a tour around the country, the then prime minister Giorgi Kvirikashvili suggested he might want to take part in the upcoming general election. After two days' consideration, he accepted.
"I am over 50 now so I thought that it was time to take responsibility," he says. "Being a member of parliament is a tremendous honour. However, I was ready for the criticism I knew I would face. People know me as a musician, and they had no idea that I was also running small businesses, or that I had several political shows on the radio. There is still plenty of criticism, but I always listen and take it into account. If it is constructive."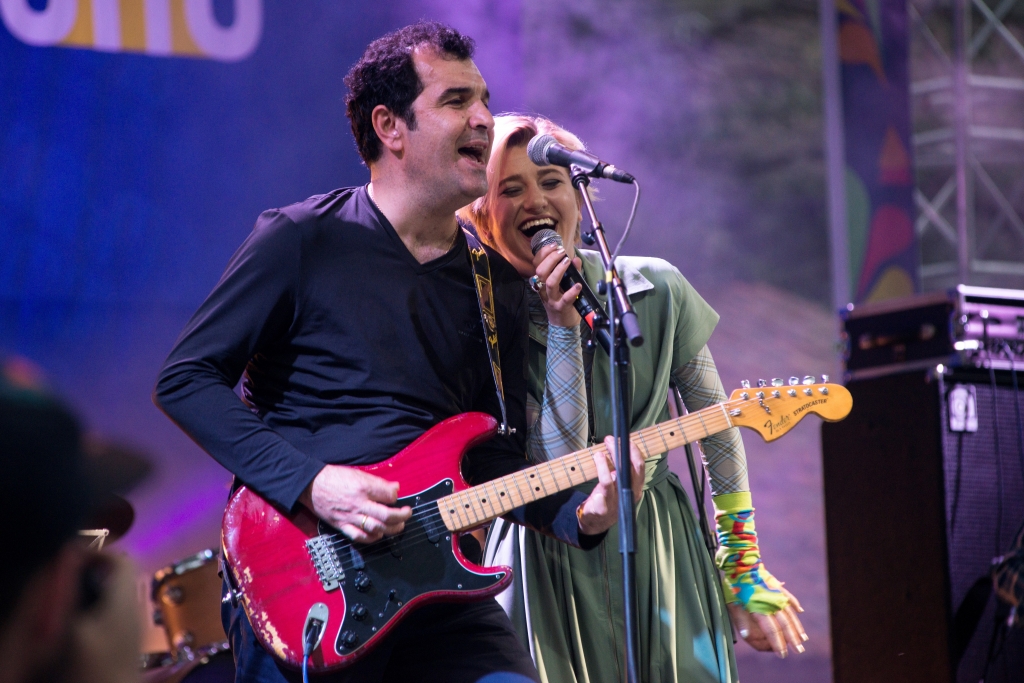 Khutsishvili feel that being an MP is a responsibility which needs real life experience and the ability to create something important for the country. For him, the primary issue for being an MP is to have a high sense of responsibility, and to pay attention to criticism.
During the negotiation process that preceded Khutsishvili agreeing to candidate to become a member of the parliament, one of the essential conditions he put in place was that he be allowed to continue his work as a musician. According to him, there was significant support from the prime minister and other members of the ruling Georgian Dream party. They often attend his concerts. Khutsishvili also says that the members of the band were supportive of his decision.
Being an MP without a politician's background has its pros and cons. There are always more critics than supporters, who consider that an individual without political experience cannot change a lot in politics. Moreover, parliament has different protocols on how to communicate with the media, delegations, the public or civil sector and so on.
"Being a politician is not comfortable. We have a lot of duties and are under significant pressure from society.
Meeting with people, attending sessions and different events, working on different pieces of legislation is part of the daily routine of an MP. The main thing is to believe in what you do," Khutsishvili says.
Today, the songwriter is a deputy head of the environmental protection and natural resources committee in the Georgian parliament. He loves hunting and works a lot to improve legislation in that particular area, which is not currently compatible with EU policies and regulations. He has been criticised for his love of hunting, but feels that being a hunter means following all the rules and not acting as a poacher.
"We have to change a lot in Georgian legislation to meet the requirements the EU has set down as part of the association agreement," he says. "I am currently working on hunting regulations because they need to improve a lot. The situation in our forests is terrible because during the 1990s poachers were not controlled, and they could kill animals and birds without any fear of punishment. We are working to change this now and improve the situation in our forests. I would like to stress the environmental impact assessment, which we already adopted, and we are now working on the Forest Code, which is crucial to preserve and care for the country's natural resources."
As to whether or not his new status as an MP has reflected on the popularity of Vakis Park, Zaza Khutsishvili believes that the impact has not been significant, because the band was always a favourite and commanded a big audience.
"However, there are a lot of MPs who attend our shows. Not everyone knows that I am still playing with my band because I have noticed the surprised look on the faces of some people in pubs when they see me on stage."
—
Photos: Tamara Mirianashvili. If you want to see Khutsishvili in action, you will often find him performing in the legendary Tbilisi live music pub Nali on Friday or Saturday nights.