A few weeks after the global recognition of Lithuania's first unicorn Vinted, the country has opened a Start-up Museum in Vilnius, an initiative promoted by Go Vilnius, the official business development agency of the Lithuanian capital, together with co-working space Talent Garden Vilnius. The museum showcases the success stories of 12 home-grown start-ups (including Vinted) and aims to inspire locals and visitors alike while celebrating the city's entrepreneurial spirit.
The Start-up Museum tells how a dozen local start-ups managed to reach global success. Besides the pre-loved fashion marketplace Vinted, the list includes nanosatellite manufacturer Nanoavionics, image editing software developer Pixelmator, along with Trafi, Deeper, Bored Panda, Tesonet, Oberlo, CityBee, Brolis Semiconductors, MailerLite and CGTrader.
"Opening a start-up museum is a great way to highlight how welcoming and progressive our city is, creating the needed environment for businesses to thrive," says Remigijus Šimašius, the mayor of Vilnius. "At the same time, the museum will honour the brave entrepreneurs that are true ambassadors of Vilnius around the globe. This museum is also a good reminder that it isn't just ideas and investments that matter – persistence, heart, and a strong team are as crucial."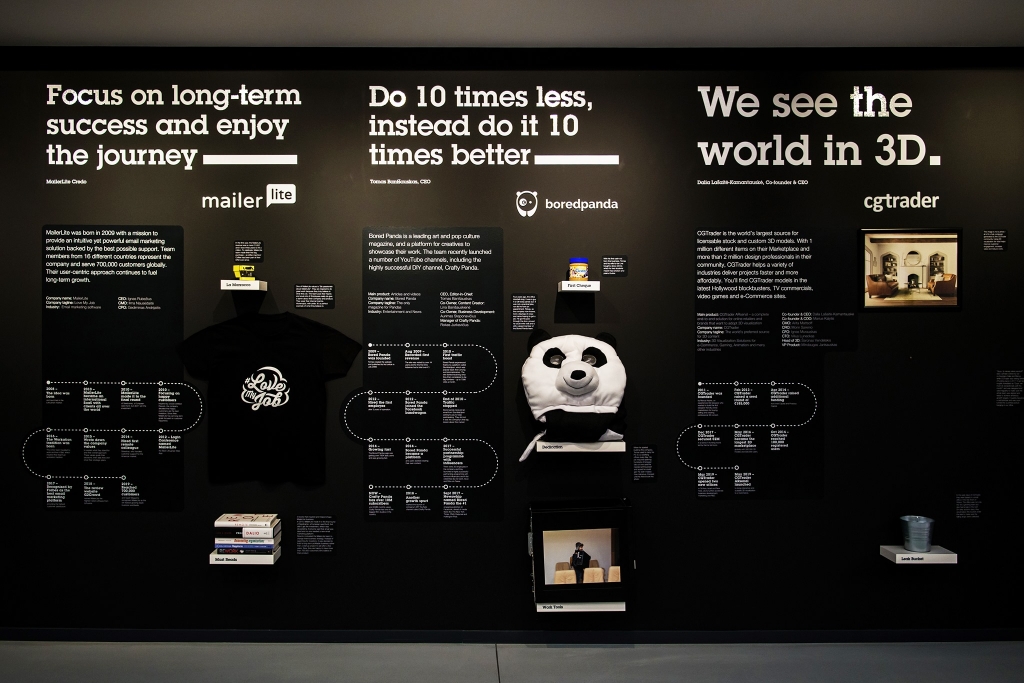 The featured start-ups come from a broad range of fields – from online platforms and software to space exploration and laser manufacturing.
The aim of the museum is to tell the untold stories of start-ups that not only found their way to success but also made contributions to improving the business culture within the city. Through the stories of individual start-ups, visitors will get to experience the drastic improvement that the start-up scene in Vilnius made in recent years, too.
Each start-up highlighted in the museum is presented through its journey to success, including the lessons learned and challenges conquered. Next to each company's timeline and story, visitors have a chance to see physical objects that each start-up sees as representations of their journey, work culture and values.
For example, the pop culture magazine Bored Panda has a panda costume on display to celebrate their company culture – which was worn by one of the current employees when he came to apply for the job. While CGTrader, the world's largest source for stock and custom 3D models, is showcasing a bucket that was used to collect water in the early days of the company when they worked in an office with a leaky roof. Vinted's exhibition features, among other things, a toy unicorn representing its status as the first home-grown start-up to reach a market valuation of one billion euros.
At the museum, guests can also get familiar with the state of the start-up ecosystem in Vilnius and get informed about upcoming start-up-related events and awards.
Each year, the museum intends to add four additional Vilnius-based start-ups that made the most significant strides in that particular year.
—
Photos: Go Vilnius official Facebook page