Emerging Europe's editor Craig Turp revisits Budapest and finds a city steeped in history embracing modernity in the shape of two stunning new additions to its already impressive architectural arsenal.
To fully appreciate the grandeur of Budapest, it's arguably essential to first visit Prague and Vienna. While both of those storied and undisputedly marvellous central European cities boast charm, none can match the captivating fusion found within Budapest. Unlike Prague's dreamy medieval spires or Vienna's elegant imperial past, Budapest seamlessly blends Gothic, Romanesque, and Art Nouveau architecture into a harmonious symphony that dances across the Danube.
Ah, the Danube; undoubtedly at its most majestic in the Hungarian capital. One morning this week I ventured out early, while the city still slept, to watch the summer sun as it began to rise, casting a warm golden hue over the cityscape. Its tranquil waters glistened under the early morning light, mirroring the grandeur of Budapest itself.
As the day unfolds, the Danube becomes a bustling thoroughfare of vibrant life. River cruises glide gracefully along its waters, offering panoramic views of iconic landmarks. The Hungarian Parliament, with its neo-Gothic splendour, commands attention from both land and water, its reflection in the Danube a symphony of architectural brilliance. Buda Castle, proudly perched atop the hill of the river's right bank, stands as a testament to the city's rich history.
In the evening, as the sky projects its fiery hues, the Danube embraces the city in a radiant embrace. The Chain Bridge, adorned with elegant lampposts, connects Buda with Pest. As the lights flicker to life, illuminating the bridge and casting a warm glow on the rippling waves below, the real magic of the Danube reveals itself.
---
Parliament
---
But it is perhaps during the twilight hours, when darkness descends upon the city, that the Danube truly comes alive. The city lights shimmer on the water's surface, creating a coruscating display of reflections. From the Fisherman's Bastion the panorama of Budapest unfolds, with the Danube acting as a glittering ribbon that brings the city together.
And yet beyond its sheer beauty, the Danube in Budapest holds a unique symbolism. It is not merely a river but a lifeline that defines the essence of this remarkable city. It represents the unbreakable bond between Buda and Pest, uniting two distinct parts into one harmonious whole. Standing on the banks of the Danube, you can feel the pulse of Budapest – a city vibrant, diverse, and full of life.
The heartbeat of the city
Beyond the Danube, few places showcase Budapest's ebullience more than its ornate thermal baths, such as Széchenyi and Gellért, which, while busy, reward visitors with opulent relaxation, eclipsing any offerings found elsewhere in Central Europe. (The Gellért hotel by the way is currently under renovation, but the baths remain open: at least for now).
For a more local bathing experience, I've always preferred the Rudas baths, not least for its rooftop terrace. Since the closure of the Király baths, the Rudas (first built in the 1550s) is now the oldest bathhouse in the city.
---
Széchenyi baths
---
The vibrant Jewish Quarter, with its Great Synagogue, street art, and poignant reminders of a tumultuous past, further solidifies Budapest's cultural supremacy in the region. And is there a hotel to match the Gresham Palace in Prague? 
Budapest's restaurants long ago shrugged off any remaining fears that Hungarian food is somehow stodgy and inadequate, embracing the keep-it-local movement and making a virtue of the country's splendid produce, from some of the world's best duck to the Mangalica pig that has become a national brand as well-known as Puskás or paprika.
Elegant Costes Downtown at the Prestige Hotel is the perfect place to start an exploration of contemporary Budapest cuisine. The tasting menu is an adventurous extravagance. The charming Hungarikum Bisztró on Imre Steindl utca (you'll need a reservation) with its chequered tablecloths and pints of draught Dreher beer is a decent choice if you want to keep things more traditional.
For coffee and cake, of all Budapest's many coffee houses the Gerbaud on Vörösmarty tér remains a clear favourite.
Going underground
I once argued long and hard (and, ultimately, successfully) with a book publisher over the need to include Line 1 of Budapest's metro system as a must-see sight in its own right, not merely as a means of transportation. Unique in Europe this is an underground railway system that effortlessly combines history, elegance, and – most of the time – efficiency.
Best known as the Yellow Line or Millennium Underground, it is a living testament to Budapest's grand past. Completed in 1896, this venerable metro line proudly claims the title of being the first underground railway in mainland Europe (worldwide, only London's is older). Stepping inside one of its charming, almost Lilliputian carriages is like entering a time capsule, whisking passengers away to a bygone era.
---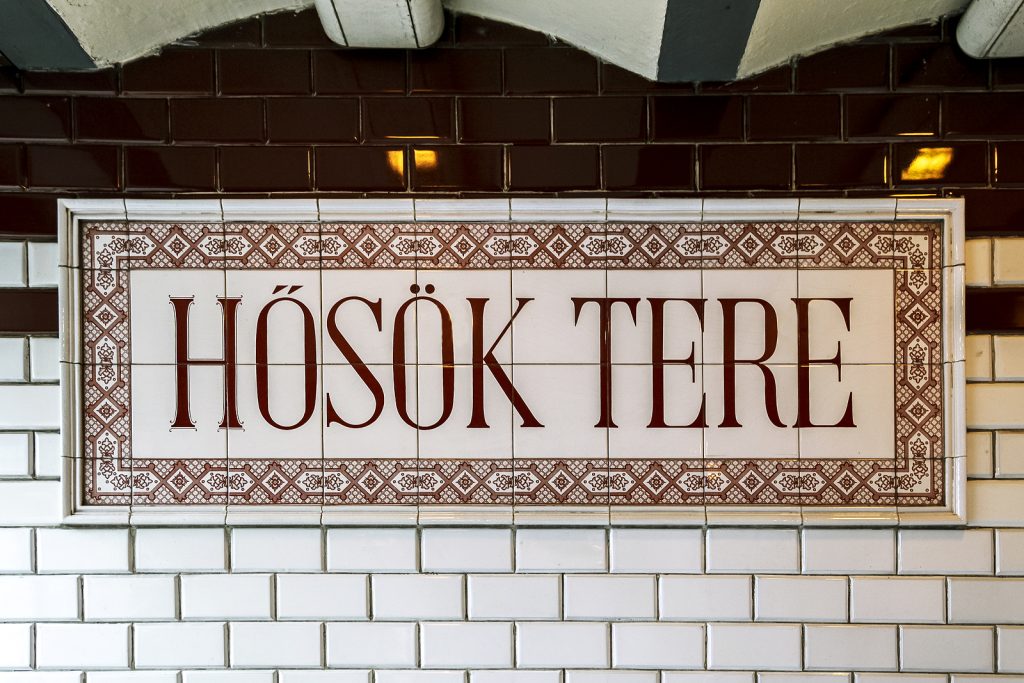 Hősök tere station
---
Architectural splendour unfolds at every stop. The stations themselves are little gems, with ornate façades, intricate ceramic decorations, and graceful ironwork.
As it makes its way beneath Budapest's grandest avenue, Andrássy út, it takes passengers on a short but fascinating journey, granting easy access to some of the city's most iconic landmarks. Vörösmarty tér is Budapest's beating heart; at Opera you will find one of Europe's best-loved concert houses (recently restored and once again open to visitors). The Széchenyi baths have their own station, while at Hősök Tere (Heroes Square) you can pay homage to Hungary's national heroes. It's also the station at which to alight for Budapest's newest attractions.
The recent additions
Budapest does not rest on its laurels. What I was specifically in town to see were two new buildings, both constructed in City Park (Városliget) at significant cost and not without controversy.
The new Ethnographic Museum, opened in 2022, is a gem that beautifully showcases the cultural heritage of the entire region. Describing itself as a landscraper it stands tall over Heroes Square, an architectural masterpiece that beckons visitors to embark on an inspiring journey through time and tradition. And yet 60 per cent of the building is in fact situated underground so as to not overly dominate the existing park.
---
Budapest's new Ethnographic Museum
---
But what perhaps sets the museum apart is its sensational roof garden (open around the clock), an oasis nestled atop the building.
There are fabulous views of Budapest's iconic skyline. The juxtaposition of nature and urban sprawl creates an inspiring vista, reminding us of the delicate balance between progress and preservation. With each step, you become not just an observer, but a custodian of the cultural tapestry that weaves itself through this unique city's very fabric.
Behind the museum is the second of Budapest's recent additions, the Hungarian House of Music, an exhibition and concert space which showcases the rich musical heritage of Hungary and Central Europe while providing a platform for both local and international artists to shine.
---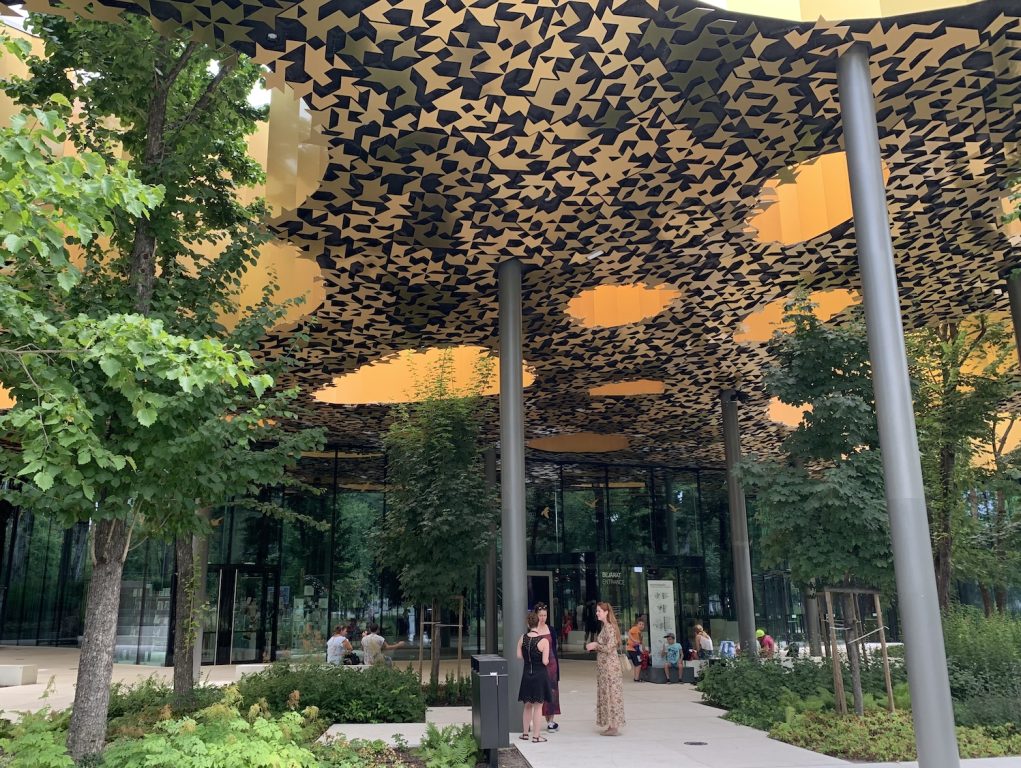 The entrance to the Hungarian House of Music
---
Its stunning design blends sleek lines and a glass facade that seamlessly integrate with its surroundings in City Park. Once inside, visitors are greeted by a spacious and light-filled atrium. The interior design incorporates high ceilings and open spaces, creating a sense of grandeur and elegance. The use of natural materials such as wood and stone adds warmth and charm to the space, while also providing a nod to Budapest's more historic buildings.
The House of Music exhibition is sensational (in every sense of the word). It's a musical journey through the ages that is more than worthy of the extraordinary building in which it is located.
Throughout the construction of both the Ethnographic Museum and the House of Music objections were raised over their cost (the full amount, which includes a new, yet-to-be-completed Hungarian National Gallery, is around one billion euros) and over what was seen by some environmentalists as unnecessary construction upon one of Budapest's largest green spaces.
Having seen the two buildings in situ, those objections look unfounded. Both enhance the attraction not merely of City Park, but of Budapest itself. As if a city this majestic needed enhancing.
---
Unlike many news and information platforms, Emerging Europe is free to read, and always will be. There is no paywall here. We are independent, not affiliated with nor representing any political party or business organisation. We want the very best for emerging Europe, nothing more, nothing less. Your support will help us continue to spread the word about this amazing region.
You can contribute here. Thank you.

---