Despite emerging Europe's mixed record of tackling overall corruption in 2019, the 23 countries of the region "have performed reasonably well" when it comes to tackling bribery in the business sector.
According to the latest edition of the TRACE Bribery Risk Matrix, an annual ranking published by TRACE International, an anti-bribery business association, Estonia is once again the region's best-performer, posing the lowest level of bribery risk.
Of the 200 countries examined in the report, the Baltic nation was ranked 14th globally with a score of 18 (on a scale of 1 to 100, where a lower rank represents a lower level of risk), advancing one spot compared with 2018 and scoring better than Switzerland, Austria, the United States and France. In terms of anti-bribery deterrence and enforcement, capacity and civil society oversight, as well as governmental and civil society transparency, three of the four domains examined in the report, Estonia, which is the only country of the region deemed "very-low-risk", also tops the region.
Ranking 24th globally, Lithuania is the second best performer in the region with a score of 25, performing higher than Japan and Taiwan.
Georgia came in third with a 26/100 score and ranks 27th globally, ahead of Israel, the United Arab Emirates and Monaco. The South Caucasian country is emerging Europe's top performer in businesses' interactions with the government.
"All three countries are notable for the efforts they have undertaken to streamline their bureaucracies, taking steps to reduce the frequency and improve the quality of interaction with government officials required for business practices," Alexandra Wrage, TRACE International's president tells Emerging Europe, adding that "with fewer mandated government interactions come fewer opportunities for bribery demands, and efficiency in the administration of government procedures removes a great deal of the uncertainty and burdens that make it more difficult to resist such demands."
"In Estonia, a less radical process of deregulation has been accompanied by a gradual strengthening of enforcement mechanisms, along with increased governmental transparency and civil society oversight. Unsurprisingly, the expectation of bribery has remained impressively low over the past decade," she explains.
Ms Wrage, however, warns that care should be taken to ensure a balanced approach to dealing with corruption, pointing to Georgia which has "one of the most streamlined bureaucracies in the world, while its ability to enforce anti-corruption laws is only slightly better than average, arguably allowing corrupt practices to regain some ground."
Fourth in emerging Europe, Slovenia scores 32, followed by the Czech Republic, ranked 34th globally with a score of 34. The region's top 10 also includes Poland (ranked 40th globally with a score of 37), Latvia (42nd; 38), Kosovo (45th; 40), Slovakia (46th; 40) and Montenegro (60th; 43). With the exceptions of Montenegro, the report found that all the aforementioned countries were considered "low-risk."
They are followed by Croatia (65th; 45), Romania (68th; 46), Armenia (74th; 47), Bulgaria (77th; 47), Azerbaijan (79th; 48), North Macedonia (85th; 49), Albania (95th; 52), Hungary – the lowest ranked country in the European Union (96th; 52), Serbia (105th; 54), Belarus (108th; 55) and Bosnia and Herzegovina (113rd; 55).
Among the region's lowest performers are Moldova (117th; 56) and Ukraine (122nd; 57).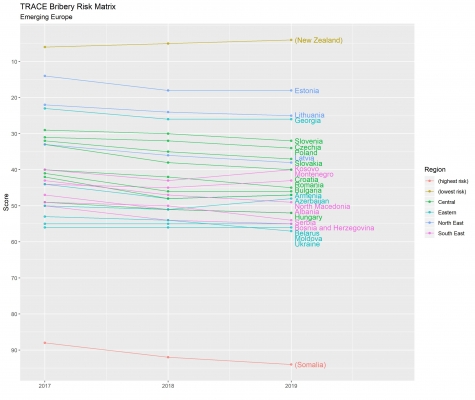 Arguing that emerging Europe has done reasonably well in the report's assessments, Ms Wrage highlights that the average risk score across the 23 countries of the region in 2019 was 43.8 out of 100 — more than six points better than the global mean.
"The five most poorly rated countries in the region — Ukraine, Moldova, Bosnia and Herzegovina, Belarus, and Serbia – which have scores of between 54 and 57 — are all within the range of what we consider medium-risk [roughly 42 to 59]," she adds.
As pointed out by TRACE International's president, Eastern Europe – with the exception of Georgia – and most of Southeastern Europe continue to face struggles with bribery risk, with Kosovo and Montenegro bucking that norm.
"These struggles manifest in different ways in the countries' risk profiles. Some countries — Belarus, North Macedonia, Azerbaijan and Armenia — have undertaken significant bureaucratic reforms but are somewhat lacking in enforcement ability, civil oversight or both. Others — Albania and Bosnia and Herzegovina — operate with a reasonably high degree of transparency but fall short in terms of the opportunities presented by inefficient administration," she says, noting that "if there is a commonality among these countries' profiles, it is probably lackluster or poor-quality anti-corruption enforcement."
Discussing the task ahead, Ms Wrage advises companies in the public sector "to apply a holistic approach to anti-bribery programs, paying attention to the specific risks within their industries, markets and business plans. It requires a strong commitment at the highest levels of the organisation, consistent communication and training, and sustained vigilance and attention to the weak points within the system."
She stresses that governments, which genuinely want to address the problems of corruption, "should similarly take the long view, balancing administrative modernisation, effective enforcement, greater transparency and the strengthening of civic institutions."