Wrocław based tech start-up PayEye has a vision: we will consign our credit cards and smartwatches to the waste basket in exchange for a quicker and more secure method – paying with our iris. Happy with the success of their first pilot programme in their home city, the team behind PayEye now sees their revolutionary technology as part of a natural evolution in payment systems.
PayEye's CEO Krystian Kulczycki tells Emerging Europe that the idea took shape almost two years ago. "It started with an innocent statement: what if you could just pay just like that, with… a look?"
It was a simple enough idea, but the team has had to create an entire payment ecosystem centered around biometrics.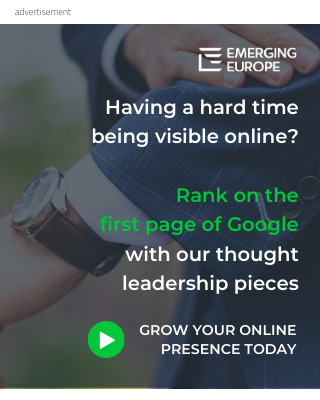 The use of biometrics in security and payment is nothing new. Many people use touch-id or face scans on their smartphones every day, Santander uses voice recognition for online banking, mBank has even used a client's typing style. But an iris scan has until now only been used in certain access control systems, such as those of modern office buildings. And until recently, these systems were far too expensive to successfully transfer across towards a more universal application.
This is where PayEye comes in. The Wrocław team has developed a system that can scan the eye as the client looks into a flat-screen on the payment device, equipped with the right camera. Nothing is waved over the reader, no fingerprint, signature, or pin. Instead, a digitally scanned image of the iris is converted into a special code which authorises the payment. The system will cost 99 zloty (22 euros) per month for a vendor to use, and there will be additional costs of infrastructure. Nevertheless, the team is ready to make the idea take off.
The technology is currently in its second week of a pilot scheme in Wrocław, a city which was all too fitting, says Mr Kulczycki.
"The idea for the company was born in Wrocław, and the whole company operates there. We feel like part of the Polish Silicon Valley."
He tells Emerging Europe of the first time PayEye was made operational in late April. "The whole PayEye team, using real money, but still in a closed environment, registered and made payments at the first PayEye partner – Sushi Naka Naka restaurant in Wrocław, near our office."
So far, PayEye appears to be popular.
"Consumers are curious, and their numbers are increasing daily," Mr Kulczycki explains. "After less than a week, we have more than 20 partners in the network in Wrocław and its surroundings, including service points, grocery stores, cafés, ice cream parlours and restaurants. And we're not stopping there. By September we will probably have over 60 PayEye locations in the capital of Lower Silesia."
So is this the future of payment methods? While some may be apprehensive of PayEye's futurism, the idea of paying with a watch was also far fetched not too long ago. As Mr Kulczycki explains, this futurism gives the company a certain monopoly on "wow" factor. Its this thinking out of the box which allows for an "unprecedented freedom to make payments without cash, card, phone or smartphone" he explains. "All you need is a loaded PayEye account and one look. That's it."
However, some have voiced doubts about the dangers of harnessing biometric data, which could have detrimental effects if it lands in the wrong hands. The company explains however that the iris itself is not stored in its systems, but rather the code it generates.
"The PayEye ecosystem is independent and secure, and is fully in line with the strict requirements of the Polish financial supervision authority," says Kulczycki.
The beauty of the technology is its transferability. Iris scans have an unimaginable amount of uses in payments, identification, and security. From seamless ATM transactions to unmanned bank branches where video chat replaces employees. Its use could even extend to a form of signing documents or "touching in" on public transport. As technological innovations continue to outdo each other, the environment for PayEye becomes more and more receptive, making its applicability seemingly limitless.
Nevertheless, it remains unclear whether this is another tech invention that will fizzle out or if PayEye really is the new contactless; the market seems to be suggesting the latter. A recent MasterCard study found that almost half of Polish consumers would like to use biometrical authentication on card payments, and that fingerprints are considered universally more secure than one-time pin codes.
The way Mr Kulczycki sees it, PayEye is not a revolution but an evolution. For him, the progression of technology with science was inevitable and the company is merely taking advantage of the situation.
However, the future does not spell easy sailing. Despite the initial success, PayEye will have to overcome the natural laziness of customers unwilling to change routine and method, as well as merchants to adopt a new service.
Regardless, the technology ticks two very important boxes that are almost certain to bring success – convenience and that all-important "wow" factor.
After receiving European Union funding for the further development of the system, new action plans are already underway. "There are many interesting activities, implementations and challenges waiting for us, so we will certainly not be bored," says Mr Kulczycki, "We achieved our first success – we made the product available in our hometown. The next success will be the possibility of making PayEye available in every European country."
—
Unlike many news and information platforms, Emerging Europe is free to read, and always will be. There is no paywall here. We are independent, not affiliated with nor representing any political party or business organisation. We want the very best for emerging Europe, nothing more, nothing less. Your support will help us continue to spread the word about this amazing region.
You can contribute here. Thank you.