You can read all of our coverage of Russia's invasion of Ukraine, including explainers and articles offering context and background information here.
---
Russia's invasion of Ukraine
On August 24, Ukrainians celebrated the 31st anniversary of the country's independence, which also marked since Russia dropped its first bombs on Kyiv.
"Yesterday the world was not united. COVID-19 clearly showed: [that] it's every man for himself. Ukraine has changed this in six months. All world history textbooks will have a section Times when Ukraine united the world. When democracy grew teeth again. When tyranny receives an answer in the language it understands," President Volodymyr Zelensky said in his address.
On the same day, a Russian rocket strike on a train in a station in the town of Chaplyne, about 150 kilometres west of Donetsk in eastern Ukraine, killed at least 25 people including two children and wounded 50.
On Wednesday, a Russian missile struck a detached house in Synelnykove District, about 50 kilometres from the city of Dnipro, trapping two children under the rubble. Six more children and five adults were injured. On Friday morning, two civilians were killed and three injured in Russia's shelling of Chuhuiv and Derhachi, about 50 kilometres of Kharkiv.
Since the beginning of the February invasion, 376 children have been killed and 733 were seriously injured, says the Prosecutor General's Office. And, according to the Foreign Ministry, a thousand Ukrainian children were illegally transported from Mariupol to Siberia.
On Independence Day, the Ministry of Culture and Information Policy of Ukraine and WPP, a marketing communications group, launched the Advantage Ukraine initiative to attract investments to the Ukrainian economy.
"The goal is to declare to the whole world that it is necessary to invest in Ukraine now, otherwise it's risky to be the last," Oleksandr Tkachenko, minister of culture and information policy, wrote on Telegram and added that the world community should look to the times after the victory "not to wait for it to come, but to contribute to the future of our peaceful and prosperous state."
More than 80 per cent of Ukrainian companies are operational again, Ukraine's Prime Minister Denys Shmyhal, said earlier this week. "Credit, tax, and regulatory incentives, along with other point aid, made it possible to sustain our economic front," he said. Also, Ukrainian farmers managed to sow across more than 80 per cent of last year's area and start harvesting.
Meanwhile, food prices have grown by 20-30 per cent since February. The increase is blamed on high inflation which accelerated to 22.2 per cent year-on-year in July 2022.
"It is necessary to continue to insist that Crimea is Ukraine, just as Donetsk and Luhansk are Ukraine, and that every part of the currently occupied Ukrainian territory is Ukraine," said US Secretary of State Antony Blinken during the second Crimea Platform Summit.
Also, Turkish President Recep Tayyip Erdogan said Ankara would continue to support a peaceful resolution to the Crimean issue.
"Türkiye does not recognise the annexation of Crimea and has been openly stating since the first day that this step is illegitimate and illegal. This is a principled stance that has not only legal but also moral foundations," Erdogan said in a video message at the Second Crimea Platform Summit.
This week, Ukraine received 3 billion US dollars — the first tranche of grant funds worth 4.5 billion US dollars. Since February, the United States, with the assistance of the World Bank, has already provided Ukraine with 8.5 billion US dollars in grant aid.
Additionally, the European Union is developing a package of 8-billion-euro macro-financial assistance for Ukraine, according to Josep Borrell, high representative of the EU for foreign affairs and security. In total, 9.5 billion euros have been mobilised by Team Europe.
The Ukrainian Government expects to receive up to 16 billion US dollars from its international partners by the end of this year.
At the same time, Ukraine hopes to receive political clarity from EU leaders regarding the next steps on its path to membership in the European Union. Deputy Prime Minister for European and Euro-Atlantic Integration Olha Stefanishyna says the country has fulfilled almost 70 per cent of its obligations under the Association Agreement with the European Union and is aware that the country still needs to complete all legal procedures for membership in the European Union. European integration remains the main motivator for the Ukrainian society, which unites over 90 per cent of Ukrainians.

Other news
Hungary's Prime Minister Victor Orbán is expanding state ownership. UK Vodafone has entered into a non-binding agreement to sell 100 per cent of its business to Corvinus Zrt, a Hungarian state holding company and another holding company with alleged ties to the government, 4iG, for 1.8 billion euros.
"Governments since 2010 have held on to a prominent goal of strongly increasing the proportion of Hungarian ownership in strategic industries, preferably to a majority," Márton Nagy, minister of economic development, said in a statement.
The government in Budapest also continues its crusade against companies that have enjoyed "extra profits" arising from growing demand after the Covid-19 pandemic. The Ministry of Justice now ordered another investigation of Wizz Air, a domestic budget airline, over its failure to provide information and assistance to customers whose flights are delayed or cancelled.
It's the second investigation against Wizz Air since June when Orbán's government announced a special business tax expected to bring 2.1 billion euros of tax revenues. Earlier this month, the Hungarian Consumer Protection Agency imposed a 780,000 fine on Ryanair, another budget airline, over consumer protection violations.
But there's more news about Hungary's budget airline. After postponing flights between the United Arab Emirates and Russia until further notice, officially citing 'supply chain limitations,' on Thursday, Wizz Air announced 20 new routes to the Kingdom of Saudi Arabia. The announcement brought about another wave of disappointment from passengers, similar to the one relaunching flights to Russia, demanding refunds and compensation for delayed and cancelled flights on Twitter and Facebook. Comments on Linkedin have been disabled.
Meanwhile, Poland is dealing with the contamination of the Oder River. The country's parliament is working on new legislation which would provide funds for steady monitoring of the Oder's waters and for new sewage treatment plants. It is also expected to prevent other environmental catastrophes like pollution and provide compensation to businesses, mainly in the tourism and food production industries.
According to Krzysztof Woś, acting head of Polish Waters, which issues licenses allowing businesses and industry to discharge their waste into rivers, there are almost 300 illegal, unmonitored discharge points on the Oder, some of which are under investigation. But there is no permanent monitoring system for rivers.
The Oder River disaster might be one of the national affairs that are not handled the right way as Poles are increasingly unhappy with their government. Almost 2/3 of all respondents in a recent Kantar public opinion poll, said the performance of Prime Minister Mateusz Morawiecki's government was either 'definitely bad' (38 per cent) or 'rather bad' (23 per cent). This is a significant increase compared to July, when 49 per cent of respondents were dissatisfied with Morawiecki's government, according to CBOS.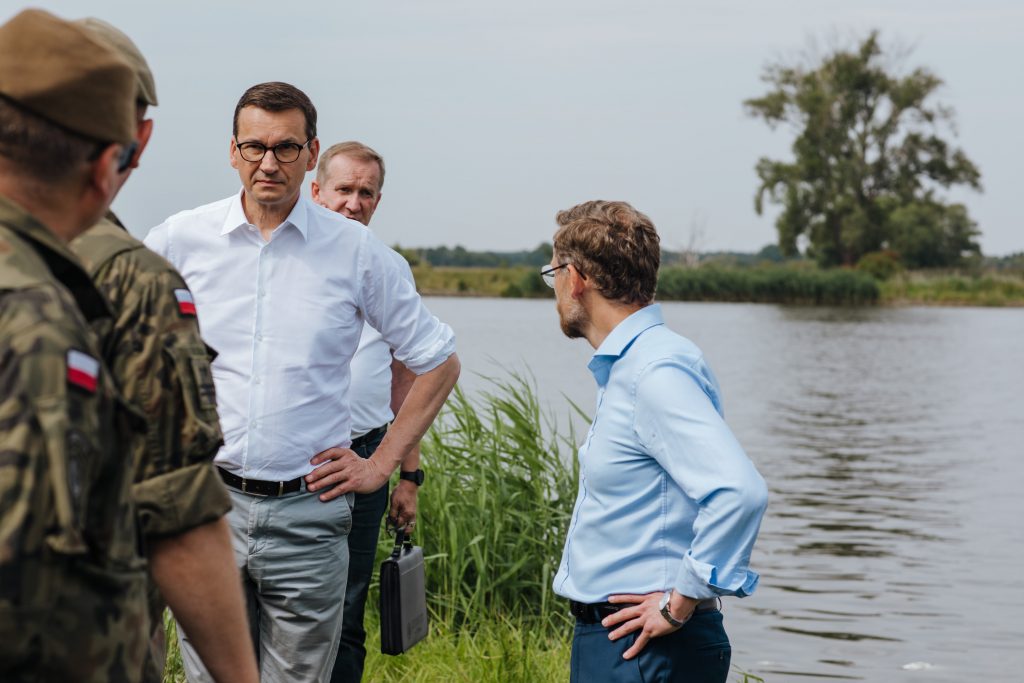 On Wednesday, the Czech government approved final plans for a discount electricity rate subsidised by the state. The plans are part of measures aiming at easing the burden of growing energy prices and inflation, worth some 7.1 billion euros. The total aid, which also includes a pension rise and a one-off child benefit, accounts for 2.9 per cent of Czechia's GDP.
Energy supplies are a serious challenge for a number of emerging Europe economies. Rosen Hristov, Bulgaria's interim energy minister, said the country is ready to negotiate with Russian energy company Gazprom on the resumption of natural gas deliveries that were stopped in April. Currently, Bulgaria needs about three billion cubic metres of gas per year, sources one billion cubic metres a year from Azerbaijan and buys the rest from the market. According to Hristov, the country also wants to talk to Azerbaijan about boosting Azeri supplies and would also discuss deliveries with Turkish gas traders.
Azerbaijan and Armenia have agreed to meet in Brussels on August 31 to discuss ending the Nagorno-Karabakh conflict. Armenian Prime Minister Nikol Pashinyan and Azerbaijan's President Ilham Aliyev will be hosted by Charles Michel, president of the European Council.
In 2020, a 44-day conflict that killed more than 6,500 people ended in a Moscow-brokered cease-fire, however, in early August, new tensions emerged. Azerbaijan said it had lost a soldier and the Karabakh army said two of its troops had been killed and more than a dozen injured.
Last Sunday, Serbia's President Aleksandar Vucic, called on NATO to 'do their job' in Kosovo. Otherwise, Serbia will have to protect its minority. The warning followed the collapse of negotiations between Serbian and Kosovo leaders mediated by the European Union in Brussels. Meanwhile, NATO peacekeeping troops have been deployed at main roads in the north of the country near the border with Serbia, saying they are ready to protect the freedom of movement for all sides.
There are fears that Russia could encourage its ally Serbia to launch an armed intervention in Kosovo, which would NATO's attention to the Balkans from Russia's invasion of Ukraine.
Russian tourists might soon find it more difficult to travel to EU countries. Gabrielius Landsbergis, Lithuania's foreign minister, said Estonia, Finland, Latvia, Lithuania and Poland may ban Russian tourists from crossing their borders even if the EU does not enact a union-wide ban. EU foreign ministers are expected to discuss the ban next week. Germany, Cyprus, Greece and Hungary might be against it. Also EU High Representative of the Union for Foreign Affairs and Security Policy Josep Borrell has spoken out against a visa ban for all Russians travelling to Europe.
On Thursday, Latvia said a definite goodbye to the Soviet Union and demolished the 79-metre concrete obelisk topped with Soviet stars, commemorating the Red Army's victory over Nazi Germany, erected in 1985 in Riga.
"This monument was a steady reminder of our occupation and the associated fate of many people: deportation, repression, and so on. We do not need this kind of monument," Latvian President Egils Levits said during a livestream of the demolition.
Riga's Mayor Mārtiņš Staķis called the demolition a 'historic moment for Riga and all of Latvia.'
Latvia's ethnic Russian community, which accounts for 30 per cent of the population had protested against the removal of the Victory Memorial.
Earlier this year, Latvia issued a decree that all objects glorifying totalitarian regimes must be destroyed by November 15.
---
Unlike many news and information platforms, Emerging Europe is free to read, and always will be. There is no paywall here. We are independent, not affiliated with nor representing any political party or business organisation. We want the very best for emerging Europe, nothing more, nothing less. Your support will help us continue to spread the word about this amazing region.
You can contribute here. Thank you.