Catch up quickly with the stories from Central and Eastern Europe that matter.
---
Russia's war on Ukraine
Poland will no longer send weapons to Ukraine, Polish Prime Minister Mateusz Morawiecki said on Wednesday, in an escalation of tensions between Warsaw and Kyiv that threatens the West's unity in supporting the country as it battles Russia's invasion.
The threat is the latest salvo in a trade dispute that revolves around Poland's refusal to accept imports of Ukrainian grain, in contravention of EU rules, as Morawiecki's ruling party steps up nationalist rhetoric ahead of a parliamentary election next month. Asked whether Warsaw would still support Ukraine militarily, Morawiecki replied on the Polsat television channel: "We are no longer transferring any weapons, because we will now arm ourselves with the most modern weapons."
On Thursday some senior government officials in Warsaw sought to downplay the prime minister's words, insisting Poland remained committed to helping Ukraine and that no decision had been made about long-term weapons deliveries.
Ukraine's agriculture minister Mykola Solskyi later said he and his Polish counterpart, Robert Telus, had in a phone call "agreed to find a solution" to the grain stand-off.
"Evil cannot be trusted," Ukrainian President Volodymyr Zelensky told the UN General Assembly on Wednesday, as he urged the world to unite to end Russian aggression against his country.
In a passionate speech in New York, Mr Zelensky said a nuclear-armed Moscow must be stopped from "pushing the world to the final war". He also accused Russia of weaponising everything from food to energy.
In a speech which focused heavily on the danger Russia poses to the world, he argued that other common challenges such as climate change can only be properly addressed after Moscow had been pushed back.
"While Russia is pushing the world to the final war, Ukraine is doing everything to ensure that after the Russian aggression no-one in the world will dare to attack any nation," Zelensky said to world leaders attending the annual General Assembly.
Later that night, Ukrainian cities from east to west were hit in Russia's largest wave of missile attacks in more than a month, as at least two were killed and dozens wounded on United Nations World Peace Day.
The strikes, the biggest since 15 August, came a day after reports of sabotage at a Russian military airfield in Chkalovsk, near Moscow, and in the week the Ukrainian president, Volodymyr Zelenskiy, presented a Ukrainian "peace formula" to the UN general assembly summit in New York.
The Ukrainian army chief, Gen Valerii Zaluzhnyi, said Ukraine's air defence successfully shot down 36 out of 43 Russian cruise missiles launched from 10 warplanes in multiple waves.
The world must learn from the mistakes made after the war in Bosnia to avoid putting Ukrainian victims of rape and conflict-related sexual violence through decades of trauma, a new expert report has warned.
Ukrainian prosecutors and independent investigators from the United Nations and other international organizations have said there is mounting evidence that Russian troops are using rape and sexual violence as part of their campaign of terror in Ukraine – similar to the systematic use of rape by the Bosnian Serb army during the Bosnian war in the early 1990s. Russia has denied the allegations.
The report by the New Lines Institute for Strategy and Policy, a US-based think tank, says that if the world wants to avoid the repeat of the trauma faced by the victims in Bosnia, it needs to focus on the victims first in Ukraine. Many in Bosnia have waited for decades before coming forward and the vast majority of sexual crimes committed there have gone unpunished.
---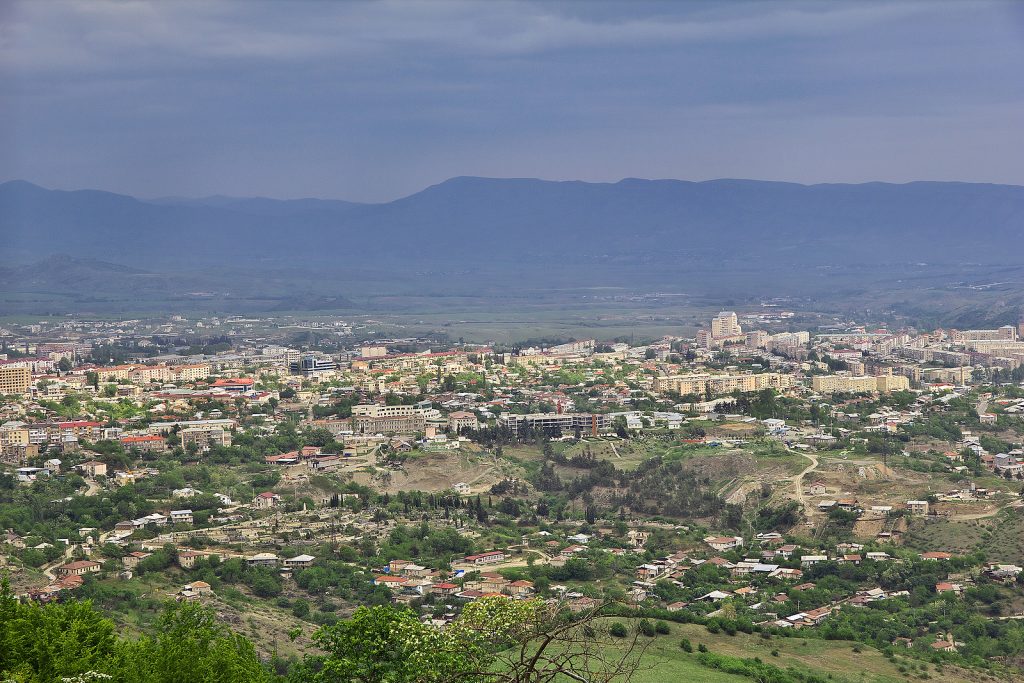 Stepanakert, capital of Nagorno-Karabkh, looks set to come under Azeri control
---
Other news from the region
There were clashes between police and demonstrators in the Armenian capital of Yerevan on Wednesday, as thousands protested the government's handling of the Nagorno-Karabakh crisis. Earlier in the day Azerbaijan said it had restored its sovereignty over the territory, after a deadly 24-hour military offensive. Nagorno-Karabakh is recognised internationally as part of Azerbaijan but large areas of it have been controlled by ethnic Armenians for three decades.
Latvia's government decided on Tuesday to close one of its two border crossing points with Belarus as the prime minister accused Minsk of again using illegal migrants as a "hybrid threat" to undermine the Baltic state's security. In 2021, Latvia, Poland and Lithuania faced an immigration crisis when thousands of people, mostly from the Middle East and Africa, began crossing from Belarus. The three countries eventually resorted to pushing the migrants back, a policy that remains in place.
The European Union has asked Poland to clear up allegations of widespread visa fraud that have engulfed the country's governing party. Polish media had reported that migrants paid up to 5,000 US dollars to Polish consulates and private companies to speed up visa applications. A European Commission spokeswoman said they had given Warsaw two weeks to respond to detailed questions. The Polish government said allegations about extensive fraud were "absurd".
The European Union on Tuesday called on Serbia and Kosovo to respect an agreement meant to end tensions between them and put their relations on a more normal path after talks between their leaders ended in acrimony last week. At a meeting in New York, EU foreign ministers said the commitments that Serbia and Kosovo made in the pact they sealed in February "are binding on them and play a role in the European path of the parties."
Georgia's national security services claimed on Sunday that a coup is being plotted against the country's government from Ukraine. The service claimed that the coup leader is Ukraine's deputy military intelligence chief Gia Lortkipanidze, who served as the deputy interior minister of Georgia during Mikheil Saakashvili's presidency (2004-13). Lordkipanidze is wanted in his homeland on allegations of assisting the ex-president to smuggle himself from Ukraine to Georgia in 2021.
Estonia's central bank chief slammed a government budget deal, saying that a plan to generate additional tax revenue from banks amounted to a boon for shareholders rather than the public. In an unusually candid condemnation, Bank of Estonia Governor Madis Muller criticised Prime Minister Kaja Kallas's budget plan, which includes an agreement with banks to increase dividend payments—and thereby taxes on dividends—rather than imposing a direct levy.
Moldova's restive Gagauzia region, locked in an uneasy relationship for 30 years with central authorities in Moldova, endorsed the composition of its local executive committee on Wednesday, a key decision for national institutions. Gagauzia, in the south of Moldova, has an autonomous assembly and government and is populated by ethnic Turks who adhere to Orthodox Christianity and generally express sympathy for Russia. The region last May elected a new leader committed to broadening ties with Moscow.
Croatia announced this week a new bill which will introduce femicide into the country's criminal code and impose longer prison terms for rape. Croatia's Prime Minister Andrej Plenković called it "the most extensive and perhaps the most significant changes so far" aimed at tackling violence against women and children in the country. "The proposed measures are a confirmation of what we keep repeating—the political will to fight violence against women exists," he said.
---
Unlike many news and information platforms, Emerging Europe is free to read, and always will be. There is no paywall here. We are independent, not affiliated with nor representing any political party or business organisation. We want the very best for emerging Europe, nothing more, nothing less. Your support will help us continue to spread the word about this amazing region.
You can contribute here. Thank you.

---