Catch up quickly with the stories from Central and Eastern Europe that matter.
---
Russia's war on Ukraine
Ukrainian President Volodymyr Zelensky's chief of staff Andriy Yermak this week said that Ukrainian forces have gained a foothold on the left (eastern) bank of the Dnipro river.
Russia has admitted that some Ukrainian forces have set up positions in a village but claims they will soon be wiped out. If the area is held it would mean a significant advance for Ukraine. Russia retreated from the right bank of the river a year ago, and the Ukrainian army has since been trying to create and hold a bridgehead on its eastern shore.
"The Armed Forces of Ukraine captured a bridgehead on the left bank of the Dnipro," Yermak told a US think tank, using a military term for a secured position.
US-based experts said earlier that marginal advances had been made into the village of Krynky, two kilometres inland from the river and 30 kilometres from the city of Kherson, recaptured a year ago.
Russia conceded this week that "small groups" of Ukrainian forces had set up positions in the village on the left bank.
On Thursday, Zelensky said that Ukraine has seized the initiative from Russia in the Black Sea and forced Russia's naval fleet and warships to pull back, thanks to Kyiv's use of navel drones.
"For the first time in the world, it was in the Black Sea that a fleet of naval drones began to operate – a Ukrainian fleet," Zelensky wrote on the Telegram messaging app.
"We managed to seize the initiative from Russia in the Black Sea…" he said.
Zelenskiy added that since the early days of Russia's invasion of Ukraine in February 2022, Moscow had blocked the Ukrainian Black Sea ports and damaged port and grain export infrastructure, disrupting global food markets.
Yet over the course of the war Ukraine had shifted the balance of power, Zelensky said, and he thanked Turkey, Bulgaria, Romania, and Moldova, which border the Black Sea, for their support.
Hungary on Wednesday sought a review of the European Union's policy towards Ukraine, disagreeing with Germany, Lithuania, Finland and Ireland that backed bringing Kyiv closer to the bloc swiftly.
Hungary is the main stumbling block to a decision by EU leaders next month to start formal membership talks with Ukraine once it meets all conditions, and assign 50 billion euros in aid for Kyiv from the bloc's budget through 2027.
Those decisions require unanimity of the 27 countries in the bloc, which has supported Ukraine since Russia invaded in February 2022.
But Hungary's Prime Minister Viktor Orbán—who touts his ties with Moscow—has since said the bloc's strategy of sending money and military aid to Ukraine has failed, and that he opposed starting membership negotiations with Kyiv.
Slovak truckers staged a symbolic brief blockage of the country's main crossing with Ukraine on Thursday but threatened a full blockade in the near future to support Polish calls for restrictions on the number of Ukrainian trucks entering the EU.
Polish drivers have been blocking roads to three crossings with Ukraine for over a week, citing government inaction over a loss of business to foreign competitors since Russia's invasion of Ukraine in 2022.
They insist on the return of a limited number of licenses for Ukrainian truckers, a demand Kyiv said it would not consider.
The European Union is looking to sanction more Central Asian companies that it says are aiding Russia's war effort in Ukraine, according to a document seen by RFE/RL.
The draft for the EU's 12th sanctions package looks to add 31 new entities to its ever-growing embargo list—including two from Kazakhstan and one from Uzbekistan—that it has been compiling since Russia's full-scale invasion of Ukraine.
The proposal also looks to issue a ban on Russian diamonds, which Brussels has not yet enacted but Washington already approved.
The inclusion of firms based in Central Asia points to the growing role the region is playing as an intermediary working around Western sanctions meant to limit Moscow's ability to wage war on Ukraine.
Russian imports of dual-use goods from Central Asian firms have skyrocketed since the start of the war, including electronics and components produced by Western and Chinese companies, such as microchips and drones.
---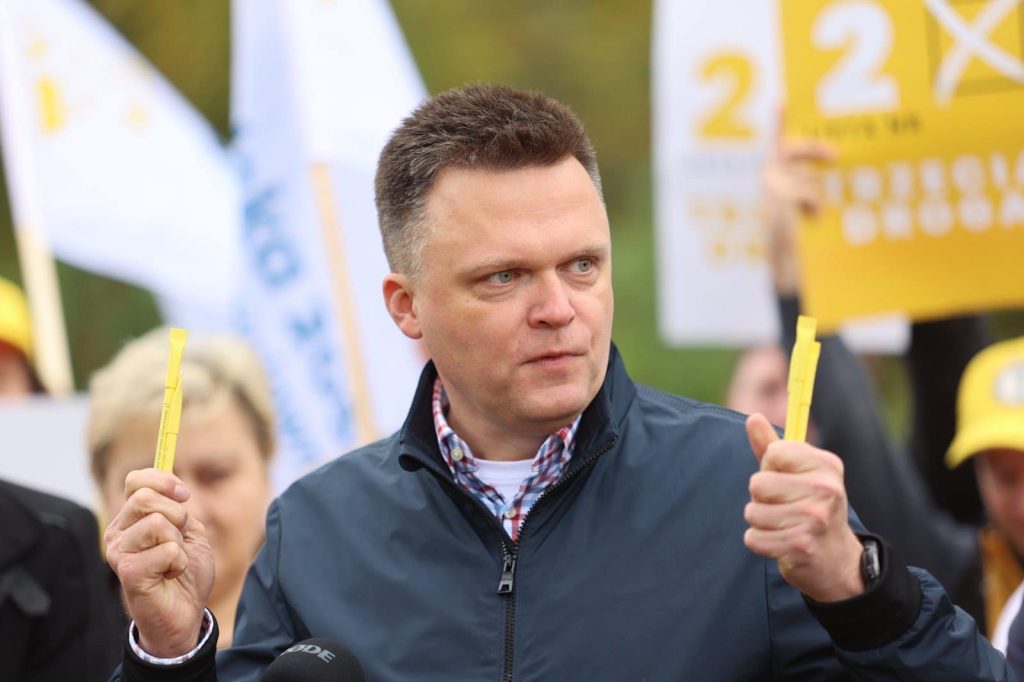 Poland's new parliamentary speaker, Szymon Hołownia. (Official Facebook page).
---
Other news from the region
Pro-European Polish political parties that jointly won a majority in last month's general election chose a parliamentary speaker this week, starting a transition of power from the outgoing nationalist cabinet. Donald Tusk's Civic Platform and its junior allies picked Szymon Hołownia for the powerful post, which effectively decides legislation the lower house debates. But it still could be a month before Tusk gets to form a government. Polish President Andrzej Duda—an ally of the outgoing cabinet—has given the ruling nationalists a first shot at forming an administration.
Estonian Prime Minister Kaja Kallas said on Tuesday she's interested in taking over the top job at NATO, as the Cold War-era alliance continues to navigate Russia's war in Ukraine and homes in on common strategies against China and other emerging threats. Speaking at the POLITICO Defence Summit, Kallas was pressed on whether she'd like to be considered for the role once NATO Secretary General Jens Stoltenberg steps down. She responded, "yes."
Slovakian journalists and international watchdogs have expressed alarm after the new prime minister, Robert Fico, described leading media outlets as hostile and threatened to restrict their access. Fico, who took over as PM in October as part of a coalition government led by his Smer party, said this week that some of the country's biggest outlets were not welcome in his office. "I announced actions against enemy's media—TV Markíza, Denník N, SME and the portal Aktuality," he said, claiming that they "openly declare hatred and hostility against Smer and spread these trends with joy".
Romania inaugurated on Monday an international training hub for F-16 jet pilots from allied countries and other partners, including Ukraine. The training facility situated at an air base in Fetești in southeast Romania will aim to increase interoperability between NATO allies, and better position the military alliance "to face the complex challenges" in Eastern Europe and the Black Sea region, Romania's defence ministry said. It said the powerful US-made warplanes will be supplied by the Royal Netherlands Air Force while maker Lockheed Martin will provide instructors and maintenance at the centre.
Russia said on Wednesday that Armenian Prime Minister's Nikol Pashinyan's decision to stay away from a summit of the Russia-led Collective Security Treaty Organisation (CSTO) was the latest anti-Russian move by Armenia orchestrated by the West. Relations between Russia and Armenia, which are formally allies, have soured in recent months, with Yerevan publicly questioning the value of its partnership with Russia and trying to deepen ties with the West. The trigger was Azerbaijan retaking its breakaway region of Nagorno-Karabakh in September despite the presence of Russian peacekeepers.
Czech health insurance providers will not be able to penalise patients based on previous cancer diagnoses if they have successfully completed treatment, following a deal based on the "right to be forgotten" by ministers and insurance companies. Following the year-long negotiations, the "right to be forgotten" agreed upon by the Czech health ministry, representatives of patient organisations and insurance companies. The right will not be in the form of law, but self-regulation issued by the Czech Insurance Association, which represents more than 98 per cent of the Czech insurance sector.
A new nationwide poll conducted in Georgia by the International Republican Institute's (IRI) Center for Insights in Survey Research (CISR) shows a perceived political threat from Russia, concerns with the presence of Russian citizens in Georgia, and high levels of political polarisation. When asked which country poses the greatest political threat to Georgia, 77 per cent responded Russia. "Given the Russian occupation of Georgia and its threatening behavior in the region, Georgians overwhelmingly perceive Russia to be an existential threat," said Stephen Nix, Director of Eurasia for IRI.
Hungary will offer a residency permit for those who purchase expensive property in the European Union nation, six years after corruption allegations led authorities to shut a similar golden-visa programme. The "guest-investor programme" allows those who invest at least 250,000 euros in local property funds or 500,000 euros in Hungarian real estate the right to apply for a 10-year, renewable residency permit in Hungary, according to legislation filed by Prime Minister Viktor Orbán's government. Hungary shut down a similar programme in 2017. 
Serbian Finance Minister Siniša Mali said on Monday that Etihad Airways, the United Arab Emirates' national airline company, is to quit its co-ownership of Serbian carrier Air Serbia. Mali said that the Serbian state will take over Etihad's 18 per cent share in full. "Air Serbia is the largest airline in the region. From a company that was in bankruptcy, we turned it into a leader that now flies on four continents, in a large number of countries, and we have become an example of how, through a successful airline, you can further contribute to the economic development of your country," Mali said.
A court in Uzbekistan has sentenced a teenager to two-and-a-half years in prison for insulting President Shavkat Mirziyoyev. The 19-year-old, a resident of the Kattakurgan district in the Samarkand region, was found by the court to have written comments on Instagram that could be deemed defamatory of the president. The verdict was passed in October but only made public by the Supreme Court late last week. Investigators concluded that the comment contained "actions insulting and discrediting the president of the Republic of Uzbekistan."
---
Unlike many news and information platforms, Emerging Europe is free to read, and always will be. There is no paywall here. We are independent, not affiliated with nor representing any political party or business organisation. We want the very best for emerging Europe, nothing more, nothing less. Your support will help us continue to spread the word about this amazing region.
You can contribute here. Thank you.

---