Emerging Europe's start-up scene is thriving: new money and new ideas are coming onto the market all the time. To keep you up to date with the latest investments, innovations, movers and shakers, every week Emerging Europe brings you a round-up of the region's start-up news.
---
Making hiring easy for SMEs, Estonia's RecruitLab raises 1.9 million euros
Tallinn-based RecruitLab, a recruitment software provider, last week announced the closure of its 1.9 million euros seed round.
The round was led by Change Ventures, a Baltic market specialist that only invests in globally scalable businesses. The round also included StartupIst VC, FFF.vc and the BADideas.fund, an early-stage angel syndicate.
RecruitLab offers its clients a video-recruitment platform that helps streamline and automate their recruitment processes, handle many more candidates while reducing hiring time by 50 per cent, and improve the overall candidate experience. The company has paying clients across the UK, Germany, Finland, Estonia, Latvia and Lithuania, including internationally known brands like DPD, Circle K, Tallink and KPMG.
RecruitLab provides an alternative to incumbent Applicant Tracking Systems (ATS) players, like Workable, Bullhorn, Taleo, Lever and Greenhouse, amongst others. These systems are built for large enterprises with thousands of employees and come with a high cost of subscription, implementation and maintenance.
RecruitLab's platform provides the same ATS functionality in addition to recruitment marketing, social media, candidate experience, and asynchronous video recruitment tools – automating the entire recruitment process at a price point that every company can afford. RecruitLab targets the underserved segment of the market – recruiters at SMEs and small recruitment agencies who require a plug-and-play solution.
"RecruitLab is arming SMEs with the tools that previously, only the big enterprises could afford," says Paavo Heil, the founder and CEO of RecruitLab.
The new funds will be used for expansion to the UK and other European markets, tripling the company's workforce and adding new functionality to its platform, enabling recruiters to benchmark their activities and results against similar recruitment professionals.

Ukrainian start-up Awesomic depicts Taras Shevchenko with sniper rifle, wins Red Dot Award
Ukrainian start-up Awesomic, a platform that matches designers with businesses, has won a prestigious Red Dot Award in the Brands and Communication Design category.
The start-up's winning project, The League of Information Warriors, is a communication campaign that aims to encourage people to fight against disinformation and engage in the information war against Russia.
To popularise the campaign, Awesomic depicted famous Ukrainian writers and philosophers as warriors, defending their land with weapons in their hands. It includes poet and journalist, USSR prisoner of conscience Vasyl Stus with a Javelin on his shoulder, literary critic, philosopher and feminist Hryhoriy Skovoroda with a mortar, and poet and artist Taras Shevchenko – also known as Kobzar – with a sniper rifle.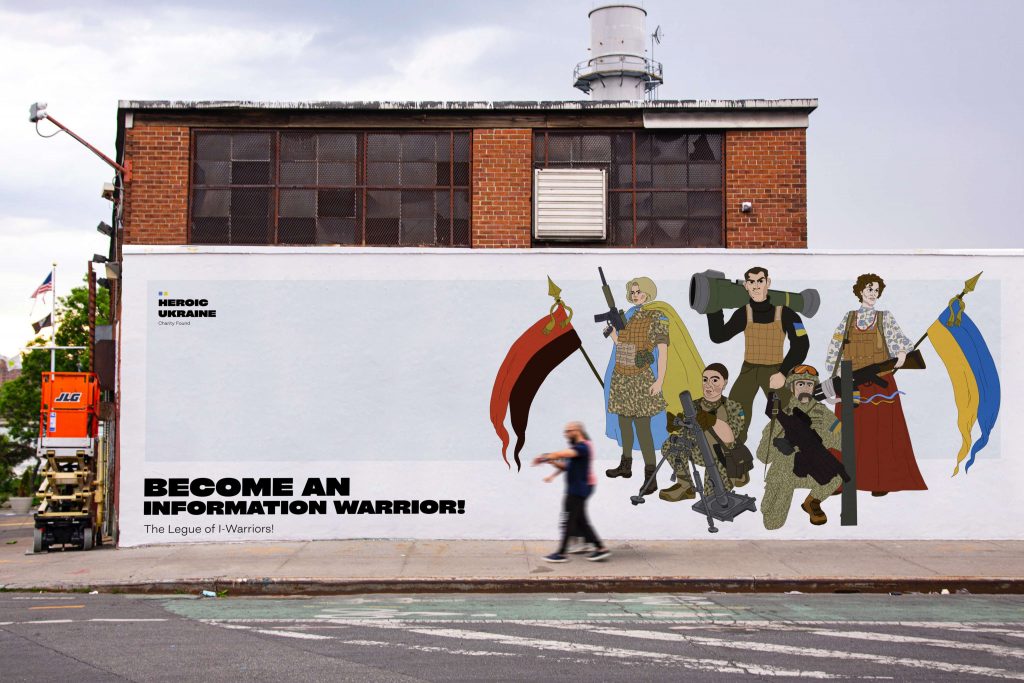 "The war is happening on the cultural front line, too," says Roman Sevastianov, one of the co-founders of Awesomic.
The design of the campaign was created by Yulia Kuznetsova, who has been using the Awesomic platform for almost one and a half years.
"Ukrainians have everything to impress the world with their creativity, and we are successfully doing that," says Kuznetsova. "Perhaps, it's because Ukrainians have been fighting for freedom for centuries. Artists in Ukraine go through strong emotions and live in a challenging environment, and it pushes them to create something meaningful. My work was created during Russia's full-scale invasion, during the genocide of my nation—maybe, that's what makes it so special."
Based in Essen, Germany, the Red Dot annual international design competition selects winners in the areas of product design, communication design, and design concepts.
"This award is another proof that Ukrainians can create world-class designs and products and that they deserve international recognition," says Anastasia Pavlyshyna, co-founder at Awesomic.
Awesomic matches companies with vetted designers to help them get design results within 24 hours. Founded in 2020 by Pavlyshyna and Roman Sevastyanov, over 1,370 businesses — mainly from the US —already use its services, including some 200 Y Combinator start-ups, Reply, Snov and Lift99.
Over the last two years, the start-up has attracted 2.5 million US dollars from investors including Flyer One Ventures, Y Combinator, Pioneer Fund, as well as business angels Ragnar Saas (Pipedrive), Michael Siebel (CEO YC) and James Park (FitBit).
---
Unlike many news and information platforms, Emerging Europe is free to read, and always will be. There is no paywall here. We are independent, not affiliated with nor representing any political party or business organisation. We want the very best for emerging Europe, nothing more, nothing less. Your support will help us continue to spread the word about this amazing region.
You can contribute here. Thank you.