Low-cost airlines Wizz Air and Ryanair have an increasingly tight grip on air travel to and from emerging Europe.
After the unprecedented fall in demand for air travel caused by the Covid-19 pandemic, the global aviation sector is witnessing a significant rebound.
Driven primarily by leisure travellers, global air traffic was at around 91 per cent of pre-Covid levels during the first half of this year according to research carried out by ING. In Europe, traffic was slightly higher at 92 per cent of pre-Covid levels.
Growth is expected to slow moving into 2024, as the capacity gap in aviation is quickly narrowing with the return of passengers.
The load factor—a metric used in the airline industry to measure the percentage of available seating capacity that has been filled with passengers—approached its 2019 level of 82.6 per cent in April 2023. Consequently, pressure on capacity is rising, whereas airlines face delivery delays for newly-ordered aircraft. These factors will impact prices, driving the cost of airline tickets higher.
---
---
In emerging Europe, the region's largest carrier Wizz Air is expecting to return to profit in the financial year from March 2023-24 to the tune of between 350 million to 450 million euros. In the financial year 2022-23 it lost over 500 million euros.
"The demand for our services remains very strong across our network, especially in our traditional CEE markets, where we have scaled up," said the airline's boss, József Váradi, last month.
Indeed, according to research carried out by Emerging Europe, Wizz Air is now the largest airline at five of the region's 23 capital cities. So tight is the airline's grip in cities such as the Romanian capital Bucharest that of the 120 destinations served by direct flights from the city's two airports, Wizz Air flies to 68—more than double the number of destinations served by Romania's national airline Tarom.
The region's second largest carrier, Ryanair—the largest airline at four of the region's capitals and several secondary cities—last week announced that it would "charge back" into Ukraine when the skies over the country reopen for commercial aviation.
Following a meeting with Ukrainian Infrastructure Minister Oleksandr Kubrakov ay Kyiv's Boryspil Airport, Ryanair boss Michael O'Leary unveiled plans to invest heavily—over three billion euros—to rapidly rebuild Ukraine's aviation industry once the war ends and the European Union Aviation Safety Agency (EASA) declares that flying to and from Ukraine is safe again.
"Ryanair remains a committed partner in rebuilding and investing in Ukraine aviation," said O'Leary.
When Russia's invasion of Ukraine in February 2022 grounded all flights to and from the country's airports, Ryanair was Ukraine's second largest airline, behind flag carrier Ukraine International Airlines (UIA).
The Irish carrier said on July 24 that for the three months ended June 30, 2023, net profit was 662.9 million euros compared with 187.5 million euros in the same period last year.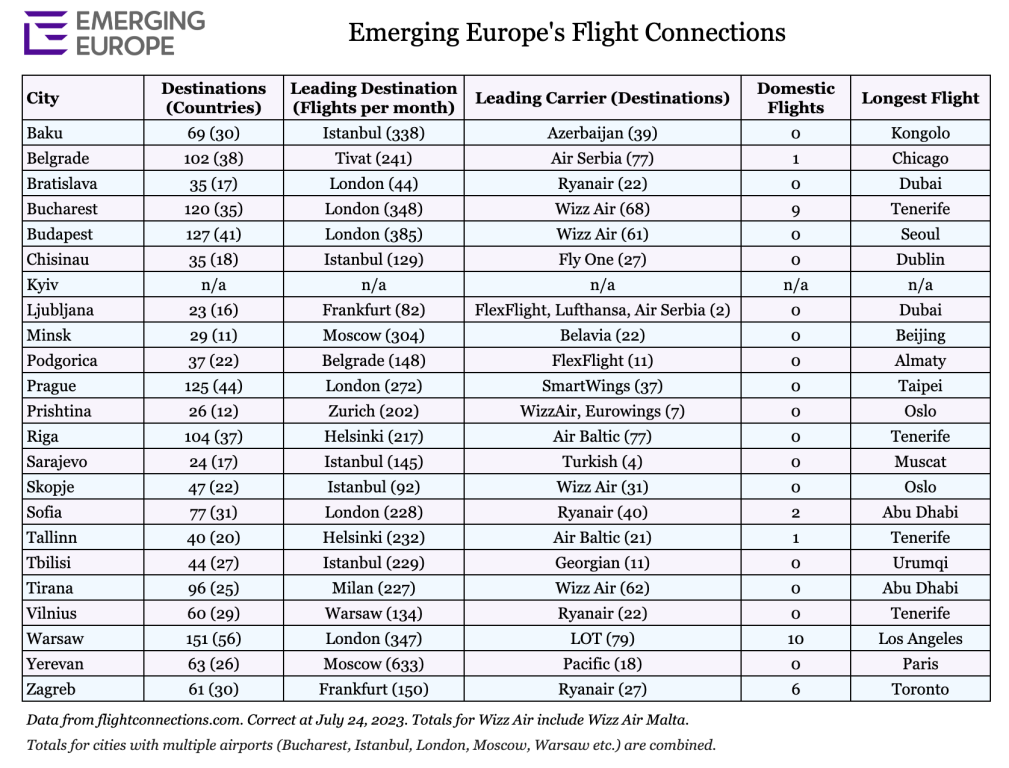 The region's best- (and worst-) connected capitals
According to our research, 10 of the region's 23 capitals can be reached by direct flights from fewer than 50 cities.
The Estonian capital Tallinn performs poorly, served by just 40 direct flights, significantly fewer than its Baltic neighbours. Riga in Latvia can be reached from more than 100 cities thanks to the vast network of Latvian airline Air Baltic, while Vilnius in Lithuania is served by 60 direct flights.
Indeed, this lack of connectivity has long been one of the few grumbles heard from key players on the booming and otherwise exemplary Estonian start-up scene. "As much as I love Helsinki it would be nice not to have to use its airport every time I leave the country," says one Estonian start-up founder and investor.
Tallinn, however, flies high over the worst-connected capital in the region, Ljubljana.
Served by flights to and from just 23 cities, the Slovene capital sees fewer flights than Sarajevo in Bosnia and Herzegovina (24) and even the Kosovan capital Prishtina (26).
Unsurprisingly, Warsaw is the best-connected city in the region, served by direct flights to 151 destinations in 56 countries across the world. Perhaps the region's only truly global airport, Warsaw Chopin can boast flights to Los Angeles, New York, Chicago, Miami, Toronto, Seoul, Beijing, Tokyo, New Dehli and Mumbai.
LOT, Poland's national airline, has made long-haul travel a key feature of its strategy in recent years. Consequently, it was particularly hard hit by the Covid-19 epidemic, posting losses of more than one billion złoty in both 2020 and 2021. On July 6, however, it announced that it had returned a profit of 113.7 złoty (25.53 million euros) in 2022.
It also announced this month that it will start a weekly, direct flight from Wrocław to Seoul in November, complementing its four direct flights per week to the Korean capital from Warsaw.
Moscow's gateway to the world
Our research also reveals how the Armenian capital Yerevan has become Moscow's gateway to the world since the imposition of an EU-wide ban on Russian airlines shortly after Russia invaded Ukraine.
Moscow's various airports and Yerevan are currently connected by 633 flights per month.
Given the resumption in May of flights between Georgia and Russia following a four-year hiatus (a move the EU's foreign affairs spokesperson Peter Stano said "raises concerns in terms of Georgia's EU path"), Tbilisi is also likely to become a key point of transit for Russians looking to make it to the EU in the coming months.
---
Unlike many news and information platforms, Emerging Europe is free to read, and always will be. There is no paywall here. We are independent, not affiliated with nor representing any political party or business organisation. We want the very best for emerging Europe, nothing more, nothing less. Your support will help us continue to spread the word about this amazing region.
You can contribute here. Thank you.

---