In Georgia's capital Tbilisi, a city which tens of thousands of Russians have made their home over the past 18 months, graffiti makes it abundantly clear what the locals think of them.
Between March and November 2022, over 1.2 million Russian citizens entered Georgia—many fleeing political persecution or conscription to fight in Ukraine—and over 110,000 have stayed.
For a small country of 3.7 million, this constitutes a massive influx. 
---
---
Many have settled in the capital Tbilisi and in Batumi on the Black Sea. Some have remote tech jobs, some staff hostel desks, some work in restaurants or food delivery. Many are ethnic Russians, but others are ethnic Ukrainians or other minorities. Most are in their twenties, hundreds or thousands of kilometres from home, and unsure when they will next see their families.  
Their arrival has disrupted local housing markets, leading some Georgians to face eviction as rents skyrocket, sometimes doubling or tripling. Even as Georgians and Russians mingle amicably on the street, profane graffiti directed at both Vladimir Putin and Russians in general is everywhere, and data suggests a sizable majority of Georgians view the Russian immigrants negatively.
Georgian support for Ukraine 
A survey conducted in December 2022 by the Caucasus Research Resource Centre and the National Democratic Institute found 69 per cent of Georgians think the large number of Russian citizens entering the country since Moscow launched its full-scale invasion of Ukraine will have a negative impact.
Russians do not need a visa to enter Georgia, but until this May, after the survey was taken, Georgians did need a visa to enter Russia. This lack of reciprocity angered many Georgians, with 69 per cent again saying Tbilisi should introduce visa requirements for Russians and 57 per cent disapproving of the approach of the Georgian government to Russians entering.
Georgians have been staunchly supportive of Ukraine—and its European Union and NATO allies—since the outbreak of the war. The country also hosts many Ukrainian refugees, and Ukrainian flags are as common as Georgian flags in Tbilisi and fly even in the most remote villages in Tusheti and Svaneti.
A survey by the International Republican Institute (IRI) conducted in late March and early April 2022 found that Ukrainian respondents named Georgia as one of the most supportive countries to Ukraine in the context of Russia's military aggression. The only countries more frequently named for their support were Poland, the United Kingdom, and the United States.
Much of this solidarity with Ukraine stems from Georgia's own history with Russia. In 2008, Moscow recognised the independence of two breakaway states that are internationally recognised as part of Georgia—Abkhazia and South Ossetia—and waged a five-day war against Georgia that displaced 192,000 people. Russian air strikes struck all over the country, including Tbilisi.
The cities of Gori, Poti, and Zugdidi were occupied by the Russian military for several weeks after the war, and ethnic Georgians were expelled from South Ossetia. Russian troops continue to occupy Abkhazia and South Ossetia (around 20 per cent of Georgia's territory) to this day.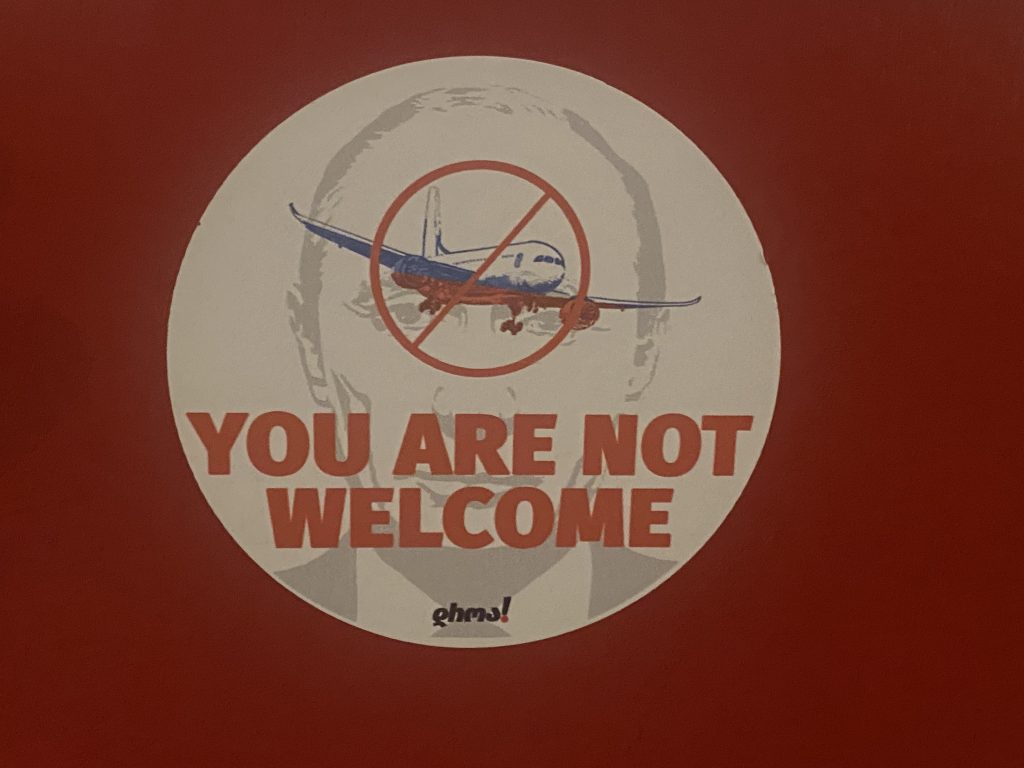 The streets of Tbilisi 
Georgians' sentiments are on clear visual display through their artwork on the streets of Tbilisi. Perhaps the most common of messages found on walls, bins, and even laptop stickers are only two words: Putin's name and an expletive. Other stickers simply declare that "Russia is a terrorist state." "Slava Ukraini" is also common, as is graffiti depicting Georgia's flag replaced with the blue and yellow of Ukraine's.
Georgia applied for EU membership with Ukraine and Moldova in the immediate aftermath of Russia's invasion, and while the EU said it would not advance Georgia to candidate status until it made a set of reforms, there are more EU flags in Tbilisi than in most Schengen area capitals. They fly from government buildings and shop windows alike and are often graffitied alongside Ukrainian and Georgian flags.
An IRI survey from this April found 89 per cent of Georgians support joining the EU. Many young Georgians speak Western European languages and embrace a European identity.
Besides flags and messages directed at the Russian state, there are also many targeting the Russians who have settled in Georgia. Some tell them to go home, while some trash cans say, "Put Russians here."
One young Georgian summed up the situation by saying that, "Tbilisi residents don't interact much with the Russians who have arrived here since the war in Ukraine started. There is a lot of resentment due to the inflation in rent and real estate prices that their arrival has caused. Lingering anger after the 2008 Russo-Georgian war also keeps fuelling these sentiments."
Despite this, most of the young Russians unwilling to be sent to kill Ukrainians seem content.
"The moment I left Russia, I felt free," says a Russian programmer in his late twenties now working in food delivery. He adds that he thinks the war in Ukraine is wrong and opposes Putin, and left Russia out of fear he would be imprisoned for these views.  
"The Georgians are warm people," he says. However, he and many other Russians have struggled to forge friendships with locals, leading to many all-Russian social circles. He speaks fluent English but attributes his difficulty learning the Georgian language to his challenges.  
Other Russians in Georgia are starting their own businesses. According to Transparency Georgia, between January 1995 and February 2022 the number of businesses opened by Russians in Georgia  totalled 7,788. Between March 2022 and June 2023 the number was 21,326 
Many other Russians in Georgia are still in limbo, unemployed or working temporary service jobs despite graduate degrees in international law or computer science. While the housing crisis caused by their arrival must be thoroughly addressed by the government, Georgia now has thousands of new skilled workers and Russia has as many fewer soldiers.  
---
Unlike many news and information platforms, Emerging Europe is free to read, and always will be. There is no paywall here. We are independent, not affiliated with nor representing any political party or business organisation. We want the very best for emerging Europe, nothing more, nothing less. Your support will help us continue to spread the word about this amazing region.
You can contribute here. Thank you.

---